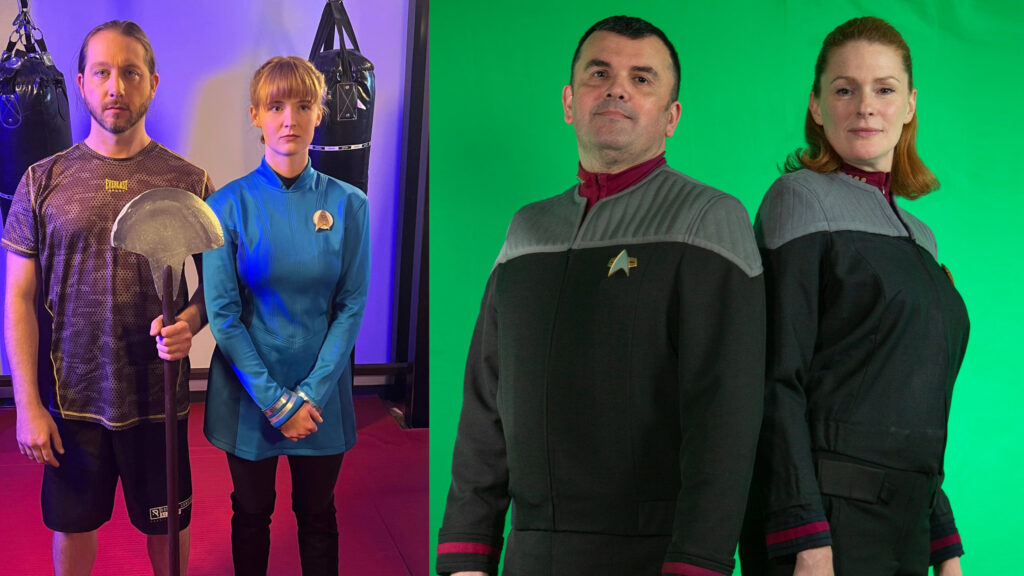 I'm not sure what MOST of you did this past weekend, but I do know what a FEW of you were doing…and believe me, it was exciting!
In the mythical land of northwestern Arkansas, JOSHUA IRWIN was making movie magic with the cast and crew from the AVALON UNIVERSE. But this time, he was not shooting on the TOS sets at WARP 66 STUDIOS. No, instead, Josh and the team were inside of a martial arts gym filming what looks to be an amazing fight scene. Despite many such fights in TOS (Kirk punched almost as often as he kissed!), fan films usually shy away from dangerous stunt fighting because, well…it's dangerous! But this fight scene is using real black belts and trained martial arts fighters.
Meanwhile, in the equally mythical land of England, across the pond known as the Atlantic Ocean, the Great CGI Wizard of Star Trek SAMUEL COCKINGS finally had all of the actors necessary—after nearly 4-years!—to shoot the raw green screen footage for the mega-crossover fan film extravaganza CONVERGENCE. Crowd-funded in late 2018, Convergence seemed to be cursed by delays in getting actors to England all at the same time and then by COVID. Indeed, in the meantime, Sam has shot the footage for and released many of the TREK SHORTS fan films that he crowd-funded in 2021! But Sam finally assembled the Convergence "Avengers" for a grueling and ambitious—but still fun!—four-day shoot near his home in Bedfordshire, U.K.
The two fan film shoots that took place over this past weekend couldn't have been more different…and I don't just mean the actors' accents! One was shot in a practical location with physical stunts. The other was limited to the front of a green screen, constraining most exaggerated movement by the characters. One was set in the 23rd century the other in the 24th. And one was filled mainly with actors who have previous experience in fan films. The other featured mostly cast members for whom this will be their first fan film!
As a change of pace, I'm going to do a two-for-one blog, spotlighting both of these shoots on different continents by letting each of their showrunners say a few words…
Continue reading

"Two MAJOR fan film shoots on TWO CONTINENTS in one weekend!"