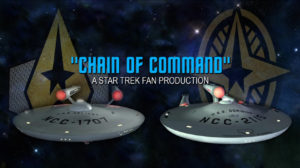 Back in April of 2015, a new Star Trek fan series called DREADNOUGHT DOMINION premiered with its initial episode, "Haunted."  Three months later, a second episode, titled "Anchors Aweigh" (a bit of a prequel to the first episode), made its debut.  It wasn't the only TOS-era fan series to feature the crew of a non-heavy cruiser class starship, but it was the first and only one to feature the crew of a Starfleet dreadnought-class starship based on the mid-1970s Franz Joseph Star Trek Technical Manual.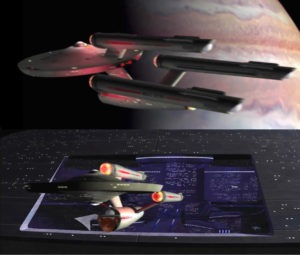 Thanks to a 3D model created by Kenneth Thomson, Jr. and Thomas Phong, the beauty shots of the tri-nacelled USS Dominion in the opening credits and during the episodes were gorgeous.  The two episodes were filmed primarily on the very impressive TOS sets in Starship Farragut's Studio Two in Kingsland, GA (also the shooting location of Star Trek Continues).
A year earlier, another fan series, Starship Valiant, made its debut on YouTube with an introduction vignette titled "Legacy."  Valiant was filmed using the TOS bridge set at Starbase Studios in Oklahoma City.  (The following year, a "special edition" version of "Legacy" with added footage was posted after Starbase Studios built a new sickbay set.)  Valiant has since completed principal filming on its second episode "The Ties That Bind," although post production is still ongoing and the second episode hasn't been released yet.
So what do these two fan series–filmed in different locations in different states during different years–have in common?  A man named Vance…
Continue reading "DREADNOUGHT DOMINION and STARSHIP VALIANT cross-over in "CHAIN OF COMMAND"!"