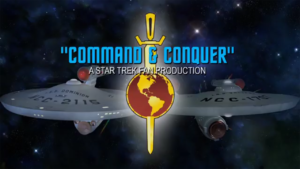 Last November, the fan series DREADNOUGHT DOMINION returned from a 16-month hiatus with a new episode that crossed over with sister fan series STARSHIP VALIANT…an episode entitled "Chain of Command."  You can read more about that endeavor here in this Fan Film Factor blog.
Written by Vance Major, Gary Davis, and David R. Wrenn, and directed by Vance and Gary, the scenes for "Chain of Command" were filmed separately in the states of Ohio, North Carolina, and Oklahoma (the former location of Starbase Studios) and then edited together into a 7-minute fan film.  It focused on the new CO of the USS Dominion trying to find a first officer.
It's rare to see the full (or nearly full) casts of two different fan series cross over into a single fan film.  What's even rarer is to see them cross over TWICE!
And it's interesting that I said "cross over" because the latest film film to feature these two crews crosses viewers over into the Mirror Universe with a retelling of the "Chain of Command" story with the same characters but from the Terran Empire's ISS Dominon and ISS Valiant.
It's fun and fascinating…all at the same time!  Written by the same team, the directors were now Gary Davis and Kent Edwards.  And the locations still included Ohio and North Carolina, but Starbase Studios has now moved to Arkansas, and some scenes were also filmed in Georgia.  I'm told the entire production was shot last month (with a few scenes filmed in May) and edited together pretty quickly to come out with such a fast turnaround.
I'm going to provide links to three different fan films here.  The first is mirror universe "Command and Conquer."  Below that is the prime universe "Chain of Command" for you to compare it to.  And finally, there's a short vignette written by and starring Vance Major titled Project Defiant: "Dark Glimmer."  Although it came out in late June, it's a sequel to the newly-released "Command and Conquer."
And look for a really great audio interview with Vance Major on Fan Film Factor this coming Friday!
And now, the prime universe "Chain of Command"…
Continue reading "DREADNOUGHT DOMINION/STARSHIP VALIANT team up again for "COMMAND AND CONQUER"!"