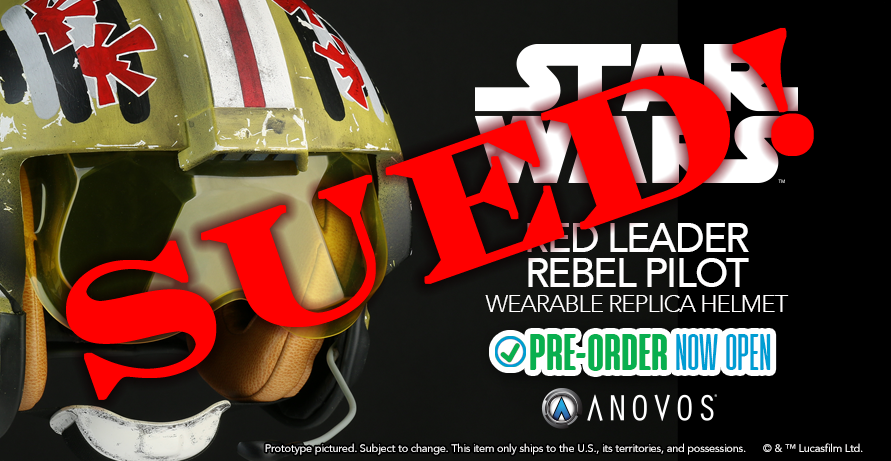 At first glance, it seems almost ridiculous. Most fans know that ANOVOS, a licensee that produces ultra-high quality cosplay props and costumes for Star Trek, Star Wars, Battlestar Galactica, and other genre franchises, has a well-earned reputation for taking a looooooong time to fulfill their pre-orders. And when I say "long time," I'm often talking years!
But the wait is usually worth it. The Anovos replicas look amazing, many uniforms are custom-tailored for each individual who orders one, and all are officially licensed to look nearly identical to what has appeared on screen. While some fans complain about the long wait times—to both Anovos and to the licensors—others just seem to grin and bear it. In a number of cases, fans have learned from frustrated experiences not to pre-order new items and instead wait until they are listed as "in stock."
But one fan, RICHARD DALTON from Louisiana, apparently didn't get the memo about avoiding pre-order items and—over a nearly three-year period—pre-ordered 49 different items ranging in price from $10 pennants to a $9,000 starship model…for a total in excess of $40,000! Now Mr. Dalton is suing in California federal court (you can read the entire complaint here). The reason for the lawsuit is that none of the pre-order items was ever shipped, and Anovos has refused to refund any of his $40,000.
Some of you are probably thinking, "Serves him right for not getting the hint sooner! Caveat emptor…let the buyer beware!" True, there's a certain amount of "fool me twice, shame on me…" lack of sympathy that some fans might cynically be feeling. And of course, Anovos does state on the pre-order pages: "All items are subject to change in availability, features, and delivery dates at any time and for any reason."
But should that one blanket disclaimer get Anovos completely off the hook? Just because poor Richard was naive enough to believe that a licensed vendor would actually deliver merchandise in under three years(!!!) after being paid in full, should he be penalized for that innocent faith? If Anovos took advantage of Richard's (and others') trusting natures, why should it be only the customers who come out on the losing end? Shouldn't Anovos face some consequences, too?
This case is germane to fan films because one of the the guidelines states:
4. If the fan production uses commercially-available Star Trek uniforms, accessories, toys and props, these items must be official merchandise and not bootleg items or imitations of such commercially available products.
Anovos uniforms are, in fact, official merchandise…and so the outcome of this lawsuit could conceivably affect Star Trek fan films. This is especially true because Mr. Dalton isn't suing only Anovos; he is also suing CBS and Disney and NBC Universal for continuing to renew Anovos' licenses for their intellectual propertiues despite being well aware of consumer complaints and possible fraud, breach of contract, misrepresentation, and unfair enrichment.
Let's take a closer look at all of this…
Continue reading

"COSPLAY FAN brings a proposed CLASS ACTION LAWSUIT for FRAUD against CBS, DISNEY, NBC Universal, and ANOVOS!"