DAVID CHENG and his gang of cosplayers at Star Trek Fan Productions International are upping their game with each new fan film that they produce…and there's been quite a few in the past two years—six, in fact! Their first, THE HUMAN ADVENTURE, was a very rare Star Trek: The Motion Picture era fan film, shot and released in late 2019. That was half a year BEFORE the world shut down due to a once-in-a-century pandemic. The global quarantine didn't stop David and his team, but it did force them to start being creative. And thus was born one of the many examples of what I went on to dub the "fandemic" film, where each of the actors is filmed separately and individually, and these self-contained pieces of footage are then edited together to create scenes with conversations and story…a new kind of Star Trek fan film.
(Actually, there was nothing really "new" about it. VANCE MAJOR had been doing similar editing together of footage shot in various people's homes for years in his many, many MINARD and CONSTAR fan films.)
Beginning in June 2020 with LOOK FORWARD TO THE DAY, David and co-showrunner MIKE LONGO (who played Jim Kirk) began releasing fandemic films where one character appeared in the screen at a time, first simply seated in front of backgrounds in their houses, sometimes with props visible…
A few weeks later, JENS DOMBEK, known internationally as "The German Spock," released a very stylized vignette titled I AM SPOCK, shot against a stark black canvas background with only himself (dressed as Spock) and a series Vulcan props , accompanied by a monotonal voice-over and haunting minialist music track.
By October 2020, the bar was lifted slightly when, for the first time, their newest release worked in chroma-keyed virtual backgrounds against cosplayers who had shot their footage in front of green screen. UNREST also featured a few VFX shots of the U.S.S. Excelsior (under Captain Sulu) and the U.S.S. Enterprise-A (under Kirk, of course), with David Cheng returning to the front of the camera as Admiral Nogura for the first time since The Human Adventure.
For Christmas of 2020, PEACE AND GOODWILL continued building on their previous steps, incorporating green screen footage composited over digital backgrounds, but now some of those backgrounds included CGI animated VFX shots. Also, a few of the green screen shots were wider angles, showing more of the characters than just their head, shoulders, and torsos. And finally, the size of the cast had grown to six actors, their largest complement yet.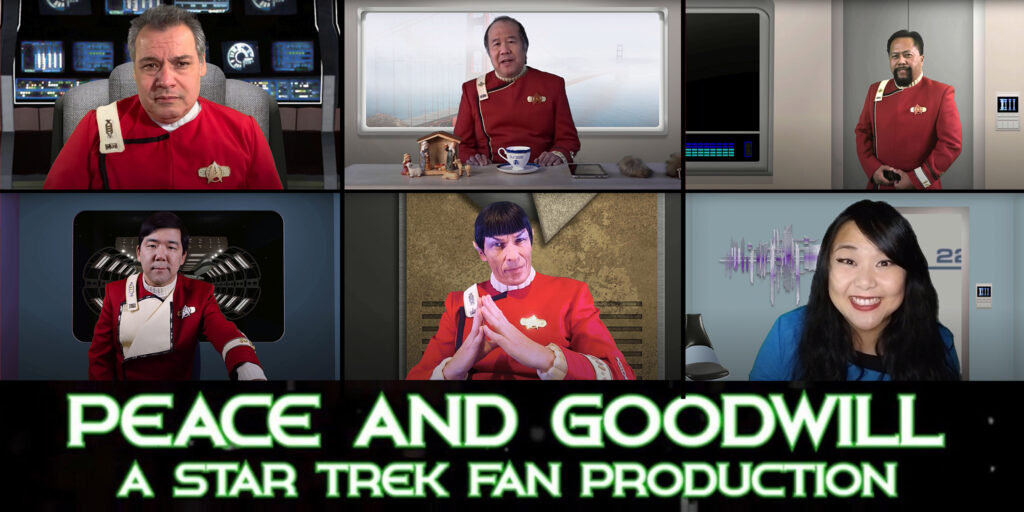 And finally, the month of June 2021 brought their most ambitious project yet, OUTRAGED, with a cast of 15 characters! But even more impressive were scenes that include TWO characters on screen at the same time…even though everyone's footage was still being filmed separately. Thanks to digital compositing, fans could now see "over-the-shoulder" scenes plus Captain Kirk and Mr. Spock together on the Enterprise bridge, even though Mike Longo and Jens Dombek live on separate continents!
Take a look…
Continue reading

"OUTRAGED raises the bar on green screen fandemic films… (interview with DAVID CHENG)"