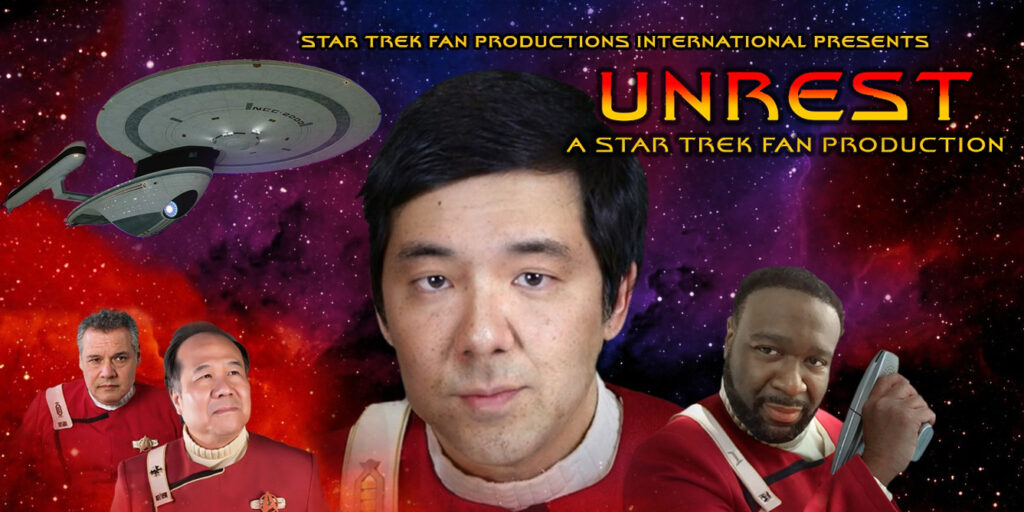 It's now the age of the pandemic fan films—or fandemic films, as I like to call them—at least for the time being. And like the coronavirus itself, Star Trek fan films are proving to be quite tenacious and hard to get of…which is a GOOD thing if you like Star Trek fan films (and I certainly do)!
Over the past five months, these fandemic films have been filmed and released totally virtually with the actors who appear in them never actually being together in the same scene at the same time:
The last of these was made by DAVID CHENG and MIKE LONGO (along with FRANK JENKS and JENS DOMBEK) as a "Zoom call" between Kirk, Spock, and McCoy during a difficult period when they could not be with each other…a reflection of the world of 2020 seen through the lens of the 23rd century.
Now, David and Mike have teamed up once again, this time with KEN HAYASHIDA, to present a brand new "Zoom call" adventure…this time featuring Captain Kirk, Captain Sulu, and Admiral Nogura (along with a forth "Away Team Officer"). The 7-minute vignette is from STAR TREK FAN PRODUCTIONS INTERNATIONAL and is very nicely done (especially since all of the actors are cosplayers and have impeccable monster maroon uniforms). Check it out…
I had originally planned to ask show-runner David Cheng for a few words to include with the blog announcement of this new fandemic film. But within a few hours, I'd collected a rather robust 3-way interview with David, Ken Hayashida, and Mike Longo. So let's jump right in, shall we…?
Continue reading

"UNREST is the newest FANdemic film! (interview with DAVID CHENG, MIKE LONGO, and KEN HAYASHIDA)"