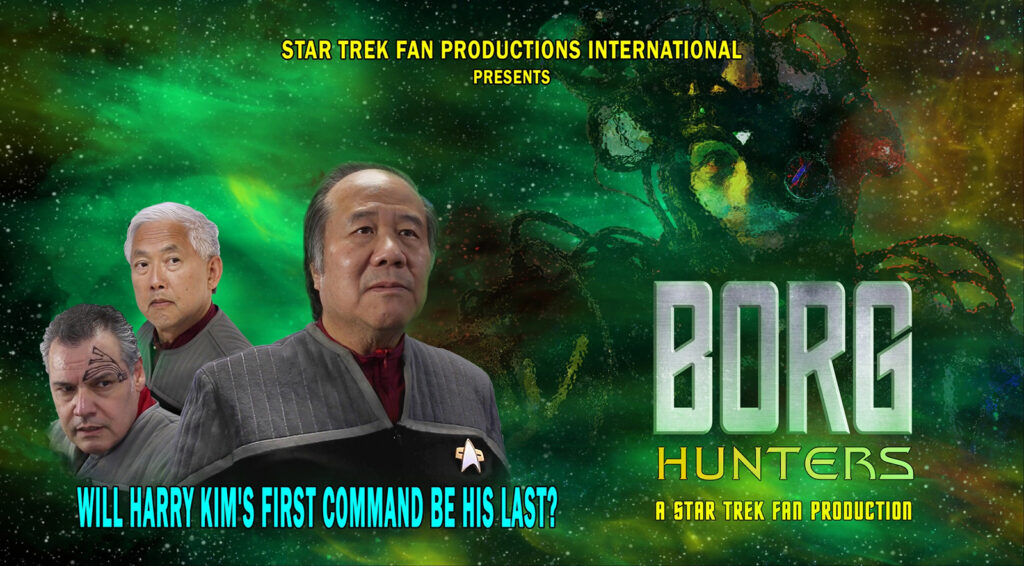 Last year, STAR TREK FAN PRODUCTIONS INTERNATIONAL released their seventh fan film in three years, BORG HUNTERS. Their previous films covered quite a wide variety of themes and locations, mostly during the TOS movie era:
THE HUMAN ADVENTURE was a very rare Star Trek: The Motion Picture era fan film, shot and released in late 2019. Showrunner DAVID CHENG played Admiral Nogura and MIKE LONGO played Admiral Kirk, with several other cosplayers appearing in the seldom-seen TMP-style uniforms.
LOOK FORWARD TO THE DAY, released in June 2020, was one of the first "fandemic" films, essentially an interstellar "Zoom call" between Kirk, Spock, and McCoy…who were also separated and looking forward to the day them could reunite.
I AM SPOCK, released a few weeks later, featured JENS DOMBEK, known internationally as "The German Spock." A very stylized 90-second vignette shot against a stark black canvas background with only Spock and a series Vulcan props, Jens' monotonal voice-over and minialist music track created a haunting and intimate look at this unique character.
UNREST was yet another "fandemic" film released in October of 2020 and featuring, for the first time, actors in front of green screens with chroma-keyed Star Trek backgrounds. David Cheng again played Nogura and Mike Longo played Kirk, with KEN HAYASHIDA debuting as Captain Hikaru Sulu aboard the U.S.S. Excelsior.
PEACE AND GOODWILL was released that Christmas, a third "Zoom call" style film as the lockdown continued…this time with a cast of six actors, their largest yet.
OUTRAGED, released in June of 2021, was still shot during lockdown but was their most ambitious project yet, with wide-framed green screen shots, a cast of 15 characters, and some scenes compositing two characters together at the same time.
And that leads us to April of 2022, and their first post-quarantine fan film. BORG HUNTERS was shot on a futuristic set with multiple actors on screen at the same time. Set in the 24th century after Voyager's return, David and Mike are back in front of the camera again, but this time they are playing different well-known characters: Harry Kim and Chakotay, respectively. As usual, the cosplay-quality Starfleet uniforms are impeccable, as is an amazing Borg outfit.
At this point, I'll just let you take a look…
David and Mikey were joined by MARK G. H. LUM, who was previously a part of both The Human Adventure and Outraged, returned to roles both in front of and behind the camera, as Mark played Dr. Leland Tam as well as directing, editing, and being director of photography.
I got the three fans to sit down to answer some questions about their latest project, including finding out where this impressive 24th century set was located and how they came to shoot on it…
Continue reading

"BORG HUNTERS films on a 24th Century set that's really an…OPTOMETRIST'S OFFICE??? (interview with DAVID CHENG, MIKE LONGO, and MARK LUM)"