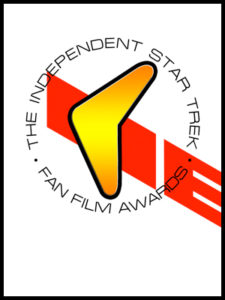 It's award season here in Hollywood–the Golden Globes, the People's Choice, and the Oscars (to name just a few)–to honor the best movies and performances and cinematic achievements of the past year.  But what about Star Trek fan fan films???
As it turns out, we have our own annual awards, too…or at least we have for the past three years.
The first INDEPENDENT STAR TREK FAN FILM AWARDS were handed out at the 2015 TREKLANTA convention (in Atlanta…in case you weren't sure) for Star Trek fan films released in calendar year 2014.  Thirteen fan films entered, and awards were given out in nine categories.
The following year, seventeen different fan films entered and the categories were expanded to thirteen.  Judges for the two previous years have included such notables as Diana Dru Botsford, Peter David, Keith R. A. DeCandido, Michael DeMeritt, Ken Feinberg, Matthew M. Foster, Andrew Greenberg, David Orange, Emmett Plant, Susan Sackett, and Rick Sternbach.  This year's judges will be revealed after ballots are collected in March (we don't want the judges getting badgered to vote this way or that).  And the winners will be announced live at Treklanta on April 30.
The categories this year will be:
Continue reading "Thirty-three NOMINEES announced for the 2017 INDEPENDENT STAR TREK FAN FILM AWARDS"