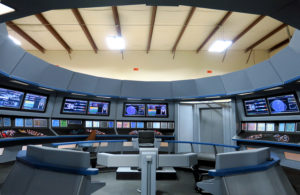 Remember that bridge set that the AXANAR detractors said would never be finished?  Well, I'm sorry to disappoint the detractors (no, I'm not), but it's almost finished, folks!  I'd estimate we're more than 95% of the way there at this point, but that's just a subjective opinion.  The important point is that things have now moved from the "big" stuff to the final little details.
In an update published last week on the Axanar.com website, ALEC PETERS provided a list of things that still need to get done:
Replace two broken upper monitors.
Install rubber matting in section of bridge that needs it.
The edges of the plexis need to all be painted black so light does not bleed around the edges.
Rout out and finish Tactical, Fleet Ops and Pilot consoles and install plexis.
Plexis for Tactical and Fleet Ops upper monitors.
Plexis for controls on Captains Chair.
Replace computers for eye-level monitors with Rasberry Pis to reduce power needs.
Install Plexis for 10 eye-level monitors.
Install lighting above and below consoles.
Green screen or 84″ TV for the main viewer.
Get chairs in place for all stations.
The biggest challenge at this point involves power consumption.  The studio can supply 200 amps.  Obviously, there's the lights and A/C for the building and whatever is plugged in at the moment.  But the real energy drain comes from the various electrical elements of the bridge set itself.
Now, Alec could opt for a solution similar to the one used recently for the TOS sets formerly known as Starbase Studios that were moved to Dogpatch, Arkansas.  That facility didn't have enough capacity to power all the bridge stations simultaneously, so folks filming there would meed to light one station at a time for close-ups and then try to minimize wide shots showing multiple stations at the same time.
This option was not acceptable for Alec.  He hadn't put four years and hundreds of thousands of dollars of both donor money and his own money into completing this incredible set only to be limited to filming it from only tight close-up angles…even though the level of detail provided will make those "hero" shots look pretty awesome!
No, Alec needed a solution where, if he flicks a switch or three, the whole bridge set lights up for filming whatever scene from whatever angle the director needs.  But how…?
Continue reading "Finishing touches – ALEC PETERS updates AXANAR supporters on the ARES BRIDGE set!"