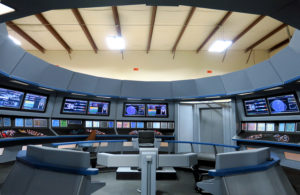 Remember that bridge set that the AXANAR detractors said would never be finished? Well, I'm sorry to disappoint the detractors (no, I'm not), but it's almost finished, folks! I'd estimate we're more than 95% of the way there at this point, but that's just a subjective opinion. The important point is that things have now moved from the "big" stuff to the final little details.
In an update published last week on the Axanar.com website, ALEC PETERS provided a list of things that still need to get done:
Replace two broken upper monitors.
Install rubber matting in section of bridge that needs it.
The edges of the plexis need to all be painted black so light does not bleed around the edges.
Rout out and finish Tactical, Fleet Ops and Pilot consoles and install plexis.
Plexis for Tactical and Fleet Ops upper monitors.
Plexis for controls on Captains Chair.
Replace computers for eye-level monitors with Rasberry Pis to reduce power needs.
Install Plexis for 10 eye-level monitors.
Install lighting above and below consoles.
Green screen or 84? TV for the main viewer.
Get chairs in place for all stations.
The biggest challenge at this point involves power consumption. The studio can supply 200 amps. Obviously, there's the lights and A/C for the building and whatever is plugged in at the moment. But the real energy drain comes from the various electrical elements of the bridge set itself.
Now, Alec could opt for a solution similar to the one used recently for the TOS sets formerly known as Starbase Studios that were moved to Dogpatch, Arkansas. That facility didn't have enough capacity to power all the bridge stations simultaneously, so folks filming there would meed to light one station at a time for close-ups and then try to minimize wide shots showing multiple stations at the same time.
This option was not acceptable for Alec. He hadn't put four years and hundreds of thousands of dollars of both donor money and his own money into completing this incredible set only to be limited to filming it from only tight close-up angles…even though the level of detail provided will make those "hero" shots look pretty awesome!
No, Alec needed a solution where, if he flicks a switch or three, the whole bridge set lights up for filming whatever scene from whatever angle the director needs. But how…?
During Axacon weekend, the temporary solution was to rent a portable power generator and park it outside in the lot behind the studio. The contraption was huge, and it ain't cheap to rent, let me tellya! But Alec wanted the bridge fully lit for the grand unveiling, with all the monitors showing animations and all of the console panels lit and glowing. However, renting a giant power generator every time someone wants to turn the lights on won't be financially feasible.
So what's using up so much power…?
First, there are the 14 large 40-inch TV monitors above each station. They require .75 amps each. So that's about 5% of the total energy usage right there. Then there are 52 computer monitors at eye level. Those actually don't eat too much power, but you know what does? Twenty-four computers to run all of those animations! Those need about 5 amps each. Do the math, and we're now well over using half of the electrical power available…and that's before bringing in large studio lights at about 8 amps each (although LED lights draw about a third as much power). Oh, and there's also lights all around the set itself to make the consoles glow. Ad in sound equipment and various other devices plugged in around the studio—heck, even the coffee maker needs juice (get it?)—and those 200 amps disappear real quick!
So as you can see, there's a lot of variables for Mr. Scott (well, Mr. Simpson…JAMES SIMPSON is figuring out all the electrical challenges) to figure out in order to keep the ship and all its systems at full power without blowing the circuit breakers. Can our chief engineer work a miracle? Actually, yes, and it's as easy as Raspberry Pi!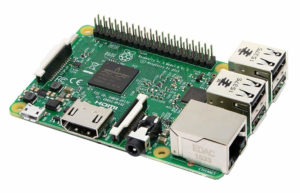 The Raspberry Pi is a computer circuit board that fits into the palm of your hand. First developed about 6 years ago, it has no surrounding case and uses minimal power (fractions of an amp). But you can load it up with software, plug in a mouse and/or keyboard, connect a monitor, and it's just like a normal computer but with a fraction of the power usage.
In addition from switching from 24 large computers to a series a tiny Raspberry Pis, Alec is also getting rid of 14 of the eye-level monitors. Why? Well in the case of 4 of them, they needed to sit within mounts that were oddly sized and weren't really designed for a monitor of regular size. (Remember that the elements of this set were initially constructed from the original blueprints used to build the TOS bridge set at Desilu studios back in 1965. The Axanar set was designed to be "convertible" from the USS Ares bridge into an exact duplicate of the bridge from the original Star Trek. Those square and rectangular display mounts were never designed—back in 1965—with modern-day computer monitors in mind!)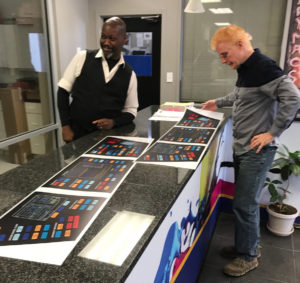 Anyway, those 4 holes are going to be filled with static-image, specially-fitted plexiglass panels…just like the ones used for the console buttons. Axanar printer (and Benjamin Sisko impersonator) JOE CAMPBELL used custom graphics created by designer ALEXANDER RICHARDSON and had them reverse-printed onto plexiglass to be partially translucent to light. When lit from behind or below, the black stays black, but the colored areas (buttons, ship schematics, etc.) glow. It looks really good, and you don't really miss the computer animation.
The other 10 monitors being replaced had a more unusual problem. Due to the layout of the "squares," there wasn't space to mount them all next to each other horizontally. Some had to be pivoted 90-degrees to sit vertically. Unfortunately, these are the old-school type monitors with 4×3 aspect ratios that predate LCD technology. So they draw their images one line at a time the way older television and computer screens used to.
While the sets were still in California, early screen tests showed that the vertical scan lines ended up looking awkward on camera, and Alec has known for quite some time that these monitors would need to eventually be replaced. For a while, the set designers considered buying screens for video walls, but fortunately, the plexi solution has proven quite elegant.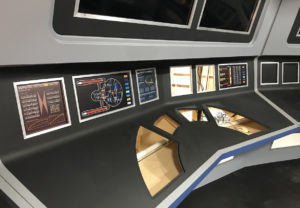 So with only 38 computer monitors left after the swap with plexi, plus the 14 large-screen TVs, plus the Raspberry Pis, the total power consumption is now down to just 77 amps. This still doesn't include the lights behind and under the consoles yet, as many of those still need to be installed (and there will be a lot of them)…possibly florescent, possibly LED. But it's looking like Alec will be able to get his "flick-a'switch" bridge after all!
But wait, there's more…
The other "miracle worker" helping to finish up this amazing bridge set is DANA WAGNER. Like James Simpson, Dana lives locally and has a flexible schedule, allowing him to come in to work on bringing this project to completion. Dana has already put in countless hours, rushing to get as much of the bridge competed before Axacon as possible…but he didn't quite make it.
Among the things left unfinished were the final details of the button panels at all of the main stations.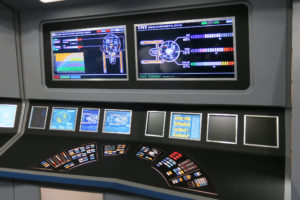 As you can see from the image above (which I took during Axacon weekend), the plexi panels were roughly cut and didn't fit perfectly into their slots yet. So there were visible outlines of the under-lighting "leaking" around the edges of the button panels. Dana's job now (well, one of them), was to use his fancy new router and sander to make certain the panels fit in like a glove. Then James had to paint the edges of the slots a dark black to ensure that no light would bleed though.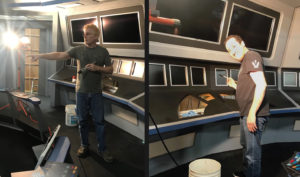 The other challenge was finishing the forward tactical and fleet ops consoles that sit in front of the helm console. Those plexis weren't ready for Axacon, so they had "faux" displays that were simply paper print-outs (rather than plexi) taped in place. Very high-tech! (Still looked good, though.)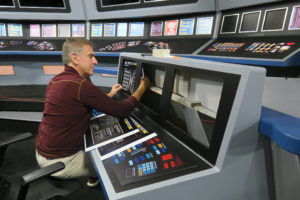 Dana's mission at these two stations is to cut out all of the holes (just as he did with the other consoles), rout and sand each one for a perfect fit, and then paint the edges black. Sounds easy, right? After all, unlike the circular panels at the other stations, these two consoles have straight edges.
Well, yes, but…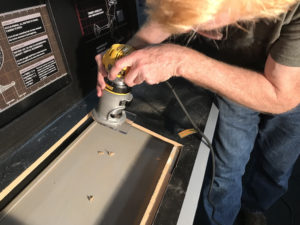 As Dana discovered after cutting the first hole, there was a wooden beam running under the bottom of the console surface. Dana couldn't risk cutting through the beam without compromising the structural integrity of the entire set piece. According to Alec, it took a long time trying to get the opening just right, but Dana managed to do it. One down, five to go!
Alec also posted this video update showing most of what I've just explained. It's fun to watch and very informative, and it's had nearly 25,000 views in just one week…!
---
Anyway, although things aren't quite finished yet, they are SO VERY CLOSE! However, as you can see from the updates above, even after running 25 miles of the marathon, that last mile can still be a challenge.
So yes, it's taken a long time to get from there to here. But just think about all this magnificent set has made it through (in addition to just being constructed out of wood and nails): a year-long lawsuit, finding the right electronic equipment and buying it, disassembly for a move across country, reassembly, finding skilled volunteers in the Atlanta areas with free time to donate, designing the graphics, plexi print tests, camera tests, painting, electrical wiring, replacement of broken equipment, plexi printing and fitting, routing and sanding, more painting, flooring, figuring out how to meet power supply requirements…and it's still not over yet!
But soon it will be. One of the most impressive fan film sets created thus far—right up there with the TOS sets in upstate New York, the ones in Georgia, and those in Arkansas—will be ready for folks to film on. And film on it they shall!
But that's an update for another blog, my friends…