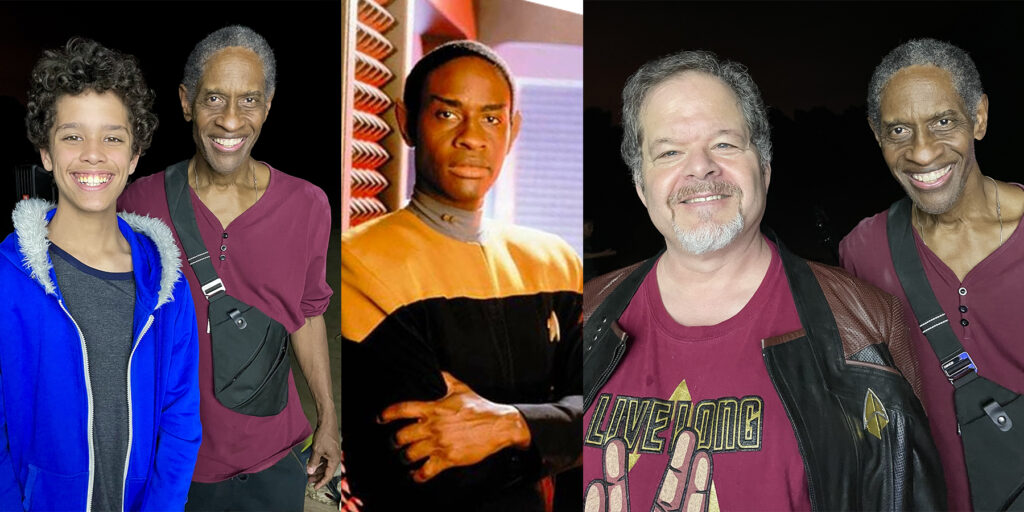 What better way to celebrate Star Trek Day (or at least the day AFTER Star Trek day) than to spend part of the evening with one of the cast members of Voyager under the stars discussing astronomy? Unfortunately, nature didn't quite cooperate on the "under the stars" part, as the remnants of Pacific hurricane were passing overhead, and it was very overcast. Only one star, Vega, was poking through the high-level clouds.
Maybe I should back up a few parsecs and tell you all how I got from there to here—"here" being Malibu Creek State Park in the Santa Monica Mountains, a few miles away from the Pacific Ocean. My friend and fellow Trekker, KAT CAMPBELL is a docent at the park and is in charge of booking their "campfire" programming in their amphitheater area. September 9th was their annual astronomy program where visitors can learn about the stars and planets and look through a giant telescope in a nice setting without all the city lights.
This year, the free program featured TIM RUSS speaking for 90 minutes beginning at 7:30pm. Now, Tim wasn't invited because he used to play Tuvok on Voyager (and most recently on STAR TREK: PICARD). Nope, before Tim ever donned the pointed ears, he was a fervent astronomy enthusiast and is still a prominent member of the Los Angeles Astronomical Society. He's spent several thousand dollars on telescopic equipment, and a couple of years ago, he was one of six "citizen astronomers" to help NASA detect what are known as Trojan asteroids. Pretty cool, huh?
I actually went stargazing with Tim once before, at a gathering of the USS Angeles chapter of Starfleet International about 20 years ago. He brought along his daughter Madison to that event (a wee bairn at the time; she's now a grown-up singer and actress in Hollywood). Tim knows his stuff…I mean seriously knows his stuff! If NEIL deGRASSE TYSON ever needs an understudy, just call Tim Russ!!!
What was one of the most fun aspects of the evening was taking my son Jayden along and NOT telling him who would be there. Jayden and I have been watching Star Trek together since he was five—he'll be thirteen in just ten more days!—and we're currently in season two of Voyager. (In fact, the season premiere of LOWER DECKS kinda spoiled the rest of the series for him…D'OH!) So he knows who Tuvok is.
Jayden also has the following photo on his wall…

It's from a magazine shoot we did with LEVAR BURTON about a decade ago when Levar was rebooting Reading Rainbow and the editor to include some Trekkies in uniform. Jayden was only three at the time, and as he got older and learned who Geordi La Forge was, Jayden felt increasingly frustrated that he had never met a Star Trek actor when he was old enough to really appreciate it.
So this was gonna be a fun surprise for my not-so-little boy…
Continue reading

"Jayden and I spent last night with TIM "TUVOK" RUSS in the woods!"