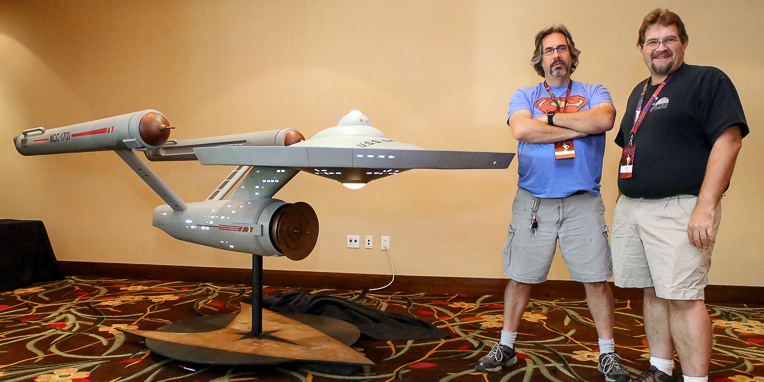 The era of the "big" professional-looking Star Trek fan films is NOT yet over, folks! In fact, fans are still awaiting four major productions that predate the guidelines of nearly three years ago: Axanar (of course), Pacific 201, the series finale of Starship Farragut (with a cameo by the late-great Stan Lee), and Star Trek: First Frontier. And one of those four fan films is about to cross over from post-production to release…and it's just weeks away!
I'm sure you've already guessed from the title of this blog that it's STAR TREK: FIRST FRONTIER, a professional-quality fan production that was first conceived back in 2013 by writer/show-runner KENNY SMITH. The story features the first captain of the USS Enterprise NCC-1701, Robert April, and his crew on their maiden voyage. The actors are trained professionals, the uniforms and sets constructed to look pre-Pike era (TOS, not Discovery), and the production crew were mostly industry folks with experience. I know the guidelines preclude most of the above now, but all of the production footage was "in the can" nearly a year BEFORE the guidelines were ever announced.
After an aborted 2015 Kickstarter that only raised $30K of a $130K goal, Kenny decided to fund the production himself, filming scenes using a mix of practical sets and green screen shots later that year. Originally planned for a September 2016 release to celebrate the 50th anniversary of Star Trek, and even though all the live action scenes were filmed, post-production would end up taking three times longer than anticipated!
But they had a very good excuse! The production decided NOT to use traditional CGI animation and instead built a physical 11-foot model of April's Enterprise (estimated materials and labor cost $30,000) and filmed the VFX the old fashioned way…in a studio in front of a giant green screen!
But they didn't stop there…
After shooting that gorgeous starship model in early 2017, they next went on to construct an equally-amazing 1/24th scale hangar deck and shuttlecraft for a number of VFX scenes that take place in that area of the ship. Photos of their incredible miniature shuttle bay have only just begun to circulate, and fans' jaws are dropping left and right!
Fortunately, the two gentlemen in charge of the construction of these incredible models took pictures and videos along the way…hundreds in fact! And I've got most of them to show you in this exclusive Fan Film Factoraudio interview with a special video montage "bonus."
Ladies and gentlemen, I present to you MATT GREEN and SCOTT LYTTLE, the men behind Captain Robert April's Enterprise and hangar bay…