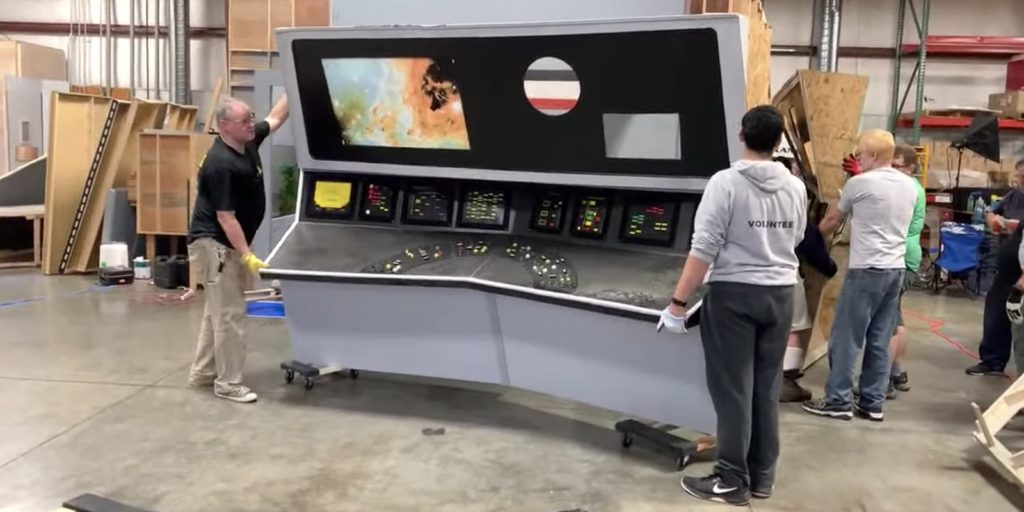 Stop me if you've heard this before. A super-fan dreamed of making a fan film covering an era of Star Trek history previously unexplored: approximately twenty years before Kirk's first five-year mission. This was a couple of years before Discovery was even announced, of course.
With a six-figure budget, a cast of trained Hollywood actors, a professional crew, costumes, props, make-up, and all the trimmings, the original goal was to release this 90-minute feature-length Star Trek fan film in 2016. But that didn't happen. Although footage was shot back in 2015, it's now 2020, and the darn thing still isn't out yet…despite a few teasers/trailers and lots of coverage here on Fan Film Factor. Fans have been patient, of course, but we really are dying to see the finished production at some point—hopefully this year!
A number of very nice sets, including a starship bridge, were built for this fan film—and for the last few years, these sets have been kept in a facility near Atlanta, GA. But the cost of storing these sets has been a financial burden of tens of thousands of dollars. But now that expense is finally ending.
I've been referring, of course, to the fan film project STAR TREK: FIRST FRONTIER, created by KENNY SMITH, that will feature the launch of the brand new USS Enterprise NCC-1701 under the command of its first captain, Robert April. The "Cage" era TOS sets were constructed in 2015 and used for filming later that year and then put into public storage in Marietta, GA (about a half hour north of Atlanta), where Kenny has been paying about $7,000/year to house them.
But truth be told, the sets would probably never have been used again. Indeed, they weren't even really built to last (unlike the AXANAR sets). But Kenny didn't have the heart to toss them into the dumpster.
Enter: ALEC PETERS. The same person who built many of these First Frontier sets—SCOTT LYTTLE—is currently working as a volunteer on Axanar (and also helped out with Interlude) doing set construction. (Check out the first five minutes of this video to hear Scott discussing construction of the First Frontier set pieces.) As it turned out, Alec had wanted to shoot some footage for Axanar on the USS Enterprise bridge, and Scott suggested they use Kenny's old sets…which were just sitting in storage anyway. Long story short, Kenny just donated the sets in their entirety yo Alec, and now their new home is Ares Studios.
But that's just the tip of the iceberg in terms of Axanews today…!
Continue reading

"Really HUGE news for ARES STUDIOS and AXANAR!"