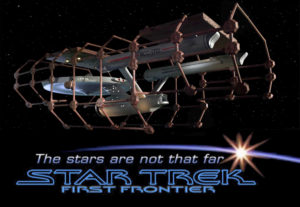 Last time (and the time before that), we began chatting KENNY SMITH, the passionate Star Trek fan who is self-funding his own fan film.  But it's not just any Star Trek fan film!  STAR TREK: FIRST FRONTIER is getting fans excited in ways that few other fan films have recently, and there's several reasons for that.
First, it's one of the few fan productions recently to build elaborate sets of professional studio quality.  Second, Kenny has hired professional SAG (Screen Actors Guild) Hollywood actors to portray his characters.  Third, Kenny has brought in industry professionals to handle production, construction, and visual effects.  Fourth, he's going where no fan film has gone before: to the launch of the USS Enterprise NCC-1701 under the commander of its first captain, Robert April, who is married to the ship's Chief Medical Officer (a fact established in April's only canonized appearance in the animated episode "The Counter-Clock Incident").  And finally, Kenny and his construction team built an incredible 11-foot model of the starship Enterprise in its earlier pre-Kirk iteration…a model which is being used to shoot visual FX the old-fashioned way.
Although Kenny tried to do a Kickstarter to raise $130K, he only got to $30K and then canceled it entirely—leaving him with zero in crowd-funding.  Instead, Kenny decided to pay for everything himself.  So I just had to ask him…
JONATHAN – If you funded this whole project yourself, Kenny, how much has it ended up costing you in total?
Continue reading "FIRST FRONTIER releases it newest trailer! (Interview with KENNY SMITH, Part 3)"