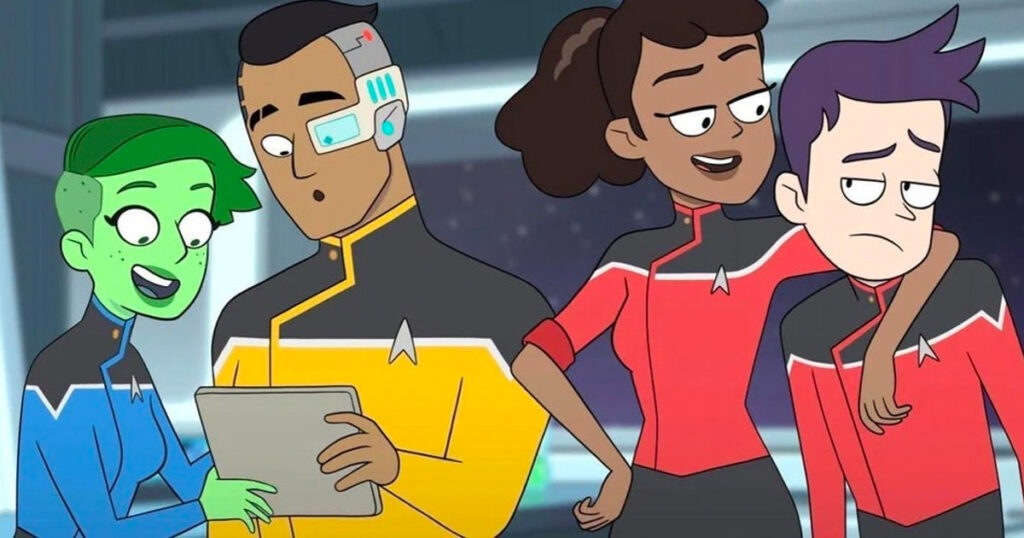 NO SPOILERS AT ALL!
I think I've discovered the secret of STAR TREK: LOWER DECKS…and it's a revelation! Granted, if you've already figured it out, too, then you're just gonna write "So what? Big deal. It was obvious from the first episode…" and curse me out for wasting your time. And of course, if you're an irate fan determined to hate this show and the very molecules of VCBS and ALEX KURTZMAN, then I doubt any "secret" is going to make you suddenly re-watch Lower Decks with and kind of fannish love and adoration.
But I digress…
Let's wander back to last Thursday and what turned out to be my favorite episode of the series so far: "Terminal Provocations" (and not just because J.G HERTZLER guest starred as the alien captain). The episode opened with this one-minute gag…
After the episode had ended, I was e-mailing back and forth with my friends David, Marc, and Gorf…telling them how much I (and my son Jayden) enjoyed the latest episode. Like most fans, we're not all in agreement on how we feel about the show, and Gorf (former DC Comics Batman editor JORDAN GORFINKEL) responded with the following:
GORF – My problem with it is [that] the characters are played as contemporary people with far advanced technology. I'm enjoying it. It's the closest thing to aspirational Trek that New Trek is putting out. But it's still living in the shadow of what was.
---
Although I agree that Lower Decks isn't on the level of TNG, DS9, or VOY, I didn't feel it was fair to complain about the characters played as contemporary people because, to be fair, that's what makes comedy work. It needs to be relatable to the audience in some way. The viewer/listener needs to say, "Oh, I soooo get that!" And thus did my next e-mail contain the following response…
Continue reading

"I figured out the secret of STAR TREK: LOWER DECKS, and it's gonna BLOW YOUR MIND and make you LOVE this show! (editorial)"