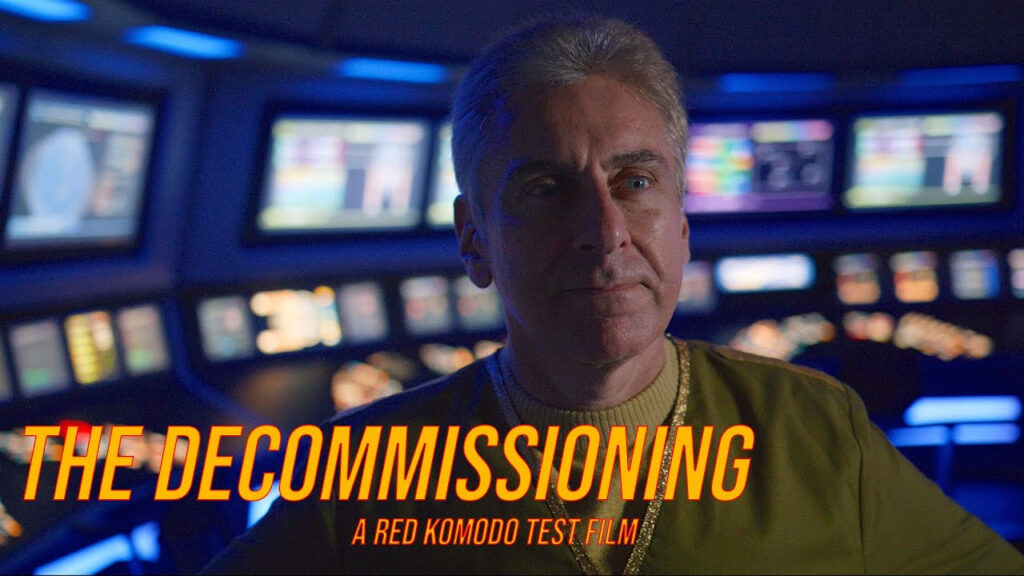 Last Tuesday, fans of AXANAR got a pleasant little surprise when a new short fan film, set in the "Axaverse," was released by GEOFF FAGIEN, who is the Director of Photography on the two upcoming Axanar sequels.
Geoff's two-minute vignette, titled "The Decommissioning," is not part of the official Axanar trilogy (PRELUDE TO AXANAR plus the two sequels). Instead, created by a a separate production company, REACH FILMS, it stands alone as an adjunct to the overall Axanar storyline . Axanar, of course, is a project from AXANAR PRODUCTIONS.
So why a sudden, unexpected Axanar vignette?
It turns out that this little exercise is a "test film" trying out a brand new camera, called the RED Komodo, that hasn't even been released to the general public yet. Geoff is one of a small number of beta-testers of the new product. They each still have to buy the camera (about $6K-$7K…a fraction of the cost of higher-end cameras), but the company, RED, is looking to actual users to provide them with feedback to help improve and perfect this newest offering. And filmmakers like Geoff are happy to help, since the results they relay back to RED will only serve to make the firmware of the camera that they just bought even better.
One of the things that Geoff wanted to test was the camera's ability to record video in low light. Lower-end cameras often cannot differentiate among the color values of very dark colors—many times interpreting them as solid blacks. Higher end cameras do a better job. Geoff was interested in seeing what the RED Komodo could do in a low-light production environment…and what better place to test it than on the bridge of the U.S.S. Ares in Lawrenceville, GA (just a short 9-10 drive from Boca Raton, FL where Geoff lives). Geoff has made multiple trips to Ares Studios for the previous shoots for Axanar, most recently back in March just before the pandemic lockdowns started.
In August, Geoff made the trip yet again, wanting to put the RED Komodo through its paces for potential future, non-Axanar projects at Ares Studios. And even though Geoff did a few straight-on tests comparing the Komodo to a Blackmagic pocket 6K camera with the same shots in the same lighting (you can see the surprising differences in this video), he really wanted to see how the Komodo would work in an actual production environment. So in addition to a couple of simple comparison tests, Geoff decided to also shoot a short film.
The idea for the film was simple enough: it's 10 years after the end of the Four Years War, Memory Alpha is shooting their documentary (including Prelude to Axanar), and the U.S.S. Ares is being decommissioned to be turned into a starship museum. With the lights turned down low, Fleet Captain Garth is taking one final stroll around the bridge, lost in thought…
Continue reading

"AXANAR test vignette "THE DECOMMISSIONING" premieres!"