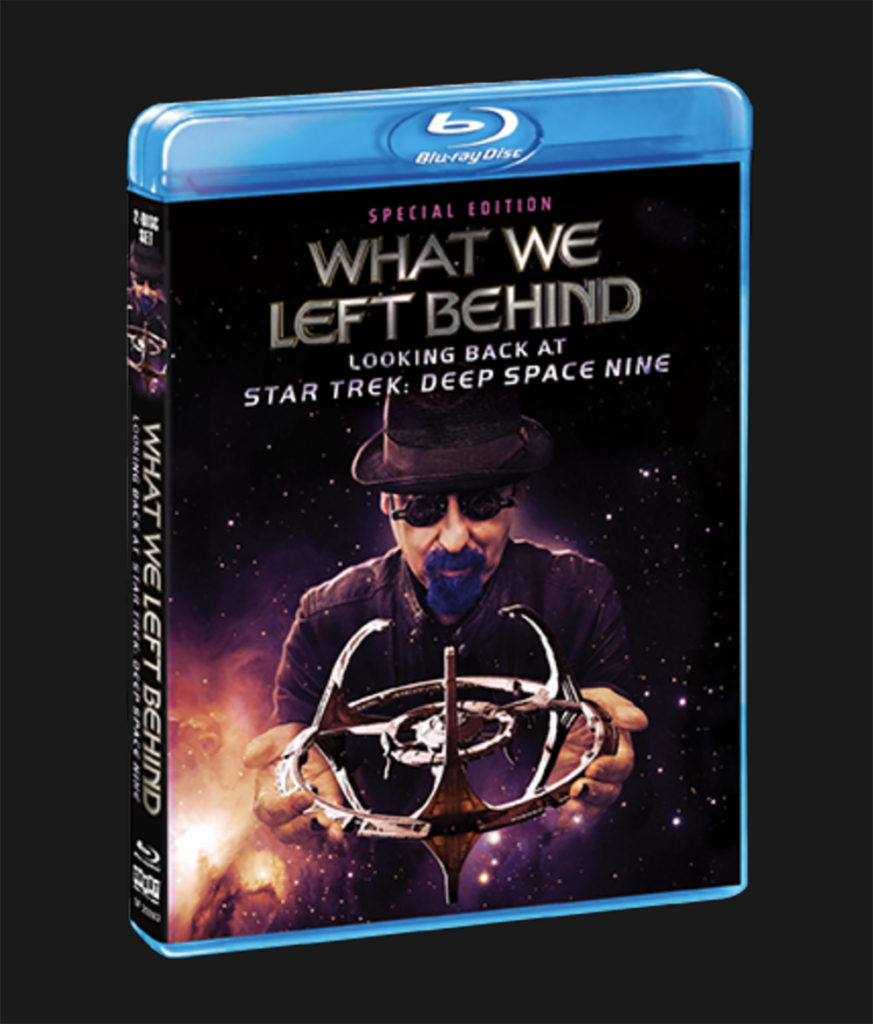 If you're a fan of STAR TREK: DEEP SPACE NINE, then the crowd-funded documentary WHAT WE LEFT BEHIND is a MUST SEE! Actually, it's a MUST SEE even if you never got into DS9 simply because it's such a well done film. It's funny, sad, whimsical, self-deprecating, nostalgic, exciting, captivating, and most of all, full of love for Star Trek, for its fans, and for a very special and groundbreaking TV series that was all too often dismissed as "the middle child of Star Trek." DS9 was so much more than that, and this documentary lets us get intimate with the people who worked tirelessly for seven years to bring this unique Star Trek vision to life.
Have YOU seen it yet?
Probably not…unless you're one of 9,552 backers who were given a limited-window streaming peek online two months ago or one of the few thousand folks who attended live screenings of the documentary in movie theaters around America on May 13. Oh, and if you're in Germany, Ireland, or the U.K., you'll get your chance to see it in theaters on June 26 (just click here to find a theater near you).
But what if you haven't seen it yet…or you just want to see it again? Where and when will it be available to buy? Glad you asked!
The North American commercial release of the documentary happens on August 6 (not sure about international yet). Of course, backers who donated at eligible levels will receive their special edition DVD/Blu-ray set a month earlier.
However, The SHOUT! Factory (which is distributing the documentary) is offering their own 2-Disc Special Edition Blu-ray set with hours of bonus features:
DISC ONE
"An Intro from Ira & the Gang"
"A Brief History of Deep Space Nine"
"What We Left Out"(over 45 minutes of new stories!)
"Behind the Scenes at the Variety Photoshoot"
"HD Remaster Discussion" (a roundtable chat with the filmmakers)
"More From the Fans" (YOU!)
Theatrical Trailer
DISC TWO: EXCLUSIVE BONUS DISC
"A Musical Reunion"(an extended conversation with composers Dennis McCarthy and Kevin Kiner)
Indiegogo Campaign Videos & Video Vault
Technical Trivia Track (a special subtitle text track with detailed technical info and listing of our HD Hero sponsors!)
If you want this Special Edition, folks, you need to hurry! Only 1,500 are being produced…and I already ordered mine (leaving 1,499). They're available in the U.S. and Canada only (really not sure why), and you can pre-order yours for an August 6 ship-date by clicking below:
WHAT WE LEFT BEHIND – Looking Back At
Star Trek: Deep Space Nine [Special Edition]