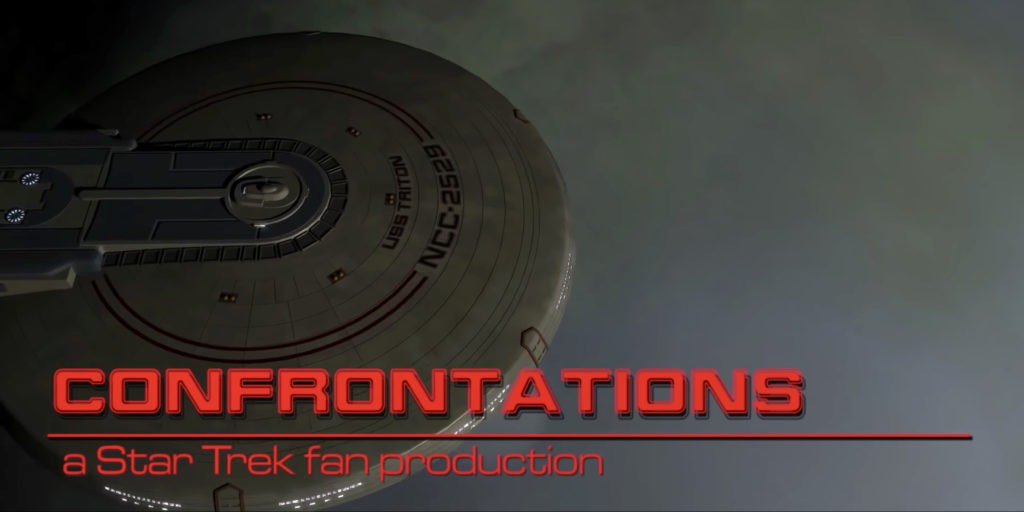 Lately, whenever POTEMKIN PICTURES releases a new fan film from one of their (currently) SIX different creative teams, I try to ask show-runner RANDY LANDERS a question or two about the latest episode.
With two different releases from Potemkin Pictures coming out on the exact same day (May 25), I tried to spread out the coverage a little by spotlighting one last month (STARSHIP DEIMOS "Children of Eberus") and one this month. The joke's on me, though, because Randy just released a third new fan film on June 22, but I'll get to that one at some point soon!
Anyway, this blog focuses on the newest offering from the STARSHIP TRITON creative team: "Confrontations." The series features as a main character Janice Rand (now a Commander, as this is movie-era, and also the first officer) along with, as of this latest episode, Dr. Christine Chapel. So far, Triton is the only Potemkin Pictures fan series to include canonical Star Trek characters as members of the crew.
"Confrontations" is this series' third episode, having just re-cast the role of Rand with a new actress, PAM SHURETT, who gets some dramatic scenes with with the second officer, played by LEZLIE SAWYER (who seems to be popping up in fan films all over the place these days!). You can watch it here…
When I reached out to Randy to ask about this episode, I found myself wondering about something. Triton was the sixth different fan series to premiere from Potemkin Pictures. (You can see all the episodes from all seven series on their website.) PROJECT: POTEMKIN was their first series and wrapped up a couple years ago with three dozen episodes. That was followed by STARSHIP TRISTAN, STARSHIP DEIMOS, BATTLECRUISER KUPOK, and STARSHIP ENDEAVOUR…then TRITON and finally HOSPITAL SHIP MARIE CURIE.
So my question for Randy was: what happens to justify Potemkin Pictures launching a whole new series/creative team? Why not just put some of these characters and actors (like Rand and Chapel) onto a starship in an existing series?
I also wondered what had happened to necessitate re-casting the role of Janice Rand? Previously, for the various Potemkin series, when an actor moved away or was no longer available, the character was written off the series. I suppose, however, when the character is a major one, like Rand, recasting makes more sense. But nevertheless, I was curious.
Here's Randy's very informative answer…
Continue reading

"The 3rd STARSHIP TRITON release "CONFRONTATIONS" led to an interesting question for RANDY LANDERS…"