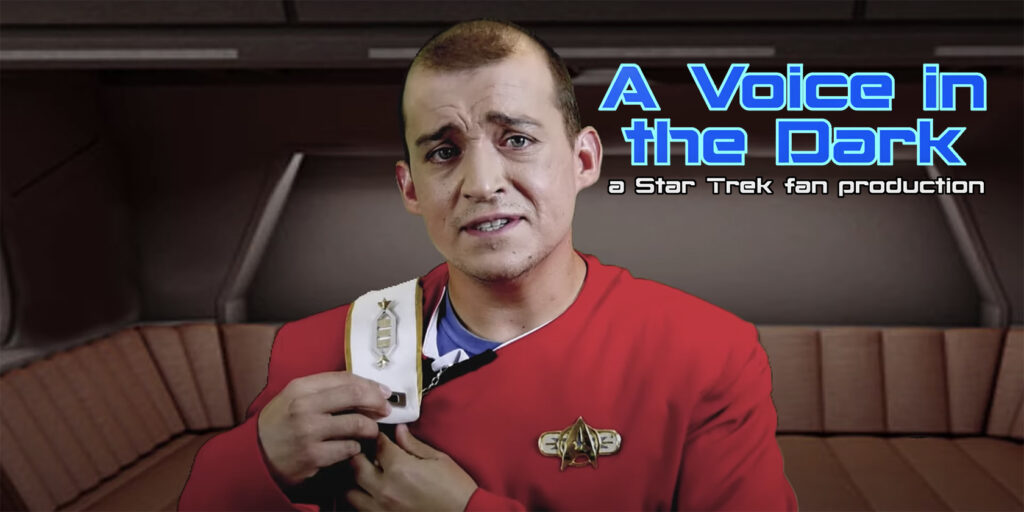 One of my favorite aspects of Star Trek fan films (and fan films in general) is the sheer variety you get from all of the different fan productions. Even from the same group—such as the uber-prolific folks at POTEMKIN PICTURES who have released upwards of seven dozen individual fan films (you can view them all here)—there are still surprises to be had. As DeForest Gump once said, "Fan films are like a box of Spican flame gems…you never know what you're gonna get." (Okay, I just made that up.)
Anyway, I had one of those very pleasant surprises when I watched the recently-released second fan film from Potemkin Pictures' newest film Creative Group, STARSHIP WEBSTER, under the watchful eye of show-runner RANDY LANDERS, now living in Lexington, Kentucky. The 7-minute vignette is titled "A Voice in the Dark" and features a character alone in his quarters recording a series of log journal entries. That might not seem overly impressive but for one notable thing: the entire fan film, all of the monologue, is delivered in a single take! And the performance is surprisingly solid for a fan film, suggesting a fair amount of acting experience.
Take a look…
Randy explained to me that the script was written by BILLY SWANSON, one of the members of the new Starship Webster Creative Group, and the actor playing the main role of Commander Robert Hawkins. Initially, the producers in the group came up with the idea of doing a series of shorts to introduce the crew, ultimately intended for no-contact filming during the pandemic. Billy created a one-person character-study, wrote an outline of what he wanted to do, practiced it, and recorded it into his phone.
Randy took a watch and loved the vignette; it was a great look at his character's backstory. The only problem was that it seemed like it was filmed on a cell phone in someone's bedroom. So Randy asked Billy to come to the studio to film it using Randy's lighting, green screens, camera, and sound equipment. Randy set up the green screen and a table for the bed, a chair from the bridge set, and a uniform. He set up the camera and the mics, lined Billy up, and turned the equipment on. Then Randy walked 10 feet across the room, sat in their remaining captain's chair, and watched Billy do his thing.
So Billy was literally the actor, writer, and director. It was one single continuous shot, so there really wasn't much for Randy to do except adjust the lighting, add the VFX for the officer's quarters, and make sure it looked good in post. Randy provided the following comment…
Continue reading

"Writer/Director/Actor/Wrestler BILLY SWANSON discusses "A Voice in the Dark" from STARSHIP WEBSTER…"