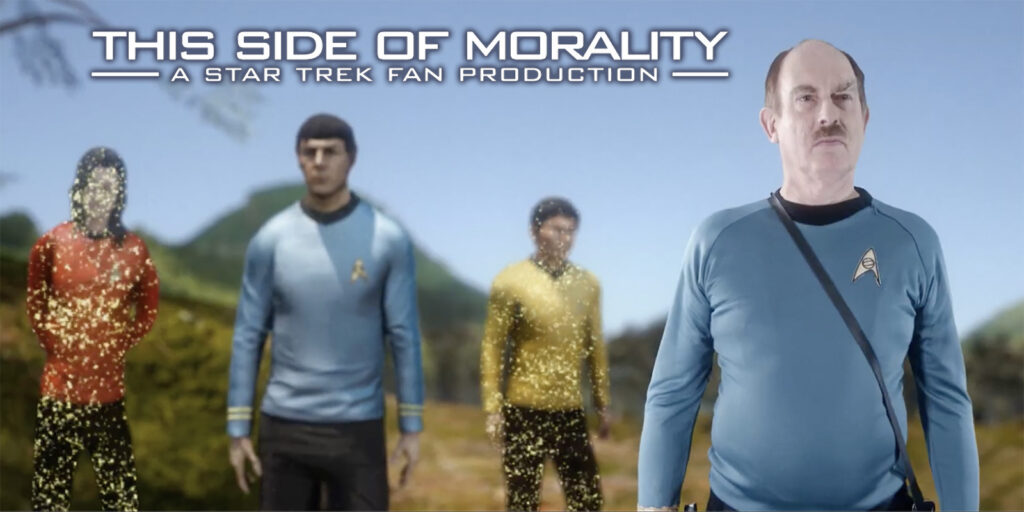 Perhaps you can call SAMUEL COCKINGS "the hardest working person in Star Trek fan films." I mean, sure, there's a lot of fan filmmakers who work REALLY hard on these time-consuming projects, but even if there's someone else out there who's putting in more hours than Sam, the race is at least gonna be close!
And that's because not only is Sam doing the CGI visual FX for such fan films and series as AVALON UNIVERSE, DREADNOUGHT DOMINION and PROJECT: RUNABOUT, TALES FROM THE NEUTRAL ZONE, the two most recent releases from AARON VANDERKLEY of Australia BEYOND THE SUN and OUTBREAK, SQUADRON from the Czech Republic, INTREPID from Scotland, the amazing THE ROMULAN WAR, PART 1 (and the soon-t0-be released Part 2), and the upcoming FARRAGUT FORWARD, Sam is ALSO putting significant amounts of time into his own Star Trek fanthology series, TREK SHORTS. The fan films he's released so far under this banner are:
The final two fan films in the above list were written and produced in a mock documentary ("mockumentary") format much like PRELUDE TO AXANAR and The Romulan War, where a major event is described through an interview with someone who witnessed it.
And now there is a third mockumentary in the mix, this one titled THIS SIDE OF MORALITY, and it's full of firsts for Mr. Cockings…and indeed, for TWO Mr. Cockings! I say "two" because Sam's father, STEVEN COCKINGS, stars in the film.
This is not the first time Steven has appeared in one of Sam's productions. In fact, he's been in several of his son's films, including the aforelisted A Long Way from Home, Sam's epic TEMPORAL ANOMALY, and Sam's recent Stargate Universe film NEW MISSION. Steven has also appeared in cameos in a surprising number of other Star Trek fan films that includes The Romulan War, Part I as well as STAR TREK: FIRST FRONTIER and YORKTOWN: A TIME TO HEAL.
With so many previous appearances, this latest release marked the first time that Sam gave his dad a leading role! And Steven did a FANtastic job. It was also the first time that Sam used digital CGI recreations of major Star Trek characters and the first time a Trek Short has ventured into the 23rd century, as Sam's previous short offerings were all 24th and 25th century Star Trek. Sam also included a few other digital "tricks" which we'll discuss shortly.
But first, let's take a look at This Side of Morality…
And now, appearing for the umpteenth time in an interview on Fan Film Factor, the one-and-only Samuel Cockings…
Continue reading

"TREK SHORTS' newest release "THIS SIDE OF MORALITY" is a father/son project! (interview with SAMUEL COCKINGS)"