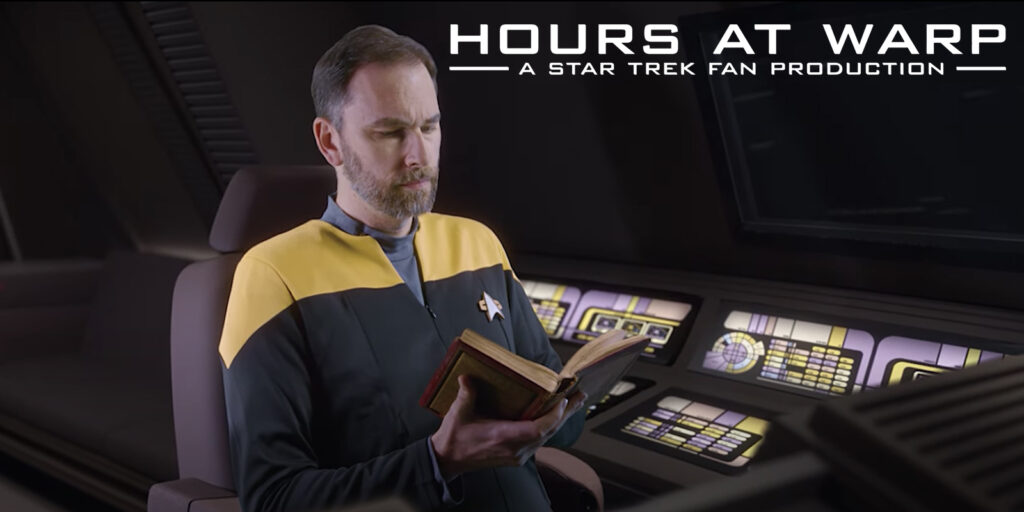 Okay, this is a totally wild story (or rather, series of stories)! But first, if you haven't donated yet to SAMUEL COCKINGS' Indiegogo for his TREK SHORTS project, you have just a few short days left, and he's only about $2K short of his goal! Two new small donation perks have just been added, so please try to help him cross the $10.5K finish line before March 31…
https://www.indiegogo.com/projects/trek-shorts-2021-by-fans-for-fans#
At the beginning of this month, Sam—fan film's answer to Scotty, Geordi, Miles, B'Elanna, and Trip all rolled into one Brit—released the first of his Trek Shorts: A LONG WAY FROM HOME, starring NIMRAD SAUND, NICK and LUCITA COOK from the INTREPID fan series out of Scotland, with a cameo by MICHELE SPECHT form STAR TREK CONTINUES. The 19-minute film looked amazing, with jaw-dropping VFX, strong acting, and FANtastic virtual 3D backgrounds.
The Indiegogo, if successful, will fund an additional FIVE Trek Shorts fan films starring notables from such fan series as the AVALON UNIVERSE, DREADNOUGHT DOMINION, DARK ARMADA, and Sam's previous project TEMPORAL ANOMALY. It's a really exciting and ambitious project, and the campaign got off to a strong start in its first week.
But by the second week, things were slowing down a bit. So Sam decided to quickly put together a teaser-trailer for Trek Short #3, "Hours to Doomsday," which would star MARCUS CHURCHILL, reprising his role of Ensign Sam Harriman from Temporal Anomaly, along with Nimrad Saund as Lieutenant Keeley. Sam scheduled them both to shoot some footage for the fan film at his home studio on Thursday, May 13…and all was set. Sam had cleared his schedule for the next two and a half weeks to work on nothing else in order to release the teaser shortly before the campaign ended.
And then Sam's phone rang. It was Nim.
"It was too early," Sam told me. "A call saying that she was on her way would have happened a couple of hours later. My sleepy brain didn't even process what she was saying at first." Nimrad had just tested positive for COVID, likely contracted at her workplace about a week earlier, based on her symptoms. She wasn't hit too hard, but obviously, she couldn't come to Sam's studio to do a film shoot. (While Brits are getting vaccinated, the order of shots is still in the oldest-to-youngest phase…and Nim and Sam are below the current 35-year-old minimum age cut-off.)
But Sam's brain didn't have the luxury to stay sleepy. "I had to jump into action and work out what we were doing. My first thought was to just push everything back a week. Nim was currently asymptomatic, and hopefully she would test negative by the following week. I'd have less of a teaser to release, but at least I'd have something."
So Sam immediately phoned Marcus, asking if he was available the following Thursday. "Marcus said it wouldn't be possible. This was his only free day until the third week of June because he was going to be in rehearsals for a play. I made the snap decision to keep to the original plan for Marcus to make the two hour trek to my home studio and try and film…something."
Unfortunately, Sam couldn't do anything for "Hours to Doomsday" because that whole film involves the interactions between two Enterprise-E crew members. So Sam sat down at his keyboard and started typing up a script for a brand new short film…very short, as Sam had only about an hour left until Marcus arrived!
"Marcus arrived as I was finishing, and we jumped right into gear," Sam told me. "Marcus fitted into his new Voyager-era costume that I got for him, and we were able to do rehearsals in three chunks to be able to learn enough to shoot, taking it one bit at a time. We actually had fun with this rather 'day in the life' mini-short."
Sam then spent all day, every day for the next week on the short to get it finished. Not only that, but his music creator juggled his week's schedule to make the six minutes of music in just 48 hours! Oh, and there were also two other actors to coordinate. "I was super lucky," says Sam, "to have been able to book both my computer voice actress—to meet and film her lines within 24 hours—but to also receive ROBIN HIERT's dialogue within 36 hours of filming. It was a real whirlwind, but it all came together!" This mark's Robin's first return to Star Trek fan films since the series finale of Dark Armada, "Out of Time," back in 2016.
Sam's new mini-short, titled HOURS AT WARP, debuted on May 23, and is pretty darned impressive for a fan film that went from nothing to full release in just 10 days! Take a look…
"It was a surreal pleasure to see Marcus for the first time in about 7 years, work with him as Harriman again…and in a NEW uniform! Very fun!"
Sam also took advantage of his time with Marcus to prep for one of the five remaining Trek Shorts (as Hours at Warp is considered a "bonus" episode). The one they prepped was episode #5, the Star Trek/Stargate crossover. "We finished the main shoot and proceeded to do costume tests for his Stargate short film, shooting a very short teaser, which was released on May 26." Here's that one…
"All in all," concludes Sam, "we turned a major setback into a bonus mini-short film for the fans and one which has a different vibe then most fan films…and one that hopefully keeps up the high production quality that people expect from me."
With just a few days left to donate, please consider giving a little something to help make all six Trek Shorts (plus one bonus min-short) a fan film reality…
https://www.indiegogo.com/projects/trek-shorts-2021-by-fans-for-fans#