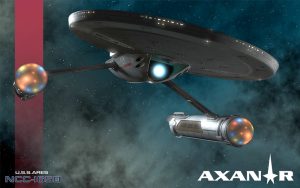 Yesterday, we began discussing the two documents filed by the opposing parties in the Axanar copyright infringement lawsuit last Friday.  (There's actually three documents, but more on that later.)
Both of the new documents are significantly shorter than the 60-page Joint Stipulation document from the previous week that argued for and against the court to compel the studios to produce a boatload of documentation related tot he case.
While the plaintiffs' supplemental memorandum was only a page and a half and repeated most of what they argued previously, the defense's supplemental memorandum used the full five pages permitted by the court.  When last we left off, we were talking about President Gerald Ford.  No, seriously.  Go back and read yesterday's blog, and then come back here to see how team Axanar's strategy is becoming much clearer now…
The Gerald Ford lawsuit was a verdict for the plaintiff in a copyright infringement case Harper & Row Publishers v. Nation Enterprises that went all the way to the Supreme Court.  In it, the justices ruled that, in determining fair use, the potential financial damages to the marketability of the infringed property must be the primary consideration.  All CBS and Paramount have to do is show that Axanar is damaging their potential market for Star Trek, and–WHAM!–no fair use defense.
Or maybe not.  The Defense isn't planning to make it quite that easy…
First, there are a number of important differences between the two cases (and not simply that Gerald Ford is no longer alive).  Most notable is that the financial harm done in the 1985 lawsuit was specifically because the memoir had not yet been published and, by stealing even a small part of the memoir (arguably the most compelling part) and publishing it first, the work became significantly less commercial since it would no longer be a surprise revelation.
Conversely, Star Trek has already been around for 50 years, and it's already been VERY lucrative for the studios.  It's hard to imagine a 20-minute fan film (no matter how professional it looks or how many millions of views it gets) stopping Star Trek from making money…lots of money.  Unlike Ford's memoirs, Star Trek beat Axanar to the general public…by 48 years!
And this leads us to the second and much more interesting quote from the defense in addressing this case:
The Harper court further held that a copyright holder must "establish[] with reasonable probability the existence of a causal connection between the infringement and a loss of revenue…"
That's a biggie because it shifts the responsibility squarely onto the shoulders of the plaintiffs to show exactly how Axanar caused or will cause financial damage to Star Trek.  The studios can't just give a vague answer either, like "Fans will likely watch Axanar and this not watch our new series."  The studios will have to prove that causal relationship…and I can't imagine how they'll manage to do that.
And here's where we get to our next bombshell in the case (we had three bombshells yesterday)…
---
BOMBSHELL #4: THE NEW GUIDELINES MAY ACTUALLY HURT THE CASE FOR THE STUDIOS!
(Okay, I can already hear many of you starting to type angry or challenging comments at the bottom of this page.  Please hear me out first.)
As I was just saying, in order to negate the fair use defense, the plaintiff must show a direct, causal link between the existence of Axanar and financial damages (or potential damages) to Star Trek.  So let's switch for a moment to Vulcan logic mode.  Logically, one would assume that neither CBS nor Paramount would knowingly do anything to cause direct financial harm to Star Trek.  (And no, you can't say that letting J.J. Abrams direct Star Trek counts as causing financial harm…mainly because the 2009 movie was a blockbuster hit.)
So assuming that the studios would not do anything to harm their own brand's marketability, then why do they allow ANY fan films?  If there's even the smallest chance that fan films could make Star Trek less marketable, then don't allow them at all!  But the guidelines do allow them.  In fact, by having such guidelines, the studios are endorsing and even encouraging the practice.  Why would the studios do such a thing unless they realized that fan films actually have some value to their brand?
Now, before you start typing(!!!!), I know what you're going to say: Axanar (or rather Prelude to Axanar) violates most of the guidelines.  It raised more than $50,000, distributed perks, and used professional actors and paid professional tradespeople.  Of course, so did many other fan productions, including Star Trek Continues, Star Trek: New Voyages, and Star Trek: Renegades.  By suing only Axanar and allowing those other fan productions to exist, weren't the studios recognizing the value of those other fan productions?  So why not recognize the value of Axanar, as well?
BUT!!!  You say that those other fan films will need to adapt to the new guidelines in order to continue?  Fair enough, but then, if those other productions were given the opportunity to adjust themselves to follow the new guidelines, why not give the same opportunity to Axanar?  Why sue first and ask questions later?  And remember that Alec Peters approached the studios on four separate occasions to see if he was going too far.  Each time, they said, "We can't tell you."  One would assume at least some of the other fan films did likewise (and have publicly claimed to).  Again, why was Axanar specifically targeted and not, say, Renegades…which raised $375,000, offered perks, paid industry professionals to work on their production, and cast Star Trek veteran actors to reprise their roles?  Renegades was even 90 minutes long while Prelude was only 21 minutes.  This is not meant to single out or pick on Renegades (I was a donor!), but it begs the obvious question: "If the studios allowed Renegades to be made without taking legal action, then how was Alec Peters to know he'd stepped over some invisible line if the studios refused to tell him?"
And thus are we brought back to whether the infringement was willful or non-willful, a distinction I covered in more depth in the bottom half of this previous blog.  So not only do the guidelines suggest the fan films might actually be valuable to the franchise (making a claim of monetary damages from Axanar less believable), but simply by the studios now officially allowing fan films, it adds to the claim that Alec Peters had a reasonable belief that he was not infringing…since the studios are now allowing for fans to infringe on their copyright with the studios' blessing and the studios are likewise not forcing the existing fan films to be pulled off of YouTube.
---
Now, if you've been reading carefully, you might have noticed something: I'm litigating the case!  I shouldn't be doing that at this early stage, as we're still in the discovery phase, and the only question before Magistrate Judge Charles Eick right now is whether or not to compel the studios to produce more documents for discovery.
So why am I arguing the case itself in this article?  Because both the plaintiffs' attorneys and the defense team are doing it, too.  In other words, they started it!  But seriously, if you read all of the documents filed over the past couple of weeks, you'll see a LOT of arguments sneaking into the discovery phase that should be saved until the trial.  And since both sets of lawyers were making those arguments in their filings, I wanted to include them here, as well.
However, the defense did realize that their true goal was to convince the magistrate judge to compel discovery, so Erin Ranahan made sure to conclude her argument about other fan films and the guidelines with this to-the-point statement:
Defendants are seeking information regarding Plaintiffs' treatment of other fan films that could demonstrate that Plaintiffs recognize the promotional value of fans creating their own fiction—a fact that can be inferred by the very existence of the fan film guidelines, and may be bolstered by other internal documents.
Defendants' expert(s) cannot analyze such documents for this purpose if Plaintiffs refuse to provide them to Defendants.
Hard to argue with that.  And as for bringing in the Harper (Gerald Ford) case as a way to get out of providing discovery documents (something the plaintiffs tried to do on pages 24, 26, and 29 of the  Joint Stipulation document), the defense deftly countered that strategy with this very simple response:
But Harper assessed the merits of fair use—not discovery—and does not justify Plaintiffs withholding this basic discovery at this stage.
A fair point to make that the Harper case isn't even relevant in the discovery phase.  Granted, it's still up to the magistrate judge to make the final decision, but I am sure both legal teams will be arguing hard in court.
---
BOMBSHELL #5: THE DEFENSE WILL BE USING THE PLAINTIFFS' OWN WORDS AGAINST THEM
Okay, this one isn't a true bombshell– more of a landmine–and I listed some examples of this in Part 1 of this blog.  Here's a couple more places where the plaintiffs may have hoisted themselves on their own Picard, er, petard…
So one of the main arguments that the plaintiffs used in not turning over documents relating to the guidelines or the e-mails to and from J.J. Abrams and Justin Lin was that nothing that happened after the lawsuit was filed is relevant to the case.  After all, Axanar was served way back in December, and the guidelines weren't announced until the following June.  How could such things have possibility influenced what Alec Peters thought or did?  The same is true for any discussions that J.J. Abrams and Justin Lin had after the suit was filed.
Sounds solid and reasonable, right?  Well, as I said, the defense is NOT going to make this easy for the plaintiffs.  Check out how Erin Ranahan responded to that argument from the plaintiffs:
Plaintiffs argue that statements made after the lawsuit was filed "could not possibly" have any bearing on Defendants' state of mind in creating the works at issue in this action—and yet this action is admittedly about one Axanar work that had yet to be created at the time the lawsuit was filed.
In other words, if the studios want to lump in the full Axanar movie (which hasn't even been filmed yet) with what they're suing Alec Peters for, well, then they're talking about something that happened (or will happen) after the lawsuit was filed.  Oh, there was a 4-minute "Vulcan scene," but the lawsuit doesn't limit itself to only that.  They reference the full script and the potential damages this full-length feature could cause the studios.
But the plaintiffs can't have it both ways: arguing for potential future damages while cutting off all documentation at the moment the lawsuit was filed.  Either the financial damages are capped at whatever happened before December 28, 2015 or else the studios have to allow for discovery of documents from December 29 forward.
The next example of the studios accidentally putting their collective foot into their mouth was actually something I brought up in my blog about the previous filing.  The Plaintiffs make a big deal about Axanar NOT being a "fan film."  But then the defense noticed something that I also noticed:
Plaintiffs' insistence that Defendants are somehow not a fan film is especially curious considering that Plaintiffs objected to the use of the phrase "fan film" as vague and ambiguous in discovery responses.
So I suspect it's likely that any attempt by the plaintiffs to define Axanar as NOT being a fan film will be swiftly objected to be the defense.
And I saved the biggest bombshell for last…
---
BOMBSHELL #6: THE PLAINTIFFS LIED TO THE COURT IN THEIR FILINGS!!!
Oh, that is NOT good!  And it's not a little lie, either.
In both the Joint Stipulation document and in the plaintiffs' supplemental memorandum,  the plaintiffs make one particular claim over and over again (the following is taken from the second sentence of the latter document):
Defendants failed to meet and confer.
Oh, really?  Then how do the plaintiffs explain this defense declaration and exhibits (also filed along with last Friday's supplements)?  This filing contains an e-mail chain between Axanar lead attorney Erin Ranahan and Loeb & Loeb attorney David Grossman (for the plaintiffs) that took place starting on September 26 and continued through October 4.
In the back-and-forth exchange, the two lawyers discuss an in-person meeting that happened back in June (in the main memorandum, Erin Rahanan confirms to to the court that the specific date was June 21) as well as their latest in-person meeting on September 8.  Nowhere in the e-mails does Mr. Grossman dispute that the two meetings happened.  And yet, in both his filings, his team stated to the court that the defense refused to meet in person and confer, which is extremely prejudicial in front of the magistrate judge.  Pants on fire here, people!
As for the content of the e-mails themselves, you are welcome to read through them yourself (start from the bottom–oldest–e-mail and read them upwards to the most recent).  I personally found them fascinating and eye-opening…especially when I realized that my own wife (also an attorney at another firm) has to deal with this kind of passive-aggressive confrontation daily, as well.  It's not an easy life to live, and my heart goes out to both my wife and to Erin Ranahan.  (Not so much to Mr. Grossman, though, but I'll leave it to you to decide who's bullying whom.)
---
So what happens next?  A week from tomorrow (on October 21), lawyers from both sides go into the U.S. Ninth Circuit Federal Courthouse on West Temple Street across from Los Angeles City hall and argue the the motion to compel discovery in front of the the Honorable Charles F. Eick, magistrate judge for the Central Division.
Judge Eick will most likely have already looked over all of the filings closely, and he'll probably ask both sides some very pointed questions.  There will be lots of arguing by the attorneys, I'm certain.  Then Judge Eick will make his ruling, which will become public record, on what documents–if any–the studios must provide to the defense team.
Because the discovery period ends on November 2, there will only be about 10 business days for the studios to produce whatever discovery items are required by the magistrate judge.  Depending on how much they are compelled to produce (and it could be nothing, a little, or it could be a lot), it's possible the studios will ask for an extension, which could delay the trial start date until sometime later than January 31, 2017.
But we'll have to see what happens.  And when it does, you can expect I'll write a ridiculous amount about that, too!