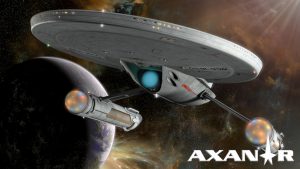 Okay, so everyone is talking about, cheering about, cursing about, and analyzing Friday's ruling by Magistrate Judge Charles Eick after the hearing to determine Axanar's motion to compel discovery from the studios.
Rather than summarize exactly what just happened, I am going to humbly direct you to the blog website of my delightful counterpart over on the other side of the Internet fence, Janet Gershen-Siegel.  Unlike me, the Boston-based Janet actually went to law school, graduated, and practiced insurance defense law for a few years back in the 1990s.  She's been analyzing and writing about the Axanar lawsuit in painstaking detail almost since it was filed.  And while we all have our little biases (yes, even me!), Janet's meticulous reviews are sprinkled with a generous helping of comedic flairs to be very accessible for the lay-person.  And when I say I do my research before writing these blogs, hers is one of my never-miss sources of information and insight.
So instead of reinventing the wheel, I'm going to send those of you who are curious over there to Janet's blog to read more about what the judge actually ordered the studios to do…and then come back here for the follow-up.  What I'm going to talk about is how the defense is planning to use all of this newfound "bounty" (an amazing amount of new discovery documentation and verbal/written answers to defense questions ordered by the court) to try to win their case…or at worst, not lose too badly.
Before I begin, though, after my Friday blog, I received a number of questions from people through comments and e-mails.  The first question was the most prolific: Is this a typical outcome for a Motion to Compel Discovery filing?  Does the judge usually rule in favor of the party making the motion or is an outcome like this more rare?
I checked in with one of my legal consultants and was e-mailed the following response:
There's no typical outcome. It all depends on which side the judge thinks is being a prick in the way they wrote their filings. Sometimes I get everything I want, other times I don't. But I'm not surprised by this ruling. Both sides rolled the dice. The defense went after way too much, hoping that by asking for a mountain, they'd at least get a mole hill. The plaintiffs took a chance that they could weasel out of having to produce most of what the defense was asking for. It was worth a shot, and some judges might have let them get away with some or most of what they wanted to withhold. But other judges will rule the other way, and as I said, I'm not surprised by this outcome. I doubt the plaintiffs' lawyers are all that surprised either. Disappointed, maybe. But they had to know this was a big gamble to begin with.
The next question I got asked (with varying degrees of four letter words thrown in from certain people) translated essentially to: Was this really a HUGE win for Axanar, or are you just saying that because you're biased?  (The four-letter words came either before or in place of "biased.")
So here's my best analogy…
Imagine that the defense had previously asked the plaintiffs for 100 marbles and got, say, 3 marbles (which is kinda what happened–most of what the plaintiffs have provided to the defense so far was, reportedly, highly redacted and mostly useless).  Now, admittedly, 100 marbles is a LOT to be asking for, but 3 is downright embarrassing.  So had the defense come out of Friday's hearing with even just 3 more marbles, it would have been a win (they would have doubled their marble count).  Even 1 marble would have been more than they had before…and a win is a win, right?
But the judge has just given the defense about 85 marbles.  The ones they didn't get (Star Trek financials dating back to 1966 and the infamous Star WARS fan film records of contact) were always pie in the sky to begin with.  They were easily-sacrificed pieces on the chessboard that allowed other pieces to remain actively in play.  And the plan worked.  What the defense lost was peanuts compared to what they got.  What they got could actually make this case winnable…or at least not horrifically lose-able.
So let's get down to the nitty gritty: how will the defense either win this case or, at worst, lose it with minimal damages…and how will these new discovery documents help?
GOOD OL' FAIR USE
The defense wins if they can convince the jury this was some kind of "fair use."  Period.  But fair use is a challenging and elusive beast to capture!  It's not easy to prove fair use (see this short article from the U.S. copyright office); if it were, there would be a LOT more copyright infringement in this country!
You can read the above article to learn more about the four different elements of fair use: purpose and character, nature, amount and substantiality, and effect on the potential market.  But by far, the most important of these four elements to consider–says the Supreme Court–is the final one, the potential financial damages the infringing work presents to the original copyrighted work.  And this harm isn't limited only to what happened before the case was filed.  The infringed party can also claim future losses.  In other words, while the feature-length file Axanar might not be made yet, if it does get made, it could have a financial impact on the market for Star Trek or derivative Star Trek works that come late.  A good and potentially realistic example is the "other" discovery, the new streaming TV series Star Trek: Discovery, which is purported set at about the same time period in Trek lore as Axanar and Prelude.  So if fans see those two films and they're really, really good, maybe they won't feel the need to shell out six bucks a month to watch the new Trek TV series, costing the studios money in the future.  I'm guessing this will be brought up by the plaintiffs during trial.
So the defense needs to counter the plaintiffs and try to show that there wasn't any financial damage or, if there was, the damage was minimal.  How might any of this new discovery (and Discovery!) documentation from the studios help the defense prove their point?
Well, obviously, the following items from the studios will help A LOT:
All Documents that refer or relate to the commercial impact, if any, that the promotion, production, or release of fan films, including but not limited to fan films inspired by Star Trek, has had or might have on the value of the works from which the fan films are inspired, including but not limited to the Star Trek Copyrighted Works.
All Documents and Communications demonstrating how the market for [the studios'] business has been impacted by the Axanar Works.
All Documents and Communications discussing the impact, or lack thereof, of the Axanar Works on [the studios'] business.
In court last Friday, the magistrate judge seemed to be very aware of how damaging turning this information over could be to the plaintiffs.  After all, this is their playbook.  When they go to trial, they will attempt to prove financial harm.  So the judge has just ordered the studios to explain exactly how they're going to do that in court so the defense can prepare to counter it.  But in law, that's perfectly fair.  In fact, judges don't like it when unexpected, seemingly devastating evidence suddenly appears out of nowhere–mainly because it's often grounds for appeal or a mistrial because such evidence should have been produced during discovery.
So yes, CBS and Paramount, you have to share your playbook.  But what's potentially worse is if there ends up being something discussed in some e-mail where a studio executive muses that these fan films (especially Axanar) might not have much, if any, impact on the franchise at all.  Even one stray comment could be a lifeline for the defense…and a prolonged discussion could be just what the holographic doctor ordered for Axanar.
Of course, maybe there isn't a smoking gun e-mail.  Maybe the discussions of how the studios will prove financial damages were only talked about in person at meetings with no written record.  So a discovery requirement to turn over only documents could be a dead end for the defense.  The studios might be able to keep their playbook "secret" after all…
…except for this order from the judge (the second item on his list):
(2) serve supplemental answers without objection to Interrogatories Nos. 8 and 9;
Which just happen to be…
Interrogatory #8
Identify and describe the harm or injury You claim to have suffered as a result of Defendants' actions as alleged in the FAC [first amended complaint – Jon].
Interrogatory #9
Identify and describe the damages that You seek for each cause of action asserted in the FAC, including by identifying and describing the method(s) used to compute these damages.
In other words, tell the defense how much damage you studios think Axanar has caused you and exactly how you came up with this number.  This is not an e-mail or document they have to turn over.  The defense will submit their carefully-worded questions and the plaintiffs MUST answer, without objections.  The studios can't plead the fifth or anything like that.  And once the defense has this information about what the studios' expert witness(es) will say, the defense can then go out and find their own expert witness(es) to refute the plaintiffs' claims and let a jury decide whom to believe…
So again, yes, the playbook must be shared.
J.J. ABRAMS, JUSTIN LIN, AND FAN FILMS BEING LEFT UP ON YOUTUBE
Why, oh why is everybody so obsessed with J.J. Abrams and Justin Lin and their public comments back in May???  After all, Prelude to Axanar was released two years before J.J. announced that the lawsuit was "going away," and really, what does it even matter what he thinks?  He doesn't speak for the studios–he's just some director they hired.
Moreover, why worry about all of these other fan films that aren't Axanar?  Well, if you've read my earlier blogs on the subject, you know that the existence of other fan films and the studios permitting them to exist goes toward Alec Peters' state of mind at the time he made Prelude, and it could prove the any infringement was non-willful (and therefore, MUCH less expensive when the verdict comes in).  But right now, I'm not talking about that aspect of the defense.  I'm talking about financial damages.  Surely other fan films on YouTube like Renegades and Star Trek Contineus have nothing to do with financial harm coming from Prelude and Axanar on YouTube.
Don't be so sure…
---
Okay, guys, we're far from done here.  But folks have been complaining that I'm writing blogs that are too long.  (Well, Alec has, at least.)  So let's stop here for today.
Come back tomorrow for Part 2 where we ask, "What do other fan films got to do, got to do with it?" and look at the many faces of copyright infringement.  It's not just about willful versus non-willful…it's also about damages/profits versus statues.  Don't worry–all will be explained with just enough humor thrown in to make it all vaguely interesting.