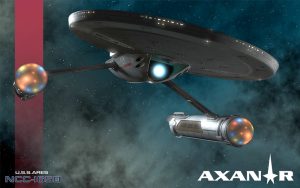 If you haven't read Part 1 yet, go read it now.  Then come back.
Welcome back.  Shall we begin…?
When last we left off, the focus was on J.J. Abrams and Justin Lin and their public comments about Axanar.  The studios have now been ordered in a ruling by Magistrate Judge Charles Eick to turn over:
All Documents and Communications relating to the statements made by J.J. Abrams on or about May 19, 2016 that (a) Justin Lin was "outraged" by this lawsuit; (b) this lawsuit "was not an appropriate way to deal with the fans"; (c) "fans should be celebrating this thing"; (d) "[f]ans of Star Trek are part of this world"; (e) Justin Lin "went to the studio and pushed them to stop this lawsuit"; (f) "within the next few weeks, it will be announced this is going away"; and (g) "fans would be able to continue working on their project."
And Atlas shrugged.  Many of the Axanar detractors, and indeed, even the plaintiffs and their attorneys have said, "So what?"  These two men aren't spokesmen for the studios.  They were hired out as directors, and therefore, any opinions they might have are hardly relevant to the case.  Who cares what they both said in their e-mails to the studios about Axanar?  We already know what they think anyway!
Here's why it's important…
The reason the defense wanted to depose J.J. and J. and see their correspondences with the studios is NOT about learning what they said to Paramount and CBS.  It's all about finding out what the STUDIOS said to J.J. and J.
Ah hah!!
If the studios said anything to J.J. Abrams or Justin Lin leading them  to believe that the studios would be dropping the lawsuit because they agreed that fan films were only helping the franchise and not hurting it, well…  BAM!  The studios are now on record as agreeing that fan films might actually be a GOOD thing for Star Trek.  And it's hard to prove damages from a good thing.

Of course, it's possible the studios never said any such thing in an e-mail or a phone call.  Or maybe J.J. Abrams just imagined it…or went, er, rogue.  (Sorry, had to make at least one Star Wars reference.)  And if the studios never said fan films were a "good" thing for Star Trek, then game over on this line of argument, right?
Not exactly.
Y'see, there's a very good reason the defense was also pushing the following item:
All Documents that refer or relate to [the studios'] decision whether to pursue legal action, including but not limited to sending DMCA takedown notices, sending cease and desist letters, and/or filing lawsuits, with respect to fan films inspired by Star Trek… [followed by the long list of fan films -Jon]
And the reason for bringing up other fan films is this.  If fan films cause any kind of financial harm to the studios, then why leave them up on YouTube at all, let alone for years and years?
Copyright holders are allowed to tell YouTube to take down videos that might be in violation of copyright and then wait for the two sides to sort it all out (while the video remains down, of course).  But this has NEVER happened for ANY Star Trek fan film.  In fact, the one time a Trek fan film was taken down from YouTube (shortly after Star Trek Continues posted "The White Iris"), it turned out it was a mistake made by YouTube, and CBS pushed YouTube to get that episode back up ASAP.  Read about it here.
Of course, one would imagine the plaintiffs will argue that all those other productions were just "fan films" while Axanar is not, by Alec Peters' own words, a "fan film."  We can debate the definition of "fan film" elsewhere, but it turns out to be irrelevant here after all because of this other item the judge has ordered the plaintiffs to deliver:
All Documents and Communications regarding [the studios'] decision whether to send a DMCA takedown notice to YouTube or any other person or entity with regard to Prelude to Axanar or the "Vulcan Scene."
So let's assume that the mere existence of Prelude to Axanar and the "Vulcan Scene" were doing irreparable harm to CBS and Paramount.  Wouldn't it have been a good idea, then, for the studios to contact YouTube and have both films taken down?  After all, CBS had already contacted YouTube about STC's "The White Iris"…so they knew the phone number or e-mail address.  But Prelude was left up on YouTube for 17 months before the lawsuit was filed (and it's still up).  The "Vulcan Scene" had been up for five months and was pulled down by Alec Peters, not because of a take-down order from the studios.
So riddle me this, Batman: if the Axanar videos were damaging the Star Trek franchise in any way, then why did the studios leave them up?
The defense team is likely to suggest the following answer to the jury: Maybe the studios didn't feel that Axanar was harmful after all.  Perhaps the studio even thought fan films, including Axanar, actually BENEFITED the franchise in some way.  If there's any documentation outlining the studios' thought process on the subject, it'll get really, really difficult to prove that Axanar represents real or even potential harm to the studios…especially if the studios themselves weren't concerned enough about it to make even a single phone call or e-mail to YouTube.  Magistrate Judge Eick even brought up this very point in court last Friday to the plaintiff's attorney Jonathan Zavin.
In his response to the judge, Mr. Zavin argued that the YouTube decision was made solely by attorneys at the studio and so was privileged (attorney/client conversations are confidential and don't have to be shared).  The judge was dubious upon hearing this, however, suggesting that a decision NOT to take down the videos seemed more of a business conclusion than a legal one.  Lawyers would have looked at the infringing work and simply said, "It's infringement; take it down now."  Business and marketing people would have said, "No, leave it up."  So it sounds like it was a business and not simply a legal decision by the studios.  But the plaintiffs are still holding fast to the "it's privileged so we can't share it with you" argument.
Fortunately for the defense, the plaintiffs will also be producing a Privilege Log listing which documents they have but are not turning over and why they feel such documents should be considered privileged.  And I suspect Erin Ranahan will zero in on any listed "privileged" document dealing with the YouTube decision and challenge its privileged status as soon as she and her team can do so.
THE MANY FACES OF COPYRIGHT  INFRINGEMENT
So if you've been reading my previous blog posts about the Axanar lawsuit, you're probably now aware of the difference between willful and non-willful (innocent) infringement. If you're not, click on that link I just provided and scroll down to the last eight or nine paragraphs.  (I'll wait.)
Now, the big difference between willful and non-willful infringement is the price tag.  Willful infringement carries a penalty of up to $150,000 per violation (and the studios listed 57 separate copyright violations for a possible worst-case scenario of an $8.55 million judgement for the plaintiff…yeesh!).
On the other hand, non-willful (innocent) infringement carries a penalty of only $200 per violation.  Even if all 57 violations stick (and many likely won't–like uniforms, triangles, pointed ears, and the Klingon language), that's still only an $11,400 judgement…barely a slap on the wrist.
But what if it's not that clear?  The plaintiffs will argue Alec Peters' infringement was totally willful, and the defense will argue that the studios' history of not enforcing their copyright led Alec to think they would permit his infringement, as they did for all the other fan films before Prelude (and since).  But what if the jury can't decide?
Well, there's an app for that!
First though, I'd like to take a quick detour into a choice the plaintiffs have to make early on: which kind of judgement award do they want if they win?  Yes, folks, the studios get to choose how they want to stick it to Alec Peters!  But they have to choose just one option, not both.  So what are their options?  For this, let me quote from the always-helpful Nolo legal resources website:
1) Actual Damages and Profits — The copyright owner is entitled to recover the actual damages suffered by him or her as a result of the infringement, and any profits of the infringer that are attributable to the infringement and are not taken into account in computing the actual damages. In establishing the infringer's profits, the copyright owner is required to present proof only of the infringer's gross revenue, and the infringer is required to prove his or her deductible expenses and the elements of profit attributable to factors other than the copyrighted work.
Okay, to translate: if the studios can prove they lost a certain amount of money directly because of Axanar (not counting the cost of this lawsuit, of course), they can ask for that lost money as a judgment award.  And they can tack on any profits Alec made (although it's net profits, so they can't simply grab the whole $1.2 million that was raised from crowd-funding).
So…should the studios choose this option?  Well, I've already discussed how the studios are going to need to need to share their "playbook" beforehand explaining exactly how much they think Axanar will cost them in the marketplace.  But the higher the number they provide (let's imagine they say $10 million), the more dubious the claim becomes because, as I just said, they didn't make YouTube take Prelude or the "Vulcan Scene" down…and facing a potential loss of $10 million, you'd think they'd make a five-minute phone call!
As for Alec's profits, well, in preparation for trial, Alec Peters has had an accountant total up receipts accounting for every penny spent so far on the project: rent, utilities, studio build-out, sets, supplies, labor, postage, you name it.  So likely, there won't be much "profit" available if the studios want to pursue the first option of damages plus profits.  In other words, choosing option #1 likely won't result in that high of a judgment award if the studios win.
So that leaves…
2) Statutory damages — In many copyright cases, both actual damages and profits are difficult to prove. For that reason, the Copyright Act provides for statutory damages—that is, damages set by law.

These are the $150K and $200 options I listed above.  The law defines the two classes of infringement–willful and innocent–and whichever sticks determines the penalty.  But what happens if it's fuzzy and the jury can't decide will or innocent (which could very well happen in this case)?  As I said, there's an app for that, as I quote from Nolo again:
For infringements that can't clearly be proven as either innocent or willful, statutory damages may be from $750 to $30,000 per infringement depending on the circumstances. The amount will depend on the seriousness of the infringing act and the financial worth of the infringer.
So here's where it gets interesting (if it wasn't already!).  The jury has a big range of numbers to potentially hit Alec with ($750 to $30,000 per violation could start as low as about $40K in judgment or reach as high as $1.7 million!).
But here's the rub.  The jury must–by law!–consider "the financial worth of the infringer."  So unless Alec Peters has stashed away huge amounts of cash somewhere (and if he has, you wouldn't know it by the apartment he rents or his decade-old car), then the jury is gonna see a pretty modest bank account with few assets other than his rapidly-dwindling collection of screen-used props and costumes.  And lest you think that Ares Studios is worth something…it really isn't.  They rent; they don't own.  The sets, while cool to fans, are pretty much just wood and plastic.  And all that Axanar coffee is pretty much gone by now.
So again, choosing option #2 (statutory damages) doesn't necessarily lead the studio to a pot of gold at the end of the lawsuit either.  Which direction the studios decide to go in terms of seeking damages is, of course, entirely up to the studios.  But neither is a slam dunk for a huge award.
Anyone hoping to see Alec Peters destitute on the sidewalk holding up a sign saying "Will answer Star Trek trivia questions for food" might end up a little disappointed by the final verdict…
…assuming the case actually makes it to trial, that is.  (Bum, Bum, BUM!!!).
---
And we're not done yet!   Come back tomorrow as we take a look at what the defense did NOT get from the judge plus the biggie that it did get, which is the Star Trek financials going back to 2009.  The defense wanted 50 years of records and only got 7.  Is that a disappointment for the defense or a big win…or both?  (Well, spoiler alert: it's actually not both.)