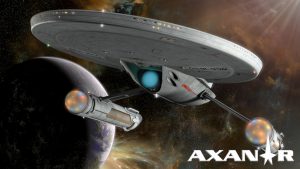 If it's Tuesday, that can only mean one thing: new documents in the AXANAR lawsuit were filed at midnight last night!
But seriously, folks, these will likely be the last Axanar filings for the foreseeable future.  In two weeks (December 19…a Monday, of course), attorneys for both sides will appear in court in front of Judge Klausner for oral arguments, each supporting their clients' motion for summary judgement.  After that, the next document we will see will be filed by the judge himself…and it'll either be good news or bad news (or both!) for the two sides in this case as he makes his final rulings on these two motions.
In the meantime, here's what came in last night: REPLIES.  Three weeks ago, both sides filed motions for summary judgment (the plaintiffs filed a partial motion…more on that in another blog).  These documents each asked the judge to rule on facts that were not in dispute (in other words, so obvious that any jury would reach the same conclusion, so why even waste the time to argue about it in court?).  Of course, neither side agrees on what these "obvious" facts are, which kinda suggests they're not quite undisputed.  However, if the judge is convinced by the arguments of one side or the other, he could, conceivably, end this case before the trial even begins, effectively handing a victory to one side or the other.
After filing their motions, each side was allowed, two weeks later, to provide a second filing in OPPOSITION to what the other side had argued in its motion.  And finally, a week after that (which was yesterday), each side could provide a brief REPLY to that opposition filing.  Here are links to both of those replies from yesterday:
Unlike the previous summary filings (each of which was 20 pages long, a court-mandated limit), both of these replies is only 10 pages long (also a mandated limit)…and each is actually worth your time to read.  Both attorneys make excellent and very solid points.  The plaintiffs come across as quite angry and aggressive, making many strong statements and using some convincing analogies.  The defense, on the other hand, while still certainly aggressive, is more nuanced in applying some precise letters of the law.  It's a battle between a hammer and a scalpel.
If you read both filings in the order I've supplied them (plaintiffs first), you'll finish the first reply and likely think, "Well, this is an open and shut case!  There's no way the defense can argue their way out of it."  Then, if you then read the defense reply, you'll likely think, "Hey, not so fast!  There's more here than meets the eye."  (Well, not all of you will think that, but I know that I did.)  Try it if you have the time, though…it's fascinating!
And if you don't have the time, later on this week, I'll write up one of my always-popular analyses of these two replies.  And since they're both half as long, maybe I'll be half as long, too!
---
In the meantime, if you've missed any part of this case so far and want to backtrack on all the many, many, MANY blog entries that have been posted about it thus far on FAN FILM FACTOR…they are now all collected in one convenient place!  You can access this collection of articles from the "FAN FILM BLOGS" tab in my navigation bar and then select "Axanar Lawsuit" from the drop-down menu.