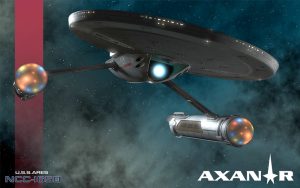 Now that I've indulged my little emotional rant last Saturday, it's time to sit down and take a somewhat less passionate look at the 19 motions in limine that both sides filed last week to exclude evidence and witnesses in the AXANAR lawsuit.
The plaintiffs are challenging TEN different items of evidence and potential witnesses (including yours truly!) while the defense team is challenging NINE.  I've consolidated all those separate motions into two huge PDF documents:
In Part 1 of this blog series, I'd like to explore what a a motion in limine is and how and why it is used. In this way, I'm hoping to give you all a better idea of what is going on right now and why it's so important (and also give myself more time to research and write up parts 2 and 3!).
First, don't confuse these in limine motions to exclude evidence with the motions for summary judgment…even though many of the same arguments are being made in both motions.  For example, the defense argues in their motion for summary judgment that the full Axanar feature film was never made, and the scripts have been changed multiple times since the "locked" version that was admitted into evidence.  Therefore, the judge should rule that the full Axanar feature is not relevant to the case and the complaints regarding it thrown out…because you can't sue someone for something they haven't done yet!
But assuming that judge doesn't grant that motion, the defense is also asking in their in limine motions that the "locked" version of the script be excluded as evidence since seven newer versions of the script have been written since the lawsuit was filed.  Same argument…different goal.
So what the heck does in limine even mean anyway???  Sounds Latin to me!  (Most legal terms are.)
In limine means "at the start" or, more literally, "on the threshold." Despite the translation, evidentiary challenges can, in fact, be made at any time…even during the trial itself (although not with the jury present).  However, there is usually a period set aside before the trial specifically to allow each side to challenge whatever evidence and testimony they don't want the jury to see.  The deadline for filing those motions to exclude evidence and testimony was, in the Axanar lawsuit, this past Friday (December 16).
Now, you might be asking the obvious question, "If it's evidence, then why should the jury NOT see it?"  After all, hiding important facts from the jury means they could decide their verdict without knowing all the facts!  Well, yes, but there's another side of that coin.  You can't un-ring a bell.  In limine challenges are meant to keep things from the jury that are prejudicial and might prevent them from deciding the case based solely on the facts.
Essentially, the legal system wants to keep juries focused on the case and not distracted or confused be irrelevancies…even if those irrelevancies are, themselves, facts.  They also don't want to waste the time of jury and the judge discussing things with little probative value (meaning something that will help the jury reach a verdict).  So those are the reasons–irrelevant, prejudicial, confusing, and/or a waste of time–that attorneys can use to challenge evidence and witnesses.
And challenge, they do…early and often!
It's not unusual for each side to challenge just about every piece of potentially damaging evidence they can find.  Usually, the defendant makes more challenges than the plaintiff, although in this case, both sides are being pretty aggressive in trying to take as many arrows out of the other side's quiver as they can.
And why not?  The worst that can happen is the judge says "no," and the evidence/witnesses are allowed at trial.   Well, actually, that's not entirely true.  If one side or the other files too many challenges, the judge can get royally pissed off at the wasting of his time and subsequently have a predisposition against one side or the other going into trial (even though he's not supposed to).  On the other hand, at least in this case, both sides are submitting just about the same number of challenges, so it probably won't be a worry.
And also, the reward can be significant!  Just imagine the judge excluding a key piece of evidence or a convincing witness that one side or the other really needs to win the case.  Although such decisions can be appealed, if upheld, you've just benched a star player for the entire game!
So what does it mean if the judge grants one or more of these motions?
Well, obviously, if he excludes a witness (such as myself), then that witness simply cannot be called to testify.  Period.  Or potentially, the witness could be allowed by the judge, but only with certain questions being permitted.  For example, in my case, I might be limited to discussing only my own personal experiences with fan films and not supplying any "expert" opinions about the quality or content of specific fan films or the fan reaction to fan films in general.
If the judge excludes a particular piece of evidence, such as Alec Peters' financial statement from the 2015 annual report, then it simply cannot be mentioned at all during the trial–not in opening statements, not during the trial itself, not in the questioning of or answering by witnesses on the stand, and not during closing arguments.
Any violation of the exclusion ruling, even inadvertently by a stray comment by a witness, can be objected to immediately by opposing counsel.  And the judge, having issued the exclusion ruling previously, can move to strike the comment from the record and then instruct the jury to disregard that last comment.  Of course, they seldom do!  So an "oops" moment can potentially be worth it.  Unfortunately for attorneys, the legal system is aware of this and also allows the judge to issue a $1,000 fine to the attorney(s) or their law firm for each violation of the exclusion.  And if it's a serious enough breach that it completely risks the jury's impartiality, then the judge can even declare a mistrial.
And what's so bad about a mistrial?  Well, when you're paying your law firm a thousand dollars or more for each hour your attorneys are sitting in the courtroom, then starting over from scratch is a VERY expensive inconvenience.  And remember that even though Alec Peters' legal team is working pro bono–for free–starting over from scratch still means that much longer for Axanar to be in legal limbo.  And therefore, it really isn't in either side's best interest to risk a mistrial.
So even though the big show right now is waiting for the judge's ruling on the motions for summary judgment (which could come at any time and possibly even end the trial before it begins!), these in limine motions challenging evidence and witnesses could be just as important in determining who wins this case!
---
Next time, we'll take a closer look at what the plaintiffs don't want the jury to see, their reasons justifying the challenge(s), and how these witnesses and pieces of evidence could hurt the plaintiffs' case if they are allowed in trial!