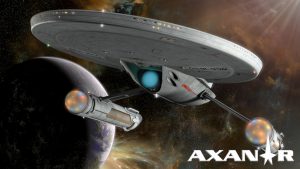 In Part 1, I explained what a motion in limine is (so if you don't know, go click on that link).  In Part 2, I took a look at the ten in limine motions that the plaintiffs filed asking the judge in the AXANAR lawsuit to exclude specific evidence from trial and prevent certain key witnesses from testifying in front of the jury.  And in Part 3, I began looking at the first four of the nine motions from the defense of what evidence and testimony they did not want the jury to see.
Here is a PDF document compiling all nine of the defense's in limine motions:
And now, as God is my witness, I am going to finally finish up my analysis of all 19 of these motions (there's only five left)!  Let's get to it…
5. Personal drama, smear campaigns, and feuds with guys like Christian Gossett and Terry Macintosh (oh, and nothing about Diana Kingsbury being Alec's girlfriend at the time)
Reason(s) the defense gives for excluding it – There are some BIG egos in this case…and a LOT of bluster.  Yes, some of it definitely came from Alec Peters himself.  But Alec isn't the only one in this case with a ax(anar) to grind.  Prelude to Axanar's director, Christian Gossett, and its original marketing director, Terry McIntosh, have become quite the social media thorns in Alec's side.  And if you don't know the back story and all the ugly details, consider yourself lucky!  Seriously.  The less you dive into this cesspool of vitriol (from all sides), the happier your life will be.  Just imagine the Hatfields and McCoys and then put it online and raise it to an exponential factor of at least 10.
That said, the defense wants both Christian Gossett and Terry McIntosh excluded as witnesses entirely…which would be fine with Terry, as he reportedly doesn't want to schlep all the way down from Washington State to Los Angeles just to sit in a courtroom for a few hours.  (I don't blame him; it's our rainy season.  People come to L.A. from Washington to see blue when they look up!)
So, can the defense use "They really, really hate Alec Peters, and so they shouldn't testify…" as a reason for excluding both of these guys as witnesses?  Well, the defense can certainly try.  But there's nothing the the law that states all witnesses must love the defendant.  And if there's something that Alec Peters said or did that only Christian or Terry witnessed, then that argues for the judge to let them testify.
However, the judge could still bar the plaintiffs from asking these fellows about certain specific things that could either confuse or prejudice the jury.  One example the defense included was Terry's testimony about Alec Peters trying to trademark the name "Axanar," which the plaintiffs would obviously try to use to prove that Alec intended for his films to be commercially profitable.  But there are two problems with presenting this "fact" to the jury.  The first is that Alec Peters did NOT register Axanar as a trademark, so anything Terry says about Alec's plans is purely speculative (you go on trial for things you did, not things you talked about doing but didn't actually do).  And second, this is a copyright case, not a trademark case.  And the jury could easily be confused by bringing up this speculation if they don't understand that there's a huge difference between copyright and trademark.  Even if Alec was planning to trademark Axanar, that does NOT mean he was trying to copyright Star Trek for personal profit.  So it's possible the judge could allow Terry and Christian as witness but place limits on what they're allowed to be questioned about.
As for Diana Kingsbury's relationship to Alec, well, that's totally not relevant to a copyright infringement case.  And if the plaintiffs try to imply there was some "nefarious plot" the the two concocted for Axanar because they were dating, then this case quickly strays into National Enquirer territory and will not only waste the jury's time with irrelevancies, but it'll very likely prejudice the jury with something beyond speculative and bordering on ridiculous conspiracy theory.
Reason(s) it could hurt the defendants' case – Well, obviously, anything Christian and Terry say can and will be used against Alec Peters in a court of law, so excluding them would certainly benefit the defense immeasurably.  As for Diana Kingsbury, there's no law against dating someone you work with.  So to try to imply that there was something fishy going on (that's a sushi pun, folks!), would only serve to distract the jury away from the facts of the case, which have nothing to do with Alec Peters' love life.
6. Any outdated Axanar movie scripts that are no longer valid because of later revisions
Reason(s) the defense gives for excluding it – You might remember that the plaintiffs want to exclude any version of the full Axanar movie script that came after the lawsuit was filed.  The defense, on the other hand, wants to exclude any version that came before the most recent version (from a few months ago).  If both sides get their way, there won't be ANY version of an Axanar script presented during trial…but that's certainly not gonna happen!
The plaintiffs say that nothing written after the lawsuit counts because, of course, Alec is gonna rewrite it to make it LESS infringing…and he shouldn't be allowed to get away with that kind of chicanery.  So what is the defense arguing to counter that?
Well, first, let's look at what happened and when.  Back when Judge Klaunser denied the defense's motion to dismiss last spring, he believed the plaintiffs when they said the Axanar script was "locked and final."  But that was then.  In May, after J.J. Abrams' announcement that the lawsuit was "going away," Alec and company figured that Axanar was going to be allowed to be made after all.  So Alec began revising the script, anticipating that the studios would be happier if he cut down on the direct references to established characters and other things that would seem like he was significantly ripping off Star Trek.  All in all, Alec made 616 changes from the prior draft and added two completely original characters.  He also put the new script into a mockumentary format similar to Prelude to Axanar…with four separate 20-minute (or so) segments from the Memory Alpha archives.  That way, he wouldn't be releasing a single feature-length movie.
Obviously, this new version of the script is VERY different from the original…different enough that the plaintiffs don't want the jury to even know about it, let alone see it.  And it's different enough that the defense doesn't want the jury to see the previous version from before the lawsuit.  What should Judge Klausner do?
Well, previous case-law has a lot to say about the admissibility of uncompleted draft scripts in copyright infringement lawsuits, and the defense considerate enough to include them in their motion (I'm leaving out the legal case references, but you can find them on page 50 of the Defense Motions to Exclude document):
Courts have held that preliminary works such as draft screenplays are "too unreliable in determining substantial similarity" as to the final work.
"The Court is under no obligation to consider the draft scripts[.]"
(refusing to consider "draft screenplays or the shooting script" of movie because they were "not relevant").
Rather, it is "the works as they were presented to the public" that are relevant, not preliminary internal drafts.
(to determine substantial similarity, "the court need only consider the final version of [defendant's] film as presented to the viewing public")
"[C]ourts have routinely rejected requests to consider earlier [screenplay] drafts."
Each of those rulings is from a different case, so it's fair to say that this is a pretty standard guideline for a judge to follow.  Since the Axanar movie hasn't been released or even made yet, the jury needs to consider what it will look like what it is finally completed.  At this point, it's pretty much a certainty that the final movie will no longer look like the "locked" version that was included in the December 29, 2015 complaint.  What's MUCH more likely to be presented to the public is the newer version or something very similar to it.  So why waste the jury's time analyzing an outdated script that will never be filmed?
Reason(s) it could hurt the defendants' case – Quite simply, if this case results in a ruling of "fair use," then that'll be–at least in part–because of the mockumentary format of Prelude being ruled trasnformative.  If so, then a similar mockumentary-style script is much less likely to run afoul of the jury (and the judge) than the previous pre-December 29 version.
7. Any reference to Alec Peters' financials and plaintiff claims that Axanar made any kind of "profit"
Reason(s) the defense gives for excluding it – Whoo boy…this one is a BIGGIE!  And the reason is that Alec Peters' financial records have been one of the most controversial aspects of this entire case.  But are they actually relevant…or are they simply misleading and prejudicial?  Here's what the defense has to say…
Alec Peters submitted two sets of financial records.  There is a misunderstanding by those who haven't seen them that he has somehow "cooked the books" to appear less greedy or not guilty of some kind of embezzlement.  I've now seen those books.  And although I signed a non-disclosure agreement and can't talk about the specifics of those books, I just told Alec that they look fine to me, and I actually think he should release them all publicly.  They really do look like perfectly justifiable business expenses intended to build a studio and assemble sets to create a movie.  (I didn't even see a line item for sushi!)
I realize that last parenthetical comment sounds like a joke, but it's actually quite relevant.  You see, the first set of financials were a messy, disorganized compilation of every receipt that was ever logged for Axanar, and it included a lot of stuff that Alec paid for himself personally…like meals.  But because he intended to use those receipts personally as tax expenses (one is allowed to deduct meals related to business), he kept those receipts, as well, and everything was dumped en masse into Quicken.
It was that "catch all" file with EVERY receipt (personal and business) which went to the plaintiffs first…and boy, did they salivate over it!  In fact, they were able to pull out all the juiciest expenditures that they could find and imply all sorts of different nefarious mischief on the part of Alec Peters.  And unfortunately, despite a confidentiality order from the judge, the plaintiffs either inadvertently or through some kind of purposeful negligence released those wild accusations to the public in an improperly redacted filing.  And now I've got to spend lord knows how many hours writing responses to FAN FILM FACTOR comments posted parroting these wild (and mostly inaccurate) accusations against Alec.
(Alec, I so need to have that interview!!!)
Anyway, I've also seen the organized version of these books.  Knowing how the unsorted pile of Quicken receipts would paint an inaccurate picture of the Axanar expenses, Alec hired an actual CPA to do his financial statement properly.  And it looks very professional now.  Everything is organized down to the penny: studio build-out, equipment, set construction and materials, payroll, permits and fees, supplies, rent, utilities, and yes, even travel expenses.  It's all there in black and white (and red), and everything looks very reasonable.
So the argument for not using the "messy" version of the financials is pretty obvious: it's inaccurate and misleading and would likely prejudice the jury in the same way the plaintiffs have smeared Alec Peters reputation by releasing their own skewed and unverified accusations.
However, the defense actually doesn't want ANY of the financial details released beyond the fact that, all told, Axanar raised $1,432,382.15 and spent (so far) $1,451,816.40.  In other words, all the jury needs to know is that Axanar has NOT made any profit, and there's no reason to show them precisely how much was spent on furniture from IKEA or plumbing repair or shipping supplies.  Indeed, a deep dive through all of those hundreds and hundreds of individual checks written would very much be a waste of the jury's time…and essentially irrelevant.
Why irrelevant?  Because this case is about copyright infringement, not about how Alec Peters spent donated money.  The plaintiffs will, of course, try to argue that he intended to built a for-profit studio with the money raised from donations, but there's actually nothing inherently illegal about that, even if the catalyst for those donations was a fan film allegedly derivative of Star Trek.  The plaintiffs might want the jury to THINK that it's somehow illegal, but it's not.  Fair use (a defense that team Axanar will be using) allows for the alleged infringer to generate revenue…even a large amount profit.  That said, Axanar hasn't generated any profit (donations are not profit), but that's all irrelevant anyway and would likely confuse the jury as to what this case is all about.
Reason(s) it could hurt the defendants' case – In a perfect world for the defense, they'd like there to be absolutely no discussion whatsoever about Axanar's financials and the focus to be solely on the fan film Prelude to Axanar and whether or not it infringes on intellectual property owned by the studios.  But that's a pipe dream.  Money WILL be discussed in front of the jury.  So the defense is trying to minimize the amount of discussion that will happen.  At minimum, they don't want the following things discussed:
The specific expenditures of Axanar Productions (the general totals are fine);
Business plans for building out a "for-profit" studio (or any kind of studio) or any other future plans since things that haven't happened yet are not relevant, and it's not illegal to simply plan something;
Any mention of alleged "profits" made.
Whether or not the defense will get everything they want on this one is anybody's guess.  But if they even get the judge to simply exclude the "messy" records, it'll take away a huge arrow from the plaintiffs' quiver.  (Yes, I've moved from chess analogies to archery, folks.)
Reason(s) the defense gives for excluding it – Okay, go on…have a good laugh at this one.  It does sound ridiculous, doesn't it?  Here's a Star Trek fan film being accused of ripping off Star Trek, and the defense wants the judge to rule that no one can say "Star Trek" during the trial???  Even I looked at that and said, "Oh, you have GOT to be kidding!"
Needless to say, I had to have a closer look at how the defense team was justifying this one.
So the first thing I discovered is that is NOT what the defense is asking for.  The plaintiffs and their witnesses and pretty much anyone can say "Star Trek" all they want during the trial.  (It's not like calling Voldemort "He who must not be named!")
Instead, this motion deals with a very specific allegation against Alec Peters: that he tried to make a Star Trek fan film.  "Well, of course he tried to make a Star Trek fan film, you idiot!" I can already hear some of you typing away.  "What did you THINK he was making…The Partridge Family??"
In fact, the plaintiffs agree wholeheartedly with your assessment, as they've already said (in various filings) the following things:
"…purpose was to make an authentic film that would 'look and feel like a true Star Trek movie;"
"…sought to create a business model that would compete with Plaintiffs, distributing high quality, professional 'Star Trek' films…;"
"…production that's going to change the way people view Star Trek;"
"…he set out to create a professional Star Trek movie…"
So how could the defense possibly have a problem with THAT if it's all true?  Well, to understand the answer, you have to first understand that there is a very significant difference between a copyright and a trademark.  You can't copyright a word or phrase like "Star Trek."  So no, CBS and Paramount do not own "Star Trek" as a copyright (although they do own elements of it and specific expressions of the concept…just not the concept of Star Trek as a whole).
The studios do, however, own "Star Trek" as a TRADEMARK.  That's why you'll see the words "[TM] Star Trek is a registered trademark of…"  You're actually allowed to trademark a word or phase; you just can't copyright a word or phase.
So why does that even matter?  Simple: this is a copyright infringement lawsuit, NOT a trademark infringement lawsuit.  Had the studios sued Alec Peters for trademark infringement, as well, then the trademarked words "Star Trek" would have been totally fair game.  But the plaintiffs only sued for copyright infringement, and there is no copyright for the words "Star Trek."
Yeah, I know.  It still sounds ridiculous.
But I'm just trying to explain the argument, not necessarily to defend it or say it's going to work.  The defense wants the judge to consider that the jury could easily be confused between the concepts of copyrights and trademarks, and keeping juries from being confused (and thereby potentially prejudiced) is one of the main reasons judges are allowed to exclude evidence.
While it might be a long shot to convince the judge that "Star Trek" should not be used in ANY way to describe Prelude to Axanar, there is one thing the defense might have a chance of getting the judge to rule on in their favor: referring to the fan films as Star Trek: Prelude to Axanar and Star Trek: Axanar…something the plaintiffs do repeatedly as a way to reinforce their arguments.
But the truth is that the words "Star Trek" were dropped by the prodcution long before the lawsuit, and in fact, when Prelude to Axanar was released to the public, it was NOT called Star Trek: Prelude to Axanar.  As I mentioned above, previous case-law supports the idea that only what is finally released to the general public counts in an infringement case.  Any pre-release drafts (including the title itself) are not considered relevant, and in this case, once again, could prove extremely prejudicial to the jury.  So the judge might toss the defense a bone on this one and exclude any references to Star Trek: Prelude to Axanar and Star Trek: Axanar.  Or maybe the judge will grant this motion in its entirety and all of our jaws will collectively hit the floor (except the jaws at Winston & Strawn).  Or maybe he'll reject it entirely.  We'll know in about six weeks.
Reason(s) it could hurt the defendants' case – Y'know what I just realized?  The way that each of these items could hurt defense are pretty much contained in the reasons the defense states for excluding them in the first place.  That wasn't the case for the plaintiffs.  I don't mean to bash the plaintiffs, but when I first structured these summaries, it seemed like most of the plaintiffs' arguments were actually trying to mask what they were really afraid of.  For example, keeping J.J. Abrams and Justin Lin from testifying had little to do with them not being official spokesmen for the studios (the reason given by the plaintiffs) and more to do with their saying that Garth of Izar is not a major character in Star Trek.
So I structured these summaries to give the stated legal reason first and then the "real" reason separately for each motion by the plaintiffs.  I kept the same format for the defense, but after doing eight of these, I've just realized that the defense is stating the real potential harm right there in the motion itself.  They aren't hiding their true concerns and are just wearing their vulnerability on their sleeve.
As I said, I don't want this to seem like a criticism of the plaintiffs for trying to "hide the truth" or something like that.  Each side has their own approach and strategy, and both are perfectly valid.  It was just something interesting that I noticed.
And finally…
Reason(s) the defense gives for excluding it – Look, we all know that Prelude to Axanar was an awesome fan film with top-notch acting, high production value, breathtaking visual effects, incredible make-up, emotionally charged music, and tight and suspenseful editing.  In all ways, Prelude to Axanar remains one of the top "must see" fan films of all time–Star Trek or otherwise–and it has 47 industry awards to prove it.
And some believe that same high quality is what got Alec Peters sued in the first place.  Indeed, the plaintiffs kinda hammer home that point by trying every chance they get in their motions to paint the Axanar works as standing somehow apart from other fan films because Axanar was professional instead of amateur, used real actors from Star Trek, and raised nearly a million and a half dollars.
Here's the problem: the law doesn't state that you must be amateur and low quality in order to be considered fair use.  I'll just quote the defense's motion…'cause they do a better job than I can explaining it:
Plaintiffs have presented not a single case in seeking summary judgment or opposing summary judgment where the Court has found that the use of professionals to create a work, which would lead to a higher quality artistic work, has any bearing on any copyright issues in this case. Indeed, the works that qualify as fair use are commonly of high quality and made by professionals.  [Lots of examples you can find on page 71 of the document.]  There is no aspect of substantial similarity where quality comes into play. The "amateur" exception Plaintiffs appear to advocate for has no support in law.
Oh, wait, the defense isn't done yet…
And while it is true that Plaintiffs may not want individuals to be able to create high quality works that are transformative and so qualify for fair use, or are otherwise not substantially similar to any of Plaintiffs' works, copyright law is not meant to be used as a weapon against technological innovation and high quality.
And one more thing that I really like ('cause it lands a direct hit on CBS' fan film guideline #5–my personal pet peeve)…
Further, the fact that an actor that has appeared before in prior Star Trek works elects to participate in a fan film—unless it violates a specific contract with that actor which would then be between Plaintiffs and that actor—is not illegal under California or Federal law. Thus, Plaintiffs' argument that Defendants infringe the Vulcan "species" merely because the same actor who appeared in a handful of Plaintiffs' works also appears in Defendants' works fails. Of course, Plaintiffs have no rights to actor Gary Graham's identity or features.
Take that, guideline #5!
Reason(s) it could hurt the defendants' case – The defense comes right out and says it.  Trying to make an issue of quality and the use of professional actors is not a valid aspect of copyright law and could very well confuse or prejudice the jury against Alec Peters both unnecessarily and incorrectly (and therefore, unfairly).
Now, the plaintiffs could argue that the quality of Axanar could lead to brand confusion, but the studios' lack of action in telling YouTube to take down Prelude kinda works against that argument…something the defense made sure to remind the judge of in this motion.
---
And…whew!
Man, I didn't write this much even back when I was in college!!!  But we're now done for at least the next two weeks.  Opposition briefs arguing against all 19 of these motions are due January 5.  And of course, I'll try to cover those.  Then on January 21, final replies to those opposition briefs are due from both sides (the same procedure as for the motions for summary judgement).
In the meantime, have a wonderful Christmas and Hanukkah and Kwanzaa and Festivus, everyone!  I'll be in Palm Springs living the good life for the next week and trying to get ahead on a few new fan film blog posts that are NOT about Axanar!
I'll see you all in the new year!