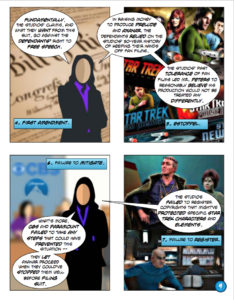 With things heating up in the AXANAR Lawsuit and trial set to begin in just 30 more days(!), there's a LOT to keep track of.  In fact, I expect to be typing pretty feverishly over the next few weeks as summary judgments are announced and oppositions filed to motions to exclude evidence and witnesses.  So secure all stations and prepare for warp speed!
And what better way to get ready than…to read a comic book???  But it's not just any comic.  My fellow blogger-in-arms, Carlos Pedraza, has proven once and for all that he has waaaaaay too much free time (and, hey I'm one to talk, right!?!?!) by producing a really well-done Illustrated Guide (in comic book form) to the major points and arguments in the Axanar lawsuit…from both the plaintiffs' AND defendants' sides.
Yes, you read that right.  I just paid Carlos Pedraza a compliment!  (And oh, look: there's Satan skating to work!)  But no, seriously, for anyone out there imagining Carlos and me as the two Lazaruses from "The Alternative Factor" locked forever at each others' throats in a chamber trying to keep the pro-Axanar and anti-Axanar universes forever separated…well, that's just our day job, folks.
And while Carlos and I don't agree on much regarding the merits of this case, we are–quite probably–two of the people on the planet (outside of the lawyers, plaintiffs, defendants, and judges directly involved in the lawsuit) who know the most about this case at the moment.  Yes, Carlos and I are both Axanar lawsuit "groupies," and that means that we have at least something in common.  But the other thing we have in common is the desire to "translate" this complex maze of legalese and court procedure into something that the casual fan can follow and understand.  Yes, Carlos tends to lean more in favor of the plaintiffs, and I lean toward the defense, but I like to think we bring balance to the Force.
Such balance is quite evident in Carlos' new Illustrated Guide (which you can also access in multiple formats from his Axamonitor website).  And while some might have expected Carlos to weigh the content of his comic book explanation heavily in favor of the studios' arguments (and if he had, I probably wouldn't be sharing it), he actually did quite the opposite.  I'm not saying he weighed it heavily in favor of the defense (although Axanar does get twice as many pages of coverage as the plaintiffs, but that is mainly because they have more legal arguments to explain and summarize).  No, what I mean is that Carlos' summary is quite fair to BOTH parties.  As such, I have no problem sharing the document.
Now, I'm certain people rooting for each side will look at Carlos' guide and say, "It's totally supportive of our arguments!" or "It shows how ridiculous the other side's case is!"  But that's the beauty of this lawsuit–it's going to trial specifically because it isn't cut and dried.  Both sides have a very strong and complex case.  And while a 12-page comic book can't possibly explain every nuance of this lawsuit or demystify every legal argument being presented, it's still an excellent primer.
So, yes, I just complimented Carlos Pedraza.  Hey, stuff happens, right?  But credit where credit is due.  (And yes, I asked for and received Carlos' permission to post a copy of the PDF here on Fan Film Factor.  We do talk from time to time, y'know.)
Warp speed, everybody.  Things are about to get VERY legal around here!