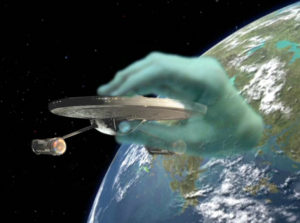 Actually, I think the AXANAR detractors have been pretty ridiculous for quite some time now.  In fact, one Axanar supporter told me recently, "Y'know, if Alec Peters goes to take a leak in a restaurant, someone from one of the hater groups is gonna follow him in to see if there's any piss left on the toilet seat.  Then Carlos Pedraza will write a blog about how Alec has no respect for janitors!"
What a great image to begin a blog with, huh?  Well, it seems that the Axanar detractors are stooping nearly that low (if they haven't already surpassed it) in their latest efforts to try to embarrass and sabotage their favorite target of ridicule, Alec Peters.
While I usually ignore the day-to-day antics of the Axanar detractors, every so often something pops up that just leaves me scratching my head.  And let me tell ya, my scalp was itching like crazy when I saw a recent Facebook IM conversation that recently went on between Axamonitor blogger Carlos Pedraza and the assistant of Tony Cade.
But before I show it to you, there's a quick bit of background you need to know first…like who the heck is Tony Cade???
Continue reading "Has the ANTI-AXANAR "vendetta" finally gotten RIDICULOUS?"