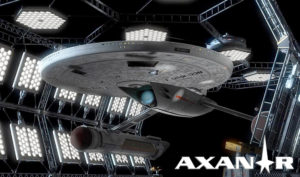 When I was preparing my previous 2-part blog–THE GOOD, THE BAD, and THE UGLY!–the first thing I did was to reach out to my legal eagles and ask them what from Judge Klausner's Order on Motion for Partial Summary Judgment that they thought should go into each of the three categories.
I was surprised when one of my birds of prey typed back: "Ruling of Fair Use to be Invalid – Good."
Huh?
That seemed like the baddest of the bad!  Fair use was the only realistic way Axanar could win!  Now, the best chance they have is to convince a jury that a fan film full of Vulcans, Klingons, Starfleet, phasers, and Garth of Izar isn't substantially similar to Star Trek…a bit of a Herculean task.  I was sure my eagle meant to type "Ugly" and not "Good."  So I asked.
Nope.  They confirmed it was a good thing–and then explained why…
It's all about the appeal.  Everyone seems to be planning for it.  Even Alec Peters himself said, "Depending on the outcome of the trial, Axanar may choose to appeal the verdict to the Ninth Circuit, where Erin Ranahan is 5-0.  The Ninth Circuit Court of Appeals is also known to favor artist rights."
It seems as though, now that Judge Klausner has made his summary judgment invalidating the fair use defense, there's some shared Vulcan mind meld among fans throughout the world that Axanar will now lose in trial.  And while I do like to be the optimist myself, even I have to admit that the path to victory in the courtroom has just gotten VERY narrow.  Granted, I'd previously given the fair use defense only a 20% chance of working.  I actually thought it was much more likely there'd be a loss but with an embarrassingly small (for the plaintiff) jury award because of a finding of non-willful infringement.
But why in the name of Kirok was my lawyer friend telling me that going from a 20% chance of working to a zero chance of working (because fair use is no longer allowed to be argued at trial) a good thing?  I waited for my phone to ring (my friend said they'd call me shortly).  It felt like forever.
---
My latest lesson in law began with an explanation of the appeals process, which I have to admit I didn't really know much about.  I mean, I kinda knew that if one side lost a case, they can appeal it to a higher court, and that court can potentially overturn or reverse the first verdict or send it back to the lower court.  But I didn't really know what exactly happened in an appeal and how.  Does the appeals court hear the whole case again?
Nope.  Absolutely not.
Appeals are not new trials or retrials.  There are no witnesses and no new evidence gets presented.  All the appeals court sees are the documents the parties filed, the transcripts from the trial, any exhibits from the trial court, and the legal arguments of the parties.  If the appeals court wants to hear oral arguments (which is not always the case), only the lawyers get to talk…no testimony from anyone else.  And instead of just one judge, appeals courts tend to have a small panel (usually three judges picked at random from the "bullpen"of judges available…the Ninth Circuit has a few dozen full and part-time appeals judges available).
So, can any case be appealed for any reason?  No.  You can't appeal a verdict simply because you didn't like the outcome.  Let's say Alec Peters loses the case but the jury award is only a measly $4,000 (which is a possibility, folks).  Now, Alec might not like the fact that he lost, and the studios might not be happy with such a tiny slap on the wrist (especially after spending a million dollars or thereabouts on legal fees).  But neither side can appeal the decision simply on the grounds of "This verdict sucks!"  The jury's decision is a very sacred thing in law.  It's one of the very pillars of our legal system.  You can't just toss it because you think they got it wrong…
…unless a legal mistake directly led to them getting it wrong.
I don't mean that the jury made a mistake.  I mean the judge.  Judges are human (even if they claim to think like a Vulcan!), and they don't always get everything perfect.  And that's why the appeals courts exist.  If one party or the other feels the judge screwed something up, THAT is the basis for an appeal.
For example, if the jury was given an incorrect set of instructions, that could be grounds for an appeal.  Let's imagine that the Axanar jury is not told about the difference between willful and non-willful infringement and thinks that their only option is to award the plaintiff $150,000 per violation.  They look at the number of violations and the potential of an $8.55 million verdict and realize that Alec Peters doesn't have that kind of money.  So rather than handing a victory to the big, faceless corporation, the jury does the only thing they're allowed to: they rule that Axanar is not substantially similar to Star Trek, letting Alec Peters off Scott free.  (Remember, this is an imaginary scenario.  Don't start typing those angry comments, folks!)
Of course, if this happened, the studios would be furious.  They would certainly want to appeal.  But they can't just say, "The jury got it wrong–reverse the verdict!"  But they CAN say, "The jury was given improper instructions, and if they'd known there had been a way to find Axanar Productions liable without awarding a multi-million dollar penalty, they would likely have come to a different decision concerning infringement."
Now, there's no guarantee that such an argument would convince the appellate judges to overturn the verdict or send the case back to the lower court to be retried.  But at least the mistake in issuing jury instructions gives the studios a valid reason to file an appeal and keep their chances alive.
The other thing that can justify an appeal is a judge's improper application of the law.  If the law says one thing and the judge says or does another thing, that's grounds for an appeal if his mistake cost one party or the other something when the verdict was reached.
It's this second kind of legal "mistake" that might give Axanar valid grounds to appeal.  Judge Klausner ruled that the "fair use" defense was invalid in this case and thus cannot be argued for by the defense during trial.  That ruling was devastating…as it removed the last, best hope of Team Axanar to score an all-out win.  (Well, it wasn't the last hope.  There is another.  They could convince the jury that Axanar is not significantly similar to Star Trek.  But that's an uphill climb to say the least!)
So why is this possibly a good thing…according to my legal eagle?
Well, let's assume for a moment that Judge Klausner had not made that summary judgement ruling that fair use was invalid.  Let's imagine for a moment that Alec and his lawyers could argue for fair use in front of the jury all they wanted during trial.
And now let's imagine for a second that they lose.
After all, even in my best scenario, fair use had a 20% chance of working (but what the heck do I know?).  But seriously, there was no guarantee the jury wouldn't reach the same conclusion as Judge Klausner did.  So let's assume that's what ends up happening.  The jury finds no fair use, Alec is liable for infringement, and there's a verdict award for the plaintiffs (whatever the amount ultimately is).
Then what happens?
Well, then the trial is over.  Period.  There's nothing to appeal (unless the jury instructions were bad or the judge excluded some key piece of evidence).  But assuming everything else was kosher, then game over, man.  No appeal.  Alec is stuck with the loss, CBS gets their jury award.  Done.  (And the studios are really happy because this trial will be over and hopefully forgotten by the time Star Trek: Discovery premieres in late May.)
Now, let's take another hypothetical scenario, this one stemming from the reality that fair use is now off the table.  And Alec loses (as most lawsuit watchers now expect to happen).  Can he appeal if fair use was taken completely off the table by the judge before trial?
The answer is most likely yes.  The question of fair use is, arguably, one that should be left up to the jury, not the judge.  In legal terms, it's a matter of determining fact (which is the duty of the jury) and not a matter of determining law (the duty of the judge).  Alec's attorneys can make the argument that summary judgement is not the time nor the place to decide whether fair use is a valid defense because there are so many facts to determine.  For example:
Was Axanar transformative due to its mockumentary style or creative content?
Did the Axanar works actually earn any profit?
Is there likely to be measurable market harm to the plaintiffs because of Axanar?
Does Axanar count as parody or criticism?
These and other examples are questions of fact that should be determined by a jury, not a judge.  Oh, sure, a judge is welcome to have an opinion, too.  And in fact, Judge Klausner said, in his opinion, that Axanar was, indeed, substantially similar to Star Trek.  That's fine…if it stops there.  But here's the important difference and why there is now grounds for appeal:
In the case of substantial similarity, the judge stated his opinion and then put it aside and is instead leaving the question up to the jury to decide.
In the case of fair use, the judge did NOT put his opinion aside and took the decision completely away from the jury.
BIG difference!
Now, the defense will likely argue on appeal (assuming they lose the case at trial–a trial must be over in order to appeal it) that Judge Klausner should have treated fair use the same way he treated substantial similarity: leave both to the jury as the triers of fact.  But by taking fair use away before the trial even begins, he is depriving the defendant a right to a proper defense.  By improperly applying the law, Judge Klausner arguably sabotaged the defendant's ability to achieve a fair and beneficial verdict.
And that, my friends, is grounds for Axanar's appeal.
---
Now, just because Alec Peters gets to appeal the case, that doesn't necessarily mean he wins.  Hardly!  First of all, the appeal only gets him to the appellate panel of judges.  His lawyers still have to convince the appeals court that Judge Klausner screwed up…and that's no easy task.
But let's assume that Team Axanar is able to convince the 3-judge panel that fair use should not have been ruled invalid by the judge because its a matter of determining fact, not law.  Does the verdict get overturned and Alec Peters declared the winner?  Nope.
Most likely, the appeals court would send the case back to the federal district court for a do-over.  Yes, NOW there would be a retrial!  A new jury would need to be seated, and this time they would get to hear the case with the fair use defense.  And if they decide that fair use applies, then Axanar finally wins.  If not, then they lose and have no realistic recourse to appeal again.
But here's the thing: THIS COULD TAKE YEARS!!!
The appeal alone is another year or even two.  The Ninth Circuit covers the cases of FOUR STATES: California (lots of cases!), Arizona, Alaska, and Hawaii.  Every federal case in these four states that gets appealed at the district level bottlenecks in the courtrooms of only three or four dozen judges sitting in groups of three, reading hundreds or even thousands of pages of motions and rulings and transcripts, and then writing opinions.  A year waiting for an appeal review is pretty optimistic…expect two.
And then, if Axanar wins their appeal, then there's a whole new trial to deal with.  All the while, CBS and Paramount are paying Loeb & Loeb tens of thousands or even hundreds of thousands of dollars.  Meanwhile, Alec Peters' attorneys are still working for free (Alec reported that Winston & Strawn intend to continue their pro bono status throughout appeal).  Alec's own out-of-pocket expenses decrease significantly on appeal as there are no more witnesses to depose (which is what produces the majority of the cost for someone being represented pro bono).
And really, Alec has nothing to lose and everything to gain by dragging this out on appeal.  After all, if he loses at trial, it doesn't get any worse on appeal.  The appeals court can't make the jury award any higher.  So things can only get better for Alec because at least he'd have another shot at winning if the appeals court orders a new trial.
For CBS and Paramount, the opposite is true.  On appeal, they have everything to lose and nothing to gain.  If they win on appeal, they're right back where they were after trial (no change).  But if the case is thrown back to the district court, the studios have to pay for a whole new trial, and this one they could potentially lose!
Frankly, I wouldn't be surprised to see a settlement initiated at this point…not by Axanar but by CBS and Paramount.  Alec has nothing to lose, and the studios now have a lot to lose…especially if they win.  (Hmmm, that made more sense in my head.)
---
And one other possibility I didn't cover yet: what if Alec Peters loses his appeal?  Is it finally over?  Can we all just go home at long last?
Well, there is one last place to the appeal a decision at the federal appellate level: the SUPREME COURT of the United States.  But could this case actually get that far?  The Supreme Court usually tackles cases dealing with constitutional issues.  Is a case about two studios suing a Trekkie and his fan film really a constitutional case?
I think it is.
And tomorrow, I will tell you why.  (And no, it's not about the First Amendment…it's about the Seventh!)