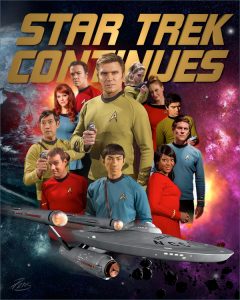 As reported a week ago, STAR TREK CONTINUES has announced a release date for its eighth episode, "Still Treads the Shadow," of April 1 at Fan Expo Dallas.  STC also confirmed that they will release three additional episodes after that, completing their run with eleven episodes total (two fewer than their originally-planned thirteen episodes).
These announcements led to some major speculation among fans (especially here on FAN FILM FACTOR and on the SMALL ACCESS Facebook page) wondering how long the episode will be, how are they getting around the guidelines, have they been in contact with CBS and gotten any kind of permission, etc.
Yesterday, STC sent out a newsletter to donors (yep, I got mine!) that included a spotlight on STC guest star Rekha Sharma (of the new Battlestar Galactica, who will be appearing in this upcoming STC episode) as well as some frequently asked questions and answers about their remaining episodes.
Before I publish the STC Q&A, I want to warn any Axanar supporters reading this that, yes, they include a bit of a dig in their fifth answer.  As many fans are aware, there is no love lost between Vic Mignogna of STC and Alec Peters of Axanar (total understatement!).  And in the "I hit Krako, Krako hits Teppo, Teppo hits me…" traditions of fine fan film feuding, we have yet another hit.
As a proud backer of both series who loves watching Vic play Kirk and Alec play Garth, I personally find the mutual animosity distasteful (whichever of them it comes from).  And as a donor to STC, I could have done without the inclusion of the Axa-negativity in the statements.  It wasn't necessary to say it like they did and just serves to prolong the feud another day/week/month.  But it's their production, their newsletter, and their chip on the shoulder.
I do dream of a day when we can all just get along and celebrate each others' successes.  Maybe someday.  But I will stop editorializing now.  Just know that, yes, the dig is in there.  Yes, you're all welcome to light up my comments section with yet another flame war (they're kinda like tribbles, aren't they?).  But no, I'm not going to participate.  I love BOTH productions, and I'm ROOTING for both productions.  I invite those of you who can get past the resentment and anger to join me in not exploding yet again.  It requires a LOT less energy and doesn't raise your blood pressure nearly as much.
All right, getting down from my soapbox now and handling the mic over to STC…
How are you getting around the guidelines for fan films?
As CBS/Paramount has made clear, the guidelines are not laws; they are general parameters applied on a case-by-case basis. Since the implementation of the guidelines, we have stopped all crowdfunding activities and have focused strictly on completing the four episodes which had already been funded as of that time by fans' donations to our 501(c)(3) non-profit. STAR TREK CONTINUES has always followed any and all instructions given to us by CBS regarding our production, and will continue to do so.
Does STAR TREK CONTINUES have any type of special and/or official arrangement with CBS/Paramount?
No.
How long are the episodes?
They will be exactly the same format as our previous episodes
Why are you ending the series?
Recent developments necessitated our finishing up sooner than we intended, but it was always our goal to bring The Original Series to a conclusion. With our final four episodes, we will have done that. It's been an amazing five years creating this series, and we will miss making it. But all good things…
Weren't you going to make 13 episodes? Did CBS make you stop?
CBS is not responsible for the decision to end the series. We are doing 11 episodes instead of 13 because another fan group took advantage of the good graces of the copyright holders forcing them to protect their property and the interests of their license holders. In deference and gratitude to CBS, we are wrapping up earlier than planned. We always have stood, and continue to stand, with CBS.
Can we get DVDs/Blu-ray discs of the final episodes?
As we do not own STAR TREK, we cannot sell DVDs or Blu-ray discs. In the past, we've made a limited number of discs available as crowdfunding perks. However, since we are no longer crowdfunding, providing episodes to the public on DVD and/or Blu-ray discs is not currently feasible for us.
What will happen to the studio/sets? Will set visits/tours be available?
We don't have a definitive answer on this right now, but we're considering all our options.