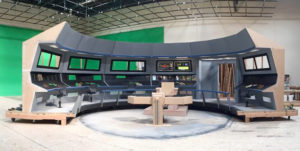 Reality is not always kind or fair, and sometimes life hands you a Kobayashi Maru.  Over the past few days since ALEC PETERS' announced the departure of AXANAR PRODUCTIONS from INDUSTRY STUDIOS, there have been discussions, debates, and some knockdown/drag-out arguments.  Was money squandered?  Should Alec have just rented a studio or filmed the Axanar movie on the New Voyages TOS sets in upstate New York?  (Even Alec himself looks back and wishes he'd done that.)
But hindsight is a gift we are usually given way too late to act on it.  I should have bought Microsoft and Intel in 1991.  Hillary Clinton should have campaigned in Michigan and Wisconsin.  NBC should never have canceled Star Trek.
However, all the Monday-morning quarterbacking in the world doesn't change the fact that there is an unpleasant reality right now for Alec Peters and Axanar Productions that must be dealt with, and it boils down to these four things…
The donor money is all spent.  It wasn't wasted (and I know some out there will never accept that statement, but this was an ambitious project full of both hope and risk, and sometimes there's not enough of the first to overcome the second).  Nevertheless, regardless of how much some people might want to point the finger of blame and incompetence at Alec Peters, that doesn't change the fact that—as of next month—there's no more money available to pay the rent.
There are still 8 more months left on the 3-year lease for the Industry Studios location, and that's a commitment of $96,000 that Alec Peters simply doesn't have.  He's spent his fortune on this dream of his (and ours).  And anyone thinking that Alec was just out for personal gain needs to get themselves a calculator.  He's auctioned off nearly his entire collection of screen-used props and costumes.  He's put in six-figures of his own money to keep the studio lights on and rent paid over the past several months.  Forget about making out like a bandit; Alec pretty much lost his shirt (and tunics!).
The Indiegogo campaign blasted off for two days and then stalled.  It's at $21K as of right now, some of which goes to service fees and perks.  So at best, Alec might get another month or two of rent.  He'd hoped for more (as did I), and it was worth a shot.  But in the end, although $21K is nothing to sneeze at (other recent crowd-funding campaigns in the Trek fan world have fallen far short of that amount), it just wasn't enough.
Those wonderful Axanar sets need to live somewhere.  If Axanar Productions must vacate Industry Studios, what happens to the sets?  They cost $200K to build and are still very usable.  Should they just be tossed into a dumpster or maybe brought to the next Burning Man Festival?
So this is reality…and reality bites.  And while some people are looking back, Alec had no choice but to look at the present and try to salvage the future.
When Alec contacted me a couple of weeks ago as the Indiegogo campaign was slowing to a trickle and looking unlikely to break even 50% of its goal, the situation looked bleak.  With each passing day, Alec was running out of viable options to keep Industry Studios open.  The 501(c)(3) non-profit application was still tied up with the California Secretary of State's office (fortunately, it's since cleared that hurdle, but for a while, those delays were interminably frustrating).  And while there was interest in renting the studio by a few television productions, unfortunately Hollywood producers tend to move at their own slow pace, and expecting decisions to get made and deals inked in just a few short months turned out to be unrealistic in this town.  And that was really too bad because renting the studio out for even just a single week at a couple of thousand dollars a day could have paid the rent for a month.  And these productions were talking about multiple weeks-long rentals.  But alas, no one was ready to sign on the dotted line just yet.
Without money to pay the rent beyond what the Indiegogo brought in, the studio would be forced to shut down.  And worse, Alec would still be on the hook for another seven or eight months of rent that he couldn't pay.  The landlord would likely convert the studio back into a warehouse, leaving the Axanar fan film with no place to shoot and also letting down the other two fan productions that had hoped to film at Industry Studios: Personal Space and Cholo vs. Vampires.
And of course, what would happen to those amazing sets?  Without a studio to house them, they'd need to either be put into storage or destroyed.  But storage still costs money, and who was going to donate to a campaign for paying thousands of dollars essentially for an oversized closet?
Alec was hoping that maybe the sets could be moved into a warehouse near Atlanta, GA, where at least there's a growing film industry, and see if they could be used by productions down there.  The advantage of the sets being "similar" to a TOS bridge but not identical is that not only could a Star Trek fan film could use them for a different class of vessel, but so could an original sci-fi production or TV commercial or even an educational project for kids…all without worrying about violating a copyright because the bridge set looks significantly original.
Of course, the problem was still basically the same as staying in Valencia: rent.  And I told Alec that (much to his consternation, I might add, as I was being downright defeatist).  Maybe Atlanta would cost a fraction of what Valencia is costing now, but a fraction is still greater than zero.  I actually suggested asking donors if anyone had access to a warehouse or even a barn that could house the sets…at least until something more long-term could be worked out.  (And hey, anyone out there with warehouse space or a barn, would you like something REALLY cool to show off to your friends?)
So yeah, two weeks ago, it really was looking like "game over."  Sure, Axanar's two 15-minute segments would still be made.  All they would need is a green screen to shoot in front of to make two more parts of The Four Years War mockumentary.  But the dream of what Industry Studios could be, and all the hard work and donor money that went into building those sets and converting an empty warehouse into a very impressive studio and sound stage…that looked like it would all sadly amount to nothing in the end.
Was there a way to beat the no-win scenario?
---
Next time, in the conclusion, I look at the deal that Alec was able to get from his landlord.  Is it a "big win" for Axanar Productions?  Or was it simply the rearranging of deck chairs on the Titanic?