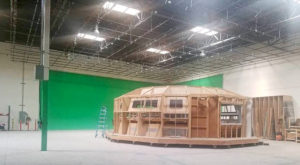 In Part 1, I outlined the dire situation that ALEC PETERS and AXANAR PRODUCTIONS were in regarding INDUSTRY STUDIOS. The dream had turned into a nightmare as money was running out. A new Indiegogo campaign had pretty much stalled far short of its goal, and it was looking like all the work and donor money that had gone into creating a very impressive film studio and really awesome sets might end up having all been in vain.
It was a dark time, and I'll admit that I was actually way more defeatist than Alec. But Alec couldn't afford the luxury of self-pity or panic. He had a problem to solve, and he wasn't giving up. In fact, Alec actually did his best to lift my spirits as he tried to navigate a course forward…despite the odds stacking up against him. Say whatever else you want about the guy, but you can't deny that he's a fighter. Alec refuses to go gently into any good night. Where other people (including me) would have thrown in the towel and given up long ago, Alec Peters has always pushed on.
And so Alec went to talk to his landlord and see what, if anything, could be worked out. The two men have had a very cordial and positive relationship over the past two and a half years, and Alec has been a model tenant. In fact, his improvements to the warehouse did not go unnoticed. Sure, the walls of the sound stage area still need to be soundproofed (the floor already is), but that's pretty much it. For all intents and purposes, Industry Studios is a top tier film production facility with offices, a film-editing suite with cutting-edge software and equipment, dressing rooms, a lounge/conference area, prop/costume storage area, reception area, a three-layer floor that set pieces can be bolted to, a custom high-capacity power system, a lighting grid covering the entire ceiling, and a huge corner green screen cyclorama. Donors can at least be assured that their money went into what the Kickstarter said it would.
You might not be aware that Valencia, CA is trying very hard to develop itself into a "Hollywood North" that's considerably closer than Canada. Located just within the "30-mile limit" (a circle surrounding Los Angeles beyond which a production has to pay travel and lodging costs to union laborers and actors), Valencia and neighboring Santa Clarita offer cheaper rents than areas closer to L.A., along with access to similar resources. In fact, Industry Studios is just across the 5 Freeway from Santa Clarita Studios—barely a mile and a half away, in fact—and the latter facility has hosted productions that include Fast and the Furious 7, Django Unchained, the new Planet of the Apes film, CSI, and hundreds more on their dozen-or-so sound stages. And with robust TV production booming in Los Angeles, there is currently a sound stage shortage affecting the area.
So perhaps it wasn't so surprising when Alec's landlord offered to keep the studio improvements that Alec had made to the warehouse and even to potentially reimburse him for them! And in addition to that, the landlord is also offering Alec the following (truly amazing) deal:
Alec gets to break his lease eight months early with no financial or legal penalty.
Industry Studios will continue on with the same name and identity (possibly even some of the same people) and honor its commitment to the fan productions Personal Space and Cholo vs. Vampires to use the facility.
When the time comes to film Axanar, Alec and his team will be able to make use of Industry Studios (and that giant green screen and lighting grid).
It's certainly a big win for the landlord. Not only does he have empty industrial warehouse space for rent (his main business), but he's suddenly now in the sound stage rental business, as well, with a fantastic facility to offer. His start-up costs are relatively minimal, and it's pretty much ready to rent immediately…no significant build-out time (maybe a week or two to soundproof the walls). Perhaps those looking to rent out the warehouse may want to bring in their own hardware, like a mobile platform from Platforms and Ladders, so that they can make their operation – whatever it is – more efficient. A platform like this will help with the accessing of things in a high up position which could be useful for a studio.
Is it a big win for Alec? Well, not entirely…at least in my opinion. A "big win" would have been a $200K (instead of $20K) Indiegogo campaign that would have allowed the rent to be paid on Industry Studios for another year, the soundproofing to be completed by Alec, and the sets not to need to be moved or destroyed. So no, it wasn't a "big win." Kobayshi Maru scenarios rarely allow for that kind of outcome.
On the other hand, compared to the miserably bleak outlook of just two weeks ago, we're now in a place that I never dreamed possible. And I wonder if even Alec thought he'd get such a good deal. Yes, he has to abandon the facility. But that was going to happen no matter what. However, assuming that the deal Alec reported is finalized, not only will Industry Studios continue to exist, but he'll still get to use it to film Axanar. And the two other fan productions he partnered with, Personal Space and Cholo vs. Vampires, will also get to use the facility. Add to this that not only is Alec off the hook for the last eight months of rent, but he has the potential to get partially reimbursed for the hundreds of thousands of donor dollars put into studio improvements.
Now, this doesn't necessarily mean that Alec will receive a six-figure check from his landlord. There are many ways that this deal could be structured. However, any reimbursement at all is better than no reimbursement, which was the situation just last month. And any money recovered from the cost of studio build-outs can potentially be applied to the cost of production for the 2-part Axanar fan film. Since Alec isn't allowed to crowd-fund for its production, and the Indiegogo was never earmarked for production costs, money for Axanar could only come from private donations…and there was no guarantee that enough would be raised from that method to make the Axanar 2-parter look as good as its predecessor. So any reimbursement, whether a lot or just a little, falls on the plus side.
That just leaves the sets. And to be honest, there's no way to spin that situation into a "win." But it's not a total loss either. It's just making the best decision in a no-win scenario. The sets can't stay where they are (and that would have been the "win"). But without a successful Indiegogo campaign, the sets were going to have to be moved no matter what. The only question left is where.
Two weeks ago, I would have said "storage"…and I did. But now there's potentially more money to work with—to pay for the move and for several months of a lower rent to set up a more "humble" studio…much like the ones Star Trek: New Voyages and Star Trek Continues have. Neither is state of the art, but both got the job done. Maybe there's some hope left after all. Maybe not. But isn't it at least worth a try?
Of course, it's not my decision to make (never was), but neither will it be entirely Alec's. With the Indiegogo campaign in its final two weeks, Alec is letting the donors vote on their preference for how to proceed. Obviously, continuing to pay the rent on Industry Studios (as outlined in the original campaign description) is now off the table. And donors who want a refund of their contribution will be granted one. But for those sticking with the project, they will be presented with options for basic storage and also for setting up a lower-rent "no-frills" studio in another part of the country (likely Atlanta). We'll see what they say.
Is it optimal? Is this what we all signed up for at the starting line? Hardly. We didn't sign up for a lawsuit either, but stuff happens. We play the cards we are dealt. Sometimes we play the cards well, sometimes not so well.
So, no, this is not a "big win" for Axanar. And it's not "game over" either. In fact, it's not really a "game" at all—to be won or lost, with fans rooting for and against the home team. It's a business, with real people involved who are trying to make smart, measured decisions that will keep the business alive and allow it to grow in the best way it can.
Or, if you'd prefer that I provide a relevant Star Trek quote, I see the situation pretty much like this…