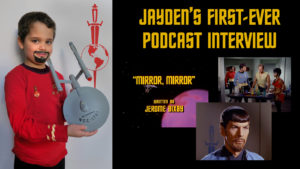 I'd always hoped to one day have a child who would enjoy Star Trek as much as I do (or at least not hate it completely).  And I'll freely admit that I'm a totally biased daddy who is super-proud of his Trekkie son.  But Jayden recently did his first-ever Star Trek podcast, discussing the TOS episode "Mirror, Mirror."  And he just blew me away with one of the most priceless and hysterical interviews I could have ever imagined.
The podcast that Jayden (and I) appear on is called ENTERPRISING INDIVIDUALS, and it's an interesting concept.  Each week, the show features a different guest from the world of Star Trek—authors, screenwriters, experts, and superfans—and they discuss their favorite episode (from any of the series) along with providing information and insight about themselves and their experiences with Star Trek.
It's a fun way to do an interview, with just enough banter about the featured Star Trek episode to keep the interview from getting too monotonous…and just enough interview that it doesn't feel like yet another "discuss-an-episode-for-an-hour" podcast.
When the Minnesota-based host, who goes by the handle of Ka1iban of Just Enough Trope Studios, first reached out and asked me which episode was my favorite, I'd actually said "The Doomsday Machine."  But that one had already been taken by a previous guest.  So I suggested "Mirror, Mirror," which Jayden and I had just finished watching as we make our way through TOS episodes each night while I exercise.  And then I suggested that it might be fun to include Jayden for part of the interview, as he's a real fan…and the host agreed.
And Jayden didn't let me down.  His 17-minute segment is PRICELESS!  The rest of the podcast with me is also a lot of fun, but yeah, Jayden's segment is a MUST-HEAR and leaves my interview in the dust!
The full interview can be linked to here, and Jayden's segment begins at about the 39:35 minute mark.  But to save you from having to scroll to the good part, I've created a version with just Jayden's portion below…
(Oh, and that beard is water-soluble magic marker.  It washed off completely in 20 seconds.)