For over a year, this music video has been sitting in a menu area of Fan Film Factor called "THE CARGO BAY."  When I began this blog site, I imagined that section would be a good place to drop miscellaneous content that didn't fit in anywhere else.  But in the upcoming weeks, I'll be doing a bit of top menu reorganization, and "THE CARGO WAY" will be jettisoned.  So I'm pulling out this video from its previous blog and creating a new blog for it so it can live elsewhere on the site.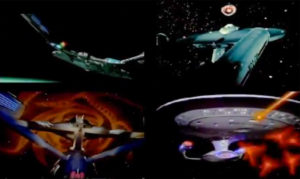 So what the heck is Jonathan's "ENTERPRISE – LADY" tribute music video?  Well, back in 2002, I edited together my own Star Trek music video montage, a "love letter" to all the wonderful starships called Enterprise.
This music video was inspired by a similarly-themed montage that I saw at a convention in Cleveland, OH back in 1988.  That video also used The Little River Band's "Lady" as a musical score (and I do love that song!).  But back then, there were only the TOS and TAS episodes, four movies, and one season of TNG.  Footage of the USS Enterprise in 1988 was  limited to the original, the refit, and the 1701-D…no bloody A, B, C, E or NX-01.  (Well, technically there was a bit of the 1701-A at the end of Trek IV.)
By 2002, I now had nine feature films, seven seasons of TNG (plus DS9 and Voyager), and the first two seasons of Enterprise.  There weren't remastered VFX back then, and I didn't have own DVD collections yet, so I worked off the VHS tapes I'd recorded from TV broadcasts of episodes (and that's why you can see the UPN logo on all the NX-01 shots!).
I added a lot of little touches—the cuts match up to the beats of the music and, in many cases, the images match to the words of the song.  It was a labor of love that took me a few months to complete (and it eventually won a fan Star Trek music video contest at a Los Angeles Creation convention).
I invite you all to enjoy my little effort below…