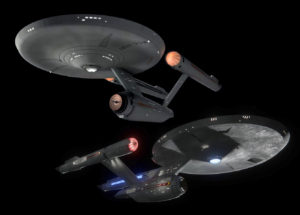 Don't get me wrong: I actually like some aspects of the new old U.S.S. Enterprise NCC-1701 that briefly appeared in the season finale of Star Trek: Discovery.  (For convenience, I'll be calling it the "Disco-prise" since "Second-prise" is just plain silly!)
Now, the J.J. Abrams version of the U.S.S. Enterprise from the 2009 reboot Star Trek movie, that one I hated.  I think it is a visual travesty, and we shall not speak of it further.
But the Disco-prise, it's mostly okay with me.  I don't even mind those strange "tail fins" that seem to have been added to the back of the nacelles for no apparent reason (you all realize that there's no air resistance in space, right?)  I sorta like the design…but I definitely don't love it.
On the other hand, the original U.S.S. Enterprise, designed by WALTER MATT JEFFERIES in 1965 (and altered slightly in 1966 when the Star Trek TV series was picked up for broadcast)…now THAT ship I LOVE.  There is not an angle of that magnificent space vessel that I can't look at for hours or draw from memory.  In my opinion, that iconic starship is perfect, a profoundly elegant work of art!  (I feel the same way about the refit U.S.S. Enterprise first seen in Star Trek: The Motion Picture in 1979.)
So why don't I love the new Disco-prise?  It's not a bad design, but for some reason I couldn't put my finger on, it just didn't seem like the work of art that the original was.  And about three weeks ago, I finally discovered the reason…
Continue reading "The ENTERPRISE, the DISCO-PRISE, and the GOLDEN RATIO! (mind-blowing editorial)"