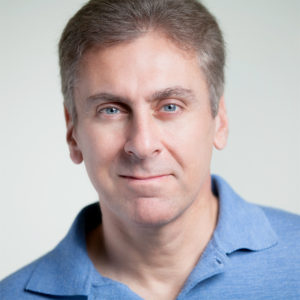 Last month, I published a blog where I provided a copy of the AXANAR financials, along with reporting on the go-forward plans for AXANAR PRODUCTIONS and INDUSTRY STUDIOS.  Obviously, those plans have changed quite a bit over the past few weeks—as Tuesday's blog pointed out—but the financials remain constant because they're now a matter of public record.
In that same blog from last month, I also invited readers to submit their own questions for Alec via the comments section and received dozens of inquiries.  It was a mix of questions from supporters and detractors, some about the financials and some about other things, but I submitted every one to ALEC PETERS, requesting that he try to respond to as many participants as he could.
It's been a busy few weeks to be certain (with the Indiegogo campaign and finding new studio space in Atlanta).  But a few days ago, Alec submitted his answers back to me.  And so, without further ado, let's see what he had to say…
First of all, let me republish the released Axanar financials here for you all to review…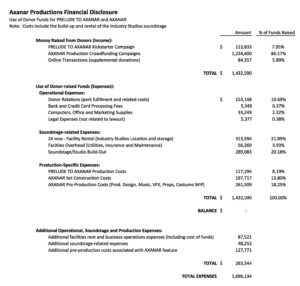 I will present the questions exactly how they were asked using the identifying names provided by the participants themselves.  The questions appear in the same order that they were posted to the original blog page.
---
Justin Beauvais
What sorts of things are left to be completed as far as set building and such? Are things pretty much ready to go or is there substantial work left to do? Additionally, were there any things built that now can't be included in the filming due to the change of format from a full length movie to the CBS approved run time? If there are things built that can't be included, are they going to be scrapped or held for future projects? Finally, are the studio assets in place or are more things required for the studio to function
ALEC – The feature film we originally wanted to make (titled AXANAR) can't be made according to the terms of our settlement with CBS and Paramount. For that reason, most of the pre-production work that had been done up until the lawsuit can't be used as originally called for in the initial, final draft of the script. The sets, for example, were about 80% of the way done when the lawsuit hit but have since been put away into storage – some were even disassembled – and none have been completely finished.
We are now in the process of revising the feature-length script so we can use it as the foundation for our two 15-minute episodes (which we are allowed to make) and any other pieces of the project that will help us tell the complete story. Until the revised script is complete and the scripts for the two 15-minute segments written, it's difficult to estimate how much more pre-production work needs to be completed before we can begin rolling cameras.
---
HubcapDave
The one question I do have is regarding what was labeled as a $38,000 salary in the Dec. '15 report. Is that money accounted for here?
ALEC – The December 15th ANNUAL REPORT from 2015 mis-identified checks written to Alec Peters (me) as "salary" rather than as "reimbursement" or "re-payment" for expenses I fronted on behalf of Axanar Productions. In the financials we made public, you'll notice that the expenses incurred (through 2016) by Axanar Productions far exceeded the money raised through crowdfunding and other fan-related sources like direct contributions and sales revenue from our donor store. That gap – the deficit between income and expenses – was funded primarily through personal investments made by me and by loans made by other individuals who have prohibited us from identifying them by name.
---
Amil S. Boddie-Willis
Will there be some sort of dedication and/or nod to the late Richard Hatch included in the final film? How will you adapt the story to compensate for the absence of Kharn, assuming of course (just for argument's sake) that you don't plan recasting?
ALEC – We will not be recasting Kharn but incorporating his death into The Four Years War documentary.
---
curious
Alec, are any of the three professional actors you're allowed to use coming back? Are you still playing Garth?
ALEC – All have expressed interest in reprising their roles, and everything depends on scheduling agents, scripts and a whole host of factors. But I speak to JG regularly, and Rob and I had lunch with Gary two weeks ago. Axanar coming out of the lawsuit as it did is a positive for the actors.
---
Brian II
1) What are Alec's ability and plans to produce the 30 minute film and any other promised content (audio drama, illustrated scripts, etc) if no further funding or insignificant amounts of funding is forthcoming? What is the fall back strategy?
ALEC – We currently plan on producing two 15-minute episodes of The Four Years War documentary, using the same basic format that was so successful for us with Prelude to Axanar.  Under the terms of the settlement, we are precluded from conducting any public crowd-funding campaigns to finance those productions. Private fundraising efforts, however, are allowed…as are using funds generated through the operation of Axanar Productions as a business entity.
Other Axanar-related content and other Star Trek-related fan films that Axanar Productions may produce in the future does not have the same restrictions on public crowdfunding.
Key to all of this is breaking down the revised storyline into smaller, manageable pieces and then producing and sharing those over time with all of our fans, backers and donors. The projects we develop and present will need to be appealing to fans in order to attract the kind of financial support needed to produce them, or we won't be able to move ahead. But that's been the reality that fan fiction (not just films, but all forms) has always faced.
2) Since pre-production activities are back on…what is the current estimated funding requirements to produce the 30 minutes of film, extra content and delivery of rewards to backers (i.e. what is the amount that is estimated to be still be needed from the backer community that Axanar Productions and related companies will be asking for)?
ALEC – Until we finish the scripts and have those scripts budgeted, we do not know what the cost will be. We are a lot more savvy than before, and so we will be able to shoot very efficiently.  But still, the money will need to be raised.
3) Will Alec publish a breakdown of the estimated funding still required?
ALEC – Yes, in our ending request for the two 15-minute episodes, we will break the budget down specifically.
4) Since Alec has reportedly been covering the studio rental and any other costs himself…will any potential forthcoming public funding be going to Alec Peters directly to reimburse him for these (or any other) incurred costs? I mean, aside from any funding required for film and content production.
ALEC – No. The campaign we're currently running (for Industry Studios) is a good example of how we're planning on being more specific about the intended use of funds generated by crowdfunding campaigns.
---
csg
What is next for industry studios after Axanar? Have you been approached by other fan productions?
ALEC – This question may be moot now that we're leaving the physical entity known as Industry Studios.  As for the next Atlanta studio location, yes, we have been in contact with other fan productions about using that facility along with us.
---
AXAMAN
Will, you be able to use the "Heavy Cruiser" introduced at the end Prelude in the new film? Being the same style of ship as the Enterprise, did the settlement take that off the table? I know that includes something pertaining to the settlement but it also looked like this would be a big part of the Axanar film.
ALEC – We can use the Constitution class.
---
Jason Moon
When the audio drama is finished, will donors get a downloadable mp3 version or anything like that?
ALEC – We have not begun any pre-production process on an audio drama, so it's difficult to answer any questions about it at this point.
---
Duncan Shaw
Gripping sci-fi audio is possible, but Star Trek is best known for being presented in the visual medium. To my knowledge this has not really been done before, besides perhaps a few fan projects. What inspiration will you draw from to tell the best story possible in this format?
ALEC – It's still too early on to get into specifics about an audio drama. We're interested in doing one, but we still need to finish the revised story, scope out the project, pull together costs, etc. Whatever we do, we want it to be engaging and really special. When we have our plans together, we'll share them with our fans, backers and donors to get their input.
---
Richard Jordan
Are you interested in recasting Hatch's character or maybe (crosses fingers!) you have recorded material laying around?
ALEC – No and no.
---
Okay, Jonathan back again with a few additional words…
Although I would have preferred for Alec to answer every question that I sent him, there were three participants whose queries he took a pass on.  I realize that some detractors (well, most of them…well, probably all of them) will seize on this and complain about it.  However, Alec felt that they would do that no matter how he responded.  His feeling was that these questioners weren't really looking for information so much as for more ammunition (my word, not his) to use against Alec in their seemingly unending quest to publicly challenge and humiliate him and his project.
And I can't say I fault Alec for his decision to pass on answering.  I, too, have experienced the detractors hitting me hard on almost every comment I make, hoping for a "gotcha!" moment they can use to criticize me further.  It's one of the reasons I've stopped saying anything to them (and always regret it the moment my resolve softens and I decide to post any response to one of them).  So while I did try a few times to convince Alec to give at least a brief response to the questions from these three individuals, in the end, I had to respect his choice to say nothing.
However, in the interest of completeness, I am going to include their questions below just so everyone can see the ones Alec decided to pass on.  And then I'll be back afterwards with a few final comments of my own…
---
Jo Moine
1) What are the total dollar amounts of donor money that went into Alec's (or Propworx's) bank accounts before Axanar opened its own account in 2015? Have those funds been transferred to Axanar or are they still in Alec's account?
2) Where are the funds raised outside of KS, IGG, and the Donor Store – like selling t shirts, posters, and other merch at cons?
3) What is the total amount of checks written to Alec Peters from Axanar and what were they for?
4) Did Diana Kingbury ever get paid and how much?
5) Are there any other shareholders of Axanar or Industry Studios? Who are they, what % do they own, and what did they pay/do to earn that equity?
---
James
1) You say you never took a salary from Axadonations, however in the 2015 financial statement it says differently. Why?
2) If these new figures are to be believed can you clarify in what sections the salaries/money paid to both Dianna and Robert can be found?
3) Are we ever likely to see a complete set of accounts with such things as…
Profit and loss
Bottom and top lines
Income and expenditure
Etc etc
4) Is the studio complete now with all safety aspects up to code and if not, how much is this going to cost to complete?
---
JC
What was the point of paying yourself if you were going to put the money back in anyway?
---
Jonathan again…
Obviously, that last question purposely changes the order in which things actually happened.  Alec didn't pay himself first and then pay back the project later.  At the time he drew the reimbursement, he had already put in tens of thousands of his own money.  So I can understand Alec's decision not to answer a question that was phrased in such a way as to state a false supposition as established "fact."
As for James' final question about the studio being up to code, that's pretty much irrelevant now, as Industry Studios will now be administered by Alec's former landlord at the Valencia facility.
As for the rest of the questions asked by James and by Jo Moine, here's my take on them…
Most of these questions drill down to a level of detail that fan productions with crowd-funding do not provide to their donors.  And if none of the other fan productions answer questions like this, I don't think it's fair that Alec and Axanar Productions be expected to.  I don't hear these people complaining that Renegades has released no details at all of how they've spent their crowd-funded dollars, despite having raised nearly a million of them.  And some productions like "Captain Pike" simply take donor money and disappear completely, which Axanar never did.  And yet, I never hear any detractor bring up the nearly $100,000 that the Captain Pike donors (like me) pretty much lost completely without so much as a single set built a or 3-minute "Vulcan scene" completed.  Apparently, if a project isn't Axanar and Alec Peters, then it just doesn't count, I guess.
As for the questions about who got paid and how much, this is another bit of a double standard where Axanar is held to a higher level of accountability than anyone else.  I've never seen any fan production report individual people's salaries.  Even Star Trek Continues, which paid out over $175,000 in salaries over three years, never provided specific amounts that were paid to any one particular person.  And I've never seen an Axanar detractor complain about that or demand such information from Vic Mignogna.  Nor should Vic ever be expected to provide it.  Heck, each year my family makes a donation to the Police Activities League and has done so for over a decade. But I'd never expect that organization to reveal how much any of the cops in my neighborhood are taking home in salary.
Okay, that's enough of me standing on my soapbox.  I'd like to thank Alec Peters for taking the time to respond to the questions from Fan Film Factor readers.  I realize it took a few weeks longer than I initially expected, but Alec did have new studio space to find and sign a lease for.
Speaking of which, I'm actually hoping to have another interview with Alec as soon as I can to ask him all about this new Atlanta facility of his.  There's a lot of things I'm really eager to know…and not because I'm just looking for a "gotcha!" but because this sounds really exciting.  So fingers crossed that I can get that next interview soon!