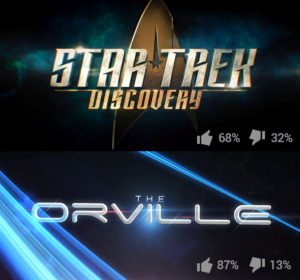 Before I begin, please note that the title of this blog is the question "Should CBS be worried?" and not the statement  "CBS should be worried."  I'm pondering, not preaching.
Also, I want to mention up front that I personally enjoyed the new trailer for Star: Trek Discovery and am looking forward to at least checking out the new series.  People seem to think I'm just another Discovery hater/detractor.  Not so!  I am very much keeping an open mind.  But I'm not blind to the reality of the situation either, and that's what this blog is about.
(And yes, I know that this is a site about fan films.  But it's also a site about Star Trek…and it's my blog, so I can editorialize whatever I want to.)

---
Last week, all of the major networks unveiled trailers for shows that will premiere during their upcoming 2017 season.  Naturally, Star Trek fans were eagerly expecting to see their first extended glimpse of the new STAR TREK: DISCOVERY series…coming to the subscription-based CBS All Access.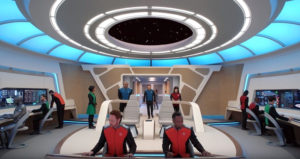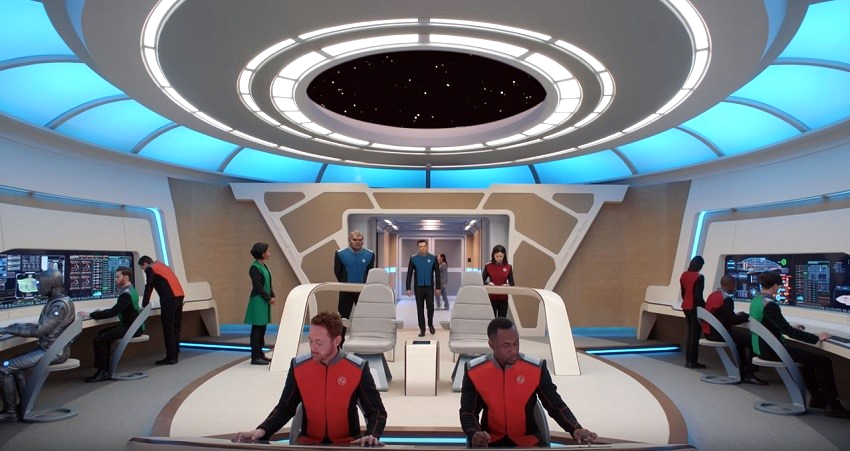 What fans weren't expecting, however, was a new Star Trek-ish series from FOX starring and produced by Seth MacFarlane (Family Guy, Ted) and directed by Iron Man's John Favreau.  Titled THE ORVILLE, this new hour-long series looked more like the Star Trek of yore: bright sets, colorful uniforms, chest emblems with division insignia, sleek and over-lit starships (some filmed from actual physical models!), and a token alien species or two with big bumpy foreheads.  The Orville is obviously meant to be a campy tongue-in-cheek comedy, but the production values, sets, costuming, make-up, and visual FX looked like…well…WOW!
For two days, fans were aflutter with comments about this surprise new sci-fi series.  And the comments were nearly all positive, with many Trekkers suggesting that THIS was the Star Trek we'd wanted all along (minus the implied parody, of course), and wondering why CBS just didn't get it.
Then, last Wednesday, CBS had their turn to say, "Hey, we DO get it…and here's what OUR new Star Trek will look like."  But did they really get it?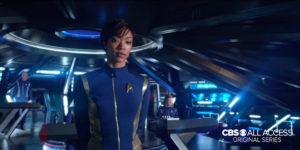 What fans saw looked like yet another reboot: a never-before-seen Starfleet uniform style (set during a time frame in Starfleet history when uniforms had already been established as looking like those worn in the first Star Trek pilot episode "The Cage"), never-before-seen aliens, a darker and more futuristic-looking bridge filled with (don't make me say it!) lens flares, a new transporter effect, and let's not forget a brand-new (or is that ancient?) look for the Klingons.
It was a lot for fans to take in.  On the one hand, it was unquestionably Star Trek.  We see a communicator and a tricorder, we see Spock's father Sarek of Vulcan, we see a starship with a saucer-shaped hull and two nacelles, and we see that familiar USS Enterprise arrowhead chest insignia…even though the starship we see isn't the Enterprise. (In the original TV series, it was established that each starship crew wore a uniquely-shaped insignia on the chest of their uniform.  It wasn't until the Trek motion pictures that Starfleet adopted that familiar arrowhead emblem on all uniforms to honor the completion of Captain Kirk's historic 5-year mission.)
On the other hand, this wasn't Star Trek the way fans expected it to look if it was indeed set only a scant ten years before Kirk.  Some fans suggested the new series should have been set after the end of Deep Space Nine and Voyager so it could look more futuristic and not worry about canon.  Others suggested just biting the bullet and calling it an alternate universe reboot.
(To be fair, CBS seems to be reluctant to call the new series a reboot because, among other reasons, fewer products are licensed for rebooted Star Trek.  The Kelvin-verse merchandise has generally sold poorly—usually relegated to the bargain shelves at Walmart—and there have been relatively few licensed products from that franchise.  On the other hand, a wide array of prime universe products continue to sell well.  It's worth noting that Discovery has only just signed up its first licensee, McFarlane Toys, and even that licensee is holding back on releasing anything from Discovery.  Their first two licensed Trek figures next spring will be Kirk and Picard…no one from Discovery.  That's worth noting,)
Anyway, getting back to the two trailers, the one constant seemed to be that genre fans were not feeling nearly as psyched about Star Trek: Discovery as they were about The Orville…and the numbers bear that out.
While it's true that the official trailer for Discovery has been viewed on YouTube nearly 5 million times, which is more than the 4 million combined totals for the official trailer for The Orville plus the HD version of the same trailer, the good news for CBS ends there.  (By the way, for comparison, superheroes and mutants win the race hands down with more than 15 million views for the two trailers(regular and HD) for the new X-Men TV series from Marvel on FOX, The Gifted.)
The thumbs-up/thumbs-down ratings on Youtube for the Discovery and Orville trailers tell an interesting story.  And while a simple click on a button icon is certainly not a reliable predictor of viewing/subscribing behavior, it also cannot simply be discounted entirely either…especially with tens of thousands of clicks.  Plus, it's a very similar—almost direct—comparison with many of the same parameters: number of views of the trailers, release date of the trailers, likely demographic viewing group, etc.
And the numbers have stayed pretty consistent for the past week (which is why I didn't write this blog immediately; I wanted to track the trend line).  For The Orville, thumbs-up have remained pretty consistent on both trailer pages at about 87%, with thumbs-down straddling 13%.  Discovery, however, has seen an equally consistent thumbs-up percentage around 68% versus 32% thumbs-down.  (For comparison, The Gifted has around 85% thumbs-up and 15% thumbs-down…pretty close to Orville.)
So YouTube viewers dislike Discovery at a percentage about two and a half times MORE than those who dislike Orville.  Should CBS be worried?
Why CBS should NOT be worried
Is this a "Chicken Little" blog, sounding a red alert when there's no real danger to the ship?  Some fans have said so in tones ranging from calm to militant.  From what I've seen over the past week, their arguments break down mainly into the following three categories:
Y'know, 68% isn't all that bad.  It's not like it's just 50% or that more people disliked rather than liked the trailer.  Sure, Orville did better…but by barely 20%.  And Orville is launching with a fresh start and no expectations.  The Discovery trailer is competing against 50 years of established Star Trek history and canon and a fan base with a LOT of strong opinions.  (Man, is that an understatement!)  In other words, the bar is being set far lower for Orville, and if you grade on a "curve," then Discovery is actually doing pretty well, all things considered.  Also, with millions of Y0utube views, what do the mouse-clicks of a few tens of thousands of users really tell us?
Trek fans were dreading The Next Generation back in 1987 before it debuted.  "How can Star Trek be Star Trek without Kirk, Spock, McCoy, and the rest???"  Then came Deep Space Nine, and fans were dubious again.  "A space station???  You're going to boldly stay in one place???"  Voyager was going to leave everything familiar in the Alpha Quadrant and the Federation behind.  And Enterprise was going BACKWARD rather than forward.  Every new Trek had its doomsayers, and things generally turned out all right.  This has all happened before, and it will happen again.  So far, Discovery is in good company!
The trailer from last week wasn't intended to impress the fans; it was intended to impress the advertisers.  The advertisers don't care how close Discovery hews to 50 years of established Star Trek.  They want to see the characters, the sets, the costumes, the uniforms, the aliens, the visual FX, the pacing, the action, and the dramatic conflict.  The trailer was cut in a way to show them all of that.  Another trailer could be cut in a way to give the fans something to cheer about, but this one wasn't for the fans.  (And hey, at least there was no Beastie Boys soundtrack!)
---
Next time—do I even need to say it?—why CBS should be worried!