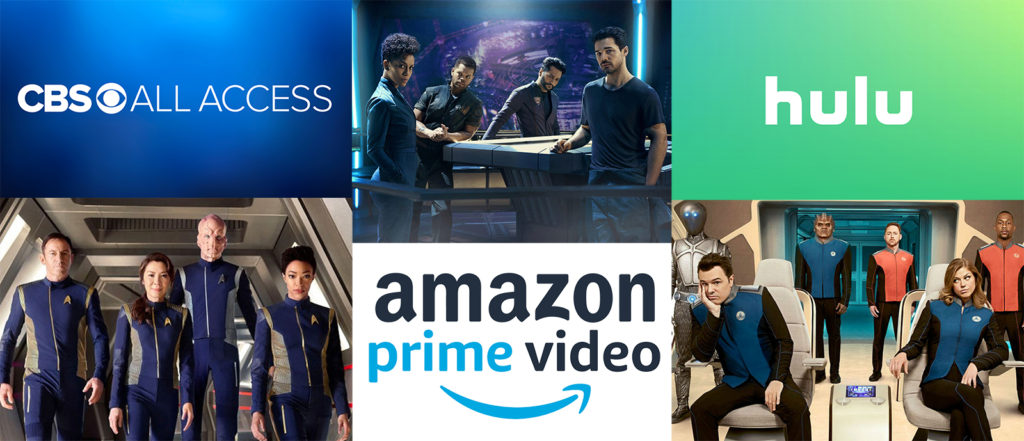 Before I begin, let me explain that the purpose of this unique blog is to bring folks up to speed about what the HECK is going on with all of these new streaming TV services that are suddenly appearing like clowns getting out of a Volkswagen. I'm going to focus mainly on how this is affecting the sci-fi genre of television shows…although the impact is pretty much across the board. Then I want to explain why it's happening so fast, why it's not going away anytime soon, and then speculate on where this is all heading in the future.
I began working on this blog a month ago when Seth MacFarlane announced the The Orville would be moving from the FOX broadcasting network to behind a paywall at Hulu. Since then, I've been researching like crazy! And each time I thought I'd gotten the blog finished, there'd be more "BIG" streaming announcements from folks like NBCUniversal and, just last week, Disney. Eventually, though, I just needed to pull the trigger…knowing that parts of this blog are gonna be old news almost as soon as I hit "Publish."
I do want to apologize if this is a longer blog than usual, but there's just SO much going on, and I want to help you folks process it all like I just managed to do…mostly. Also, I'm going to focus mainly on America only because, once you head internationally, the shows and services all shift around and this poor blog would be six times as long!
Remember when automated teller machines (ATMs) first started being installed at banks? I can't remember if it was still the 1970s or the early 1980s; I only remember that hardly anybody used 'em. Why risk your hard-earned money on a "fallible" computer when you could deal with a competent human being you could talk to?
The same thing happened when e-commerce first appeared. The idea of entering your credit card information onto a website in order to buy something seemed…overwhelming! Was it safe? Would the thing I just ordered even arrive? How long would it take? Why not just go to the store like everyone else, buy something, pay for it, and take it home?
We were so naive back then, weren't we? It just took us a decade or so to get used to the "new normal," and now everything is so much easier, faster, and more convenient.
So is paywall streaming TV the "new normal"?
Continue reading

"First STAR TREK, then THE EXPANSE, now THE ORVILLE…is this the beginning of the end for "free" TV sci-fi???"