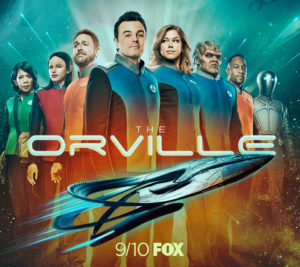 At first, I was thinking, "Yeesh!  This is as bad as the critics were saying!"  I thought of all the things I could say to try to sugarcoat my disappointment in this new series that I'd been looking forward to all summer.  "Hey, the pilot episode of Star Trek: The Next Generation wasn't much to write home about either."  (And it wasn't!)  "Come to think of it, the pilots for DS9 and especially Voyager kinda sucked, too."
But hey, if you're gonna try to prop up the pilot of a new series by saying that other pilots sucked, too, then you're pretty much admitting that the pilot for The Orville sucked, right?  And even if TNG, DS9, and Voyager eventually did get better, there was no guarantee that The Orville would follow suit.
But then a strange thing happened: it did get better!
In fact, by the time the episode came back from the midway 30-minute commercial break, the pilot was actually quite a lot of fun to watch.  It was exciting, engaging, well-paced, and intelligent.  Even the stupid jokes weren't falling quite as flat as they had in the first two acts.
Continue reading "THE ORVILLE – not bad for a STAR TREK FAN FILM! (editorial/review)"