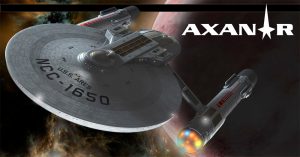 This morning I face a bit of a dilemma.  There's an 800-pound mugato in the cave (a more appropriate metaphor than "elephant in the living room"), and I needed to decide how to deal with it.
On the one hand, it's fan film news…major fan film news, in fact.  A version of the 90-minute AXANAR script that was "locked" prior to the lawsuit (meaning it would be used to determine line item costs) was leaked yesterday by disgruntled (man, is that an understatement!) former CTO and Marketing Director for Axanar Productions, TERRY McINTOSH.  It was actually an earlier version than the one used for the lawsuit (Terry released version 7.3, but the version submitted in the legal filings was 7.7—and the latest version that exists now actually goes to 11).  But the fact is that a version of the Axanar script is now out there…and that's news.
On the other hand, Terry violated a Non-Disclosure Agreement (NDA) in doing so.  The thing about NDA's is that, for a project like Axanar, they are unlikely to be enforced because ALEC PETERS would have to prove financial damages and injury.  Since Alec is unlikely to lose any money from the release of an outdated script that's been rewritten multiple times since 2015, there's little reason to bother taking legal action.  (But hey, who knows?)
That said, despite the lack of legal "teeth," signing an NDA is like making a promise…saying that you're trustworthy and able to keep a secret.  I've signed an NDA with Axanar Productions, as well.  The things I know could potentially explode my page views.  But I don't share them because I gave my word—and at least for me, that means something.
So, yes, there's an outdated Axanar script out there now, and you'll probably be able to find it fairly easily if you look.  But I am not going to post it here.  Nor am I going to link to any of the numerous detractor sites that have sprung up in the last 24 hours to tear the script apart.
Have I read the script myself?  Not yet.  I've been too busy reading through Alec's new scripts for the two 15-minute Axanar films and preparing my feedback for him, and I didn't want to get distracted.  I might read the leaked script eventually…maybe not.  I haven't decided yet.
But what I have decided is to honor my own signing of an NDA and not facilitate access to the outdated script, even though it is now public.  Unlike some people, when I give my word, I keep it.