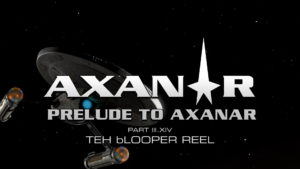 I'm kinda sick to my stomach right now—so disgusted that I am quite literally nauseous—and I really don't know how to deal with it other than blogging to try to clear this out of my head.
You guys might remember a few weeks ago when TERRY McINTOSH, the former marketing director for Axanar Productions, released an old version of the original full script for the AXANAR movie.  Even though he had signed a non-disclosure agreement (N.D.A.), promising to keep all Axanar-related materials private and confidential, he decided he was pissed off enough at ALEC PETERS that he no longer gave a shat about signed agreements or breaking promises.  The script, Terry believed, was so bad that releasing it would embarrass Alec, who had called it the best Star Trek script ever (or something like that).
In the end, it was mostly a tempest in a teapot.  I've now read the old script, and it wasn't all that bad.  And now that I've read the two new 15-minute segments script, the outdated version of the full script doesn't really ruin much of anything.  A lot has changed (obviously).
Anyway, y'know when Khan says, "I've hurt you…and I intend to go right on hurting you."  Well, that seems to be Terry when it comes to Alec Peters.  Terry will chase Alec round the moons of Nibia and round the Antares Maelstrom and round Perdition's flames before Terry gives him up!
But all kidding aside, Terry really doesn't know when to stop, and now he's carrying the vendetta to a very dark and troubling place.  But I don't simply mean troubling to me.  Any reasonable Trekkie or Trekker should feel very concerned, as well…
"For my next trick…!"
So yeah, Terry isn't finished sharing all his "goodies" yet.  Y'see, Terry also has copies of the all of the unused footage of the outtakes from the filming of Prelude to Axanar.  And despite Alec's ultimately decent performance as Garth (at least I thought it was decent considering he isn't an actor), apparently getting to decent was not easy.  According to Terry, Alec had a lot of "cringe-worthy" bloopers during filming.  And Terry thinks it'll be quite embarrassing to Alec if the world sees Alec at his line-mangling worst.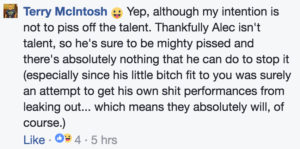 (Pardon the potty language, folks.  I needed to do a screen cap.)
Now, personally, I'm happy that Alec had so many bad takes, as it showed how hard he was willing to work to get to the good ones that were finally used in the final fan film.  Remember that, although Alec took acting lessons from Richard Hatch and Howard Fine (one of the top three acting coaches in LA who also coaches Chris Pine and Bradley Cooper) for a couple of years, Alec himself was never a trained actor.  He went to law school.  So what other actors can do with relative ease, Alec had to push himself to get even close to.
So yeah, if I do ever see Alec's bloopers, the worse it looks and the more flubs I see, the more impressed I will be that Alec had the courage and tenacity to push through the bad performances—no matter how long it took—and dig down deep until he got it right…rather than giving up and settling for something less.
But that's just me.  I'm sure the detractors will host viewing parties and pass the popcorn and laugh themselves silly.  Have fun, kids.
Anyway, Terry seems to have felt that showing ONLY Alec's outtakes wouldn't make for a popular enough video.  Sure, a few hundred detractors would view it, maybe some Axanar fans, but hardly enough to REALLY embarrass Alec, thought Terry.
So Terry got the idea to include bloopers from ALL the actors who appeared in Prelude: Gary Graham, JG Hertzler, Kate Vernon, Tony Todd, and the late Richard Hatch…along with Alec.  Surely THAT would bring in massive numbers of views to the video.  And the more views, the more embarrassment, right?  (Well, unless people think the way I do.)
---
Terry was positively giddy about this plan as he shared his intentions with a cheering throng of eager detractors.  The fact that Terry didn't actually own or have rights to the footage in question, the fact that he'd signed an N.D.A., and the fact that he didn't have permission from the actors to post their bloopers…well, that didn't seem to be a concern.
Of course, it actually is a concern.  As ROBERT MEYER BURNETT told me last weekend, "When we did the bloopers for the Next Generation Special Addition blu-ray, we had to get sign-offs from every TNG actor who appeared in any clip…and that took months!  And not everyone approved every blooper."  Beyond issues directly with Alec and Axanar Productions from the N.D.A., there are also potential issues with the Screen Actors Guild.  If you look at page 8 of the latest SAG agreement with television and motion picture producers, you'll find this snippet:
Consent for the following uses must be obtained separately from the performer's employment contract:
(ii) for the reuse of a "blooper" excerpt which was not included in the theatrical or television motion picture as originally exhibited; except that consent for use of deleted or alternative scenes that cannot be characterized as a "blooper" may be obtained at the time of employment…
Now, does that apply to Terry (who simply worked on the SAG-signatory project) or only to Axanar Productions?  Who cares?  The point is that you're not supposed to use a SAG actor's bloopers without his or her permission.  No need for any further argument or debate.
Since many of Terry's posts were appearing on Carlos Pedraza's Axamonitor Facebook group, and since Terry has pretty much blocked Alec, Alec reached out to Carlos Pedraza with a pretty stern warning to pass along to Terry:
Release of actors images without their approval is a violation of THEIR rights and I have reported this to each actor's agent as well as SAG's legal division. Violating actor's rights is not to be taken lightly, something any real producer knows. Terry can deal with the legal implications from the actors. I suggest you pass that on to him. I don't need to claim moral high ground, I will let everyone know that Terry has violated every actor's rights and that the agents for those actors can proceed against Terry and you.
You can probably guess how that went over.  Alec, of course, was simply making sure that Carlos (and through him, Terry) was aware that Alec would be contacting all of the actors and and their representatives to inform them of the situation.
---
Terry, for his part, was not deterred.  I don't know if the phrase "calling Alec's bluff" is appropriate, as it wasn't really a bluff, but Terry decided to reach out to the other actors directly and ask for their permission to use their bloopers.
Of course, Terry didn't present all of the facts to the actors.  He left out anything about proceeding without the consent of Alec Peters or Axanar Productions or violating a non-disclosure agreement.  And naturally, he left out the part about his true intention to publicly humiliate Alec Peters.  Instead, Terry's message to the actors looked quite "innocent":
Hey, I'm so terribly sorry to bother you with this, but there seems to be some controversy brewing regarding my creating a fun and light-hearted "blooper reel" from Prelude to Axanar shoot and releasing it in a tasteful manner to the Axanar donors as a bit of recompense for how things have turned out for them.
Would you have any objection to several extremely short takes with the possibility of a funny flub being released publicly?
"Fun and light-hearted…" huh?
Fun maybe for Terry and the detractors, but I don't believe there is any "light" left in Terry's dark heart.  But again, that's just me opining.  Your mileage (or kilometerage) may vary.
Anyway, Terry got his answers from a few of the actors within the next day or two.  (Obviously, Richard Hatch could not respond, and Terry had not bothered reaching out to Richard's estate.)
Kate ("Sonya Alexander") Vernon said okay.
Gary ("Ambassador Soval") Graham, on the other hand, responded with a please don't:
Terry — for reasons of my own, I REALLY wish that you didn't. The Axanar thing has inadvertently put a pall on my relationship with Star Trek… and I'm still hunkering down from it. With that 4-minute scene that was released, I had become somewhat of the poster boy for fan-film litigation and I want to stay well clear of it now. It takes years to assemble and a credible acting career… and it can all go away overnight. Please don't use any footage of me. Thanks for understanding, Matt. Cheers. – G
(Apparently, Terry is also known as "Matt"…or else that was a typo.)
JG ("Sam Travis") Hertzler also was a no:
Terry, as you say I am running for Congress. With all the chaos surrounding Axanar…my feeling is that I should be left out of a blooper reel….for an abundance of reasons. Not the least being the advice of my attorney/campaign manager who is standing with me at Kinkos right now. Hope you can work around me on this! I did have great time working with you on Axanar. Jgh
So there you go, right?  Asked and answered.  And according to Alec, Tony Todd's agent and Richard Hatch's estate will be contacting Terry shortly, as well, to indicate their refusal.  If true, then it'll be just be the Kate 'n' Alec blooper reel.
Not so fast.  This is where I went from mildly amused by the whole mishegoss to being sick to my stomach and wanting to throw up.
First I saw Terry post this:

"The talent's wishes are not binding…"???  Are you frickin' kidding me???  Leaving aside the legal questions entirely, you're a goddam Star Trek FAN, Terry!!!  These are actors who brought life to characters whom we all LOVE!!!  How can you pause for even a nanosecond…let alone suggest that their wishes "are not binding"?
Screw "binding," you [INSERT REALLY ANGRY INSULT HERE]!  How about just showing some frickin' common courtesy?  You'll "CHOOSE" to respect Gary Graham's wishes???  How unbelievably magnanimous of you, your lordship!
Oh, almost forgot…there's more!  The following was posted by Terry after he received his response from JG Hertzler and Carlos Pedraza had posted an update on the Axamonitor blog site: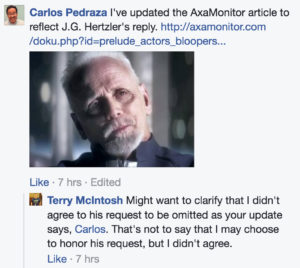 Wait a moment while I run to the bathroom…
ROWLLLFFFF!!!!
Okay, so this time Terry DIDN'T agree to the actor's request????  But his lordship MAY (may!!!) honor his request???
What the F-ing F-ing F-ing F-ing fudge??????
Again, as a Star Trek fan, I just—excuse me again…
ROWLLLFFFF!!!!
I'm back.  And just in time to see Terry's latest post from this morning:
How can anyone NOT feel disgusted right now?
Okay, let's step back from all the legal questions.  Let's step back from the fact that we are all (maybe except for Terry) Star Trek fans who respect and admire these actors for all they have done and given us, all the conventions where they appear, all the time they spend at their tables endlessly chatting with fans about this and that.  How about just honoring the fact that these are PEOPLE…people to whom Terry reached out with a straightforward question and who responded politely in kind?
Terry, if you're not going to honor their wishes because they are "not binding" and you can do whatever you want…THEN WHY FRICKIN' ASK THEM IN THE FIRST PLACE???
---
These days, there's a lot of Star Trek fans complaining about the behavior of other Star Trek fans.  And so far, we've kept it mostly among ourselves.
But this isn't just fan-to-fan.  This is straight-up disrespect for the ACTORS!  And both Gary and JG are GOOD PEOPLE.  JG is even running for Congress, so his wishes should be taken VERY seriously.
It doesn't matter if Terry ultimately says, "Hey, I said I'm not going to include their bloopers," because that's NOT the point.  OF COURSE, YOU'RE NOT GOING TO INCLUDE THEIR FOOTAGE, TERRY.  As a fan, that goes without saying.
But the fact that you would, even for a nanosecond, consider NOT honoring their wishes…
Dude, you are making us all look bad!
As a Trekkie, I am truly ashamed for Terry because, in all honesty, it doesn't seem like he's even capable of being ashamed for himself.  Is there anyone out there who can explain this to him?  Or do we just flush?