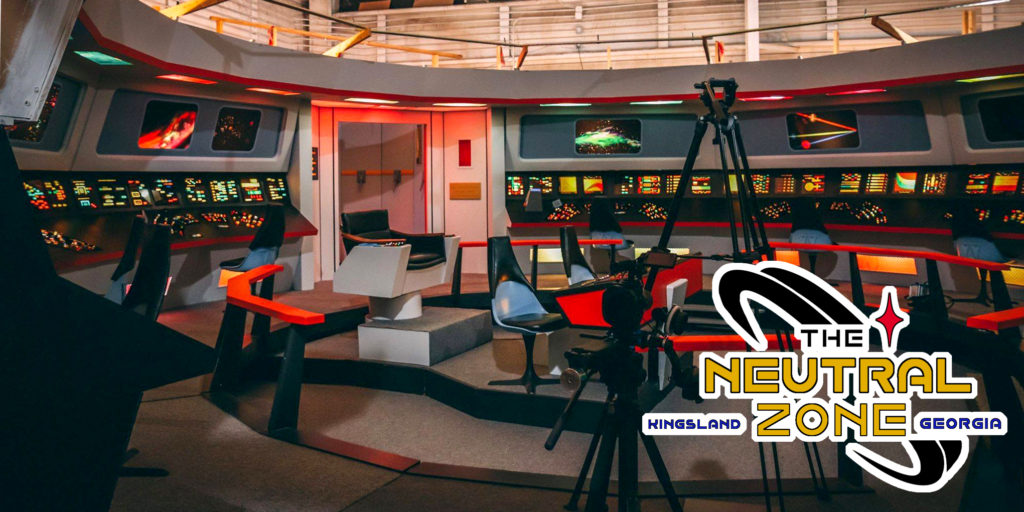 When I was a kid growing up in the 1970s, watching Star Trek each weeknight at 6:00pm, I used to dream of one day building my own Enterprise bridge. I'd have it on the second floor of my house, in a circular area, with a turbolift elevator that would go up to it, doors whooshing open to shock and impress my friends.
Sadly (at least for me, not sad for my wife), that didn't happen.
But miraculously, I can still walk onto the bridge of the USS Enterprise NCC-1701. I can sit in the captain's chair, stand in the transporter, walk through the corridors, visit sickbay and engineering, wander into the briefing room and Captain Kirk's quarters. And I can even do it in two different locations!
The first place I can go is the officially licensed Star Trek Original Series Set Tour in Ticonderoga, NY. For $22.50/person (less for seniors, military, and kids), I can walk around meticulous, museum-quality recreations of the original 1960s sets that were used to film Star Trek. The sets in upstate New York were used to make the fan series Star Trek: New Voyages/Phase 2, and now are available throughout the year for personal and group tours.
Further south in Kingsland, GA are the sets that were originally used for the fan series Starship Farragut and Star Trek Continues. A little over a year ago, those sets were sold by VIC MIGNOGNA to RAY TESI, who has opened them up for free filming (just pay the electricity costs) to any fan production that follows the CBS guidelines. Originally called Stage 9 Studios, the sets were recently renamed NEUTRAL ZONE STUDIOS to avoid confusion with the Virtual 3D walkthrough of the Enterprise-D that was shut down by CBS.
Last October, Ray Tesi opened his Georgia sets to the general public for a FAN APPRECIATION WEEKEND. It featured tours, photo opportunities, some fan film celebrity guests, and even two different fan productions shooting scenes in front of a live, studio audience.
However, there was also some controversy…
Continue reading

"NEUTRAL ZONE STUDIOS once again opens their TOS sets to the public for FAN APPRECIATION WEEKEND 2!"