IT'S SPOILIN' TIME!!!!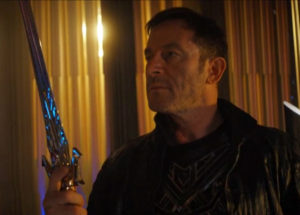 Last week, I wrote a blog that started with a few paragraphs drawing comparisons between CAPTAIN GABRIEL LORCA and DONALD TRUMP.  Let me be perfectly clear: I WAS KIDDING!!!  But apparently, no, I wasn't…at least as far as the STAR TREK: DISCOVERY writing team was concerned!
In what was probably the most obvious and direct reference to a political issue since Bele and Lokai were each colored half-black and half-white, LORCA/TRUMP says the following things during the most recent 13th episode, "What's Past Is Prologue"…
I've watched for years; you've let alien races spill over the borders, flourish in our backyard, then have the gall to incite rebellion.  The Terrans need a leader who will preserve our way of life, our race.
…we together will make the empire glorious again.
Here's the full scene:
My wife Wendy, who normally doesn't watch the show with me but just happened to be in the living when this line was delivered, asked me, "Are the writers always this lazy?"
Now that Lorca is the established bad guy, let's draw a direct line from him to Donald Trump.  It's not that Wendy and I like Donald Trump or anything.  But seriously, was this kind of dig really necessary?  Should Star Trek be used to take cheap political shots?
I won't say that this one line ruined the episode for me.  I had other problems with it.  The whole Die Hard meets Star Wars vibe was flashing at me like a siren during the entire episode.  John McClane sneaking through the building talking to Hans Gruber on a cell phone.  Han and Leia having to take down the deflector shield so the rebels could get close enough to destroy the second Death Star.  And don't get me started on the Games of Thrones "Moon Door" in the throne room!  Why do the bad guys always have those???
No, I lamented that Lorca—an amazingly deep and complex character lo, these past eleven episodes (Mirror Universe origins or not)—suddenly turns into an over-the-top, gloating Bond villain with an accent that kept stumbling into cowboy drawl but never stayed there.  Lorca was now simply a mustache-twirling evil-doer getting all the best lines and killing everyone in sight other than our hero Burnham.  ("Ah, Mr. Bond, I see you survived again.  Excellent…"  Or how about "Join me, Burnham.  Together we can overthrow the emperor and bring order to the Mirror Universe as father and son…I mean, snuggle-buddies or friends-with-benefits or however I can get into your… GURGHKKKK!")
Okay, it didn't happen quite that way, but I was still bothered by how silly this whole four-episode "trek" into the Mirror Universe had become, how two-dimensionally nefarious all the Mirror counterparts seemed to be.  The endless fighting…everyone locked in a state of mind-numbing PMS (permanent mirror sadism).  I was ready for the show to go back home.  And I almost got my wish…
The ending of this episode actually reminded me a lot of the cliffhanger "conclusion" of the third season of Star Trek: Enterprise.  After managing to fight past the bad guys, destroy the Xindi weapon, and beam out at the last second, the NX-o1 arrives back home at Earth.  But guess what?  It's the wrong time period…and alien reptile Nazis have taken over the planet!
Granted, the Discovery went FORWARD in time, not back, and it was only nine months.  But hey, look, the Klingons won the war and took over.  Déjà vu all over again!
---
I have a philosophy: never blog angry.  Seriously.  But after watching this latest episode, I was ready to tear into Discovery (yet again!), and I didn't want to do that.  And so, wanting to decompress and make some sense of the chaotic action-fest I'd just witnessed, I let the CBS All Access app advance me to the latest episode of AfterTrek.
For those who don't know, AfterTrek is "The Talking Dead" of Star Trek: Discovery.  Lots of TV series now have these post-viewing discussion shows where cast members, writers, directors, and producers come on to discuss the latest episode and the series in general.  A lot of times it's fluff, but you can also get some fascinating insights, like this one…
So we WEREN'T crazy!!!  This show WASN'T Star Trek after all!  JASON ISAACS—Captain Lorca himself—just said so!
Wow, I feel so…vindicated.
Many fans like me have complained about this show not feeling like Star Trek pretty much since episode one.  The crew didn't feel like a team.  Characters seemed bitchy and ornery.  And even after folks on the ship began mellowing out a bit, scenes on the bridge still felt more like a North Korean prison camp.  In previous Star Treks, Kirk, Picard, Sisko, Janeway, and Archer would get input and suggestions from a wide range of officers—Spock, Data, Harry Kim, Kira, Reed, Sulu, Troi, Tuvok, Dax, T'Pol, Uhura, Beverly, Chakotay, Trip, Chekov, O'Brien, Worf, Mayweather, Scotty, and even Wesley.  The bridge was a place to share ideas, an open workspace where friends chatted but also teamed up to get the job done.
But on the bridge of the USS Discovery, unless you were Lorca, Saru, or occasionally the visiting Burnham or Tyler, you were little more than a wooden set piece on the television screen.  I bet most fans can't even remember the names of the three women stationed on the bridge (I call one of them "Captain America")…and that's tragic because WHEN HAVE THERE EVER BEEN THREE MAIN WOMEN OFFICERS STATIONED SIMULTANEOUSLY ON A BRIDGE IN STAR TREK???  Think about it.  I suppose during scenes where Janeway, B'Elanna, AND Seven were all on the bridge at the same time, you reached three…likewise, if Yar, Troi, and Beverly were on the bridge at the same time.  But in each of those cases, there were only seats for two of them; the others worked elsewhere on the ship.

Discovery had a chance to stand out in Star Trek history for having more women and more minorities in the cast than any previous series.  But three of those women (one a minority) spend their time looking forward at the viewscreen or down at their consoles, never exchanging glances or really even making eye contact with anyone else…let alone chatting like other bridge crews have done.  Their lines so far have been limited to status updates and responses to Lorca's orders.  Viewers have no idea who these people are…only where they sit (or stand).  I've previously called this a "lack of banter," but it was so much more than that.  It was short-changing a good portion of this cast—all three of them female—and in so doing, short-changing the viewers, as well.
To me, this was just another reason why Discovery did NOT feel like Star Trek for me.  And here was Jason Isaacs himself telling me I was right.  Great!!!  Time to write an angry blog, and I'd even get a chance to enjoy a smug, little "I told you so!"
But then I heard TED SULLIVAN, co-executive producer and writer of both this episode and "Lethe," saying something that gave me pause…
Suddenly, I was a little less furious.  The writers were aware that what they were doing was dissonant from traditional Star Trek.  In fact, they were actually doing it ON PURPOSE…and not just because they wanted a darker, grittier show for a modern audience.
No, the writers fully intend to make Discovery "come around" to being a more traditional Star Trek show with hope and optimism and Starfleet nobility and teamwork…at least according to Ted Sullivan.  The writers just wanted to show HOW a crew becomes a cohesive unit like the crews of the various USS Enterprises or Deep Space Nine or Voyager.  Those crews were either already well-oiled machines when those shows started or else found their rhythms pretty quickly (even the merged Starfleet/Maquis crews on Voyager).
But Discovery is tackling this "evolution" much more slowly…and the writers needed a dozen episodes to give us the first glimpses of what is (hopefully) still to come.  I'm not sure I agree with the choice, but I do still respect it as a choice.
And that means that this show is finally ABOUT something!
Y'see, up until now, if I'd asked you what Star Trek: Discovery is about, you probably couldn't tell me in just one sentence.  TOS and TNG?  Exploring strange, new worlds and contacting new life and civilizations.  DS9?  Nurturing the political and spiritual healing of a people (and a space station) who had been under harsh occupation and were suddenly thrust into the center of importance in the Alpha Quadrant.  Voyager?  Finding a way home.  Enterprise?  Exploring the final frontier for the first time.
Discovery?  Well, there's a Klingon war, but we don't really see a lot of that (we just spent a quarter of the first season away from the war and in the Mirror Universe).  Is the show about secrets and duplicity (Lorca, Voq, Sarek, Mudd)?  That's hardly a show that should have the name Star Trek painted on it.  Is it a show about violence and the unexpected loss of main characters like Georgiou, Landry, and Culber?  Again, not really Star Trek.  Is it about a new technology (the spore drive)…or is it about the personal voyage of Michael Burnham to self-realization?  If so, those aren't central pillars of the series so far, just two of many balls in the air.
So what IS Star Trek: Discovery about?   And don't just say "it's about discovery!"  That's too vague and too easy.  Reading Rainbow is about discovery, too, kids.
But if what Ted Sullivan is saying is that Discovery is about a Starfleet crew coming together and learning to be a team, then yeah, I can give them that.  Again, it's not necessarily the path I would have taken this series on, but I'm not getting paid to be one of the forty-seven executive producers on the show!  Nobody asked me my opinion, and why should they?  They decided on a direction and went with it.  All I get to decide is whether or not I like that direction.
And do I?  I don't know yet.
But at least I know that there is a direction…and that there's hope we might see something (eventually) that looks more like Star Trek than what we've seen so far.  The writers are aware of what they've done, and they actually expected, even wanted the reaction that they get from many fans: THIS DOESN'T FEEL LIKE STAR TREK.  That suggests that they DO know what Star Trek feels like, and maybe, just maybe, they'll start giving us that in season two.  Fingers crossed.
And maybe—like the crew of Discovery—I myself just need to overcome my own dissonance and evolve in the way I see this show.  Perhaps…
---
So what about Donald Trump?  Well, I'd like to end with one more clip from AfterTrek, because Ted and Jason touched on that point, too.  And no, it wasn't "lazy writing."  Just the opposite, in fact.  And their reasons for making Lorca say what he said—like the reasons the writers had for making the show NOT feel like Star Trek up until now—are both reasonable and valid…
Again, I'm not sure I agree with their decision on a personal level.  As a viewer, that's my right.  And as a blogger, I'm allowed to share that reaction.  And as a reader, you're welcome to agree or disagree with me just as I can agree or disagree with the direction of the series.  Everybody wins!
But I still respect the writers, the actors, and the producers for working hard to create this show.  It's obvious that they're giving it their all.  And even if I don't always like what I see, I'm still engaged enough to want to discuss it week after week.  Not many shows get that kid of attention from viewers—positive or negative!