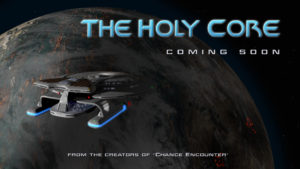 I love Brits who make Trek fan films!  A year ago, writer / director GARY O'BRIEN and co-writer PETER LAIGHT released their first-ever Star Trek fan film CHANCE ENCOUNTER…and fans were blown away.  Superb acting, touching story, well-directed, fantastic costumes and VFX, perfect music, and even custom-built shuttlepod and turbolift sets—it's a MUST-SEE fan film well worth 20 minutes of your time to watch if you haven't already.
This entire magnificent production was funded for just £1,862 (about $2,700) raised through a Kickstarter.  And now, Gary and Peter have just announced a NEW crowd-funding campaign (coming in March) to try to raise £7,000 – £8,000 (about $10,000)…well within the $50K limit set by the fan film guidelines.
Speaking of the guidelines, I asked Gary about film length and crowd-funding perks:
We are structuring the script to split in half at the 15-minute mark, and so we are aiming for an overall run-time of 30 minutes for the story. We have yet to decide whether to make that two separate uploads of 15 minutes or not.  That choice will be made much later in the process I think.
As for perks, we will probably only offer wallpapers, scripts, etc.  Our hope is that anyone who donates does so to see the film get made.  The simpler the perks, the more money we can put on screen!
Like Chance Encounter, the new film, The Holy Core, will be set in a time period about midway through TNG, likely 2368 or thereabouts, with a cast of all new characters.  And while Chance Encounter was basically a love story, Gary says…
This time we will touch on several themes, such as scientific pursuit, the roles of religion, and a little hint of romance, too.
The new campaign will start up around March 1 and run through the end of that month.  Filming will likely happen over the summer (once sets are built and cast members selected), and the finished film(s) will likely debut in late 2018 or early 2019.  Obviously, a lot can happen before then, but Chance Encounter stayed pretty much on schedule all though production.
So start saving your pennies (or pence) for a very exciting crowd-funder coming in just five more weeks.  And here's something to get you in the donating mood…