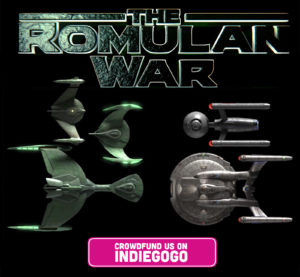 Are Star Trek fan films in danger of having the donation well run dry?  It's hard to know, but right now, things look somewhat troubling.
Last month, a Kickstarter for the proposed The Holy Core fan film (the same folks who produced the excellent Chance Encounter) didn't even manage to get half way to their $12,000 goal and instead got nothing.  Another Kickstarter for The Roddenberries' new album and music video set a two month goal of $9,500 and, with only 11 days to go, is only up to $3,565.
And now, THE ROMULAN WAR, an exciting new Star Trek fan project, is struggling to reach its $10,000 goal on Indiegogo.  Although they burst out of the starting gate with $4,200 in less than two weeks, last week was a veritable desert of donations with only a few hundred dollars coming in over the span of six days.  And this despite the fact that last Monday saw a new video posted to social media spotlighting the cast and showing some never-before-seen footage, and on Wednesday there was a cool TrekYards feature on the Romulan "Strombird" class.  Fortunately, yesterday saw nearly a thousand dollars come in (not sure why, since nothing notable happened on Sunday), but they're still only 55% of the way to their goal with just 12 days left!
What the heck is going on???
It wasn't that long ago that Star Trek fan projects were taking in five or even six figures in donations.  Then the Axanar lawsuit happened, the guidelines happened, and fans' wallets seemed to begin suffering from a case of donation P.T.S.D.  This wasn't true of all fan projects, though.  Even after the Axanar lawsuit was filed, Star Trek Continues took in nearly $200,000 in an Indiegogo campaign.  Pacific 201 raised over $30,000.
One year ago, the Deep Space Nine documentary "What We Left Behind" raised nearly $650,000 in an Indiegogo campaign.  Two months later, the original sci-fi anthology series The Circuit took in more than $100,000.  And just this past November, the indie sci-fi fan series Space Command from Marc Zicree came away with $108,000 in a successful Kickstarter for their pilot episode "Redemption."
So why are the smaller fan projects struggling so much?  Is it just because they don't have big-name celebrities?  (All of the projects in the last paragraph will feature major Star Trek and/or sci-fi veteran actors.)  If that's the case, then Trek fan films are toast.  But maybe it's something else.  Maybe this problem can be fixed.  It needs to be fixed, folks.  But…how?
---
With that in mind, I turned what was intended to be a straightforward interview with MARK NACCARATO of The Romulan War—trying to encourage donations to his Indiegogo—into a lively discussion of the trends in Trek fan film crowd-funding and how Mark is tackling these headwinds right now.  Yes, we still talked about his project and why you should donate to it (c'mon, you know you want to!), but we also took a hard look at what might be going on and whether this spells the end of fan financed films or if fans just need some time to adjust the the "new normal."
It was a fun and informative chat, and I think you'll really enjoy it…
And if you want to donate, just click here or on the graphic below…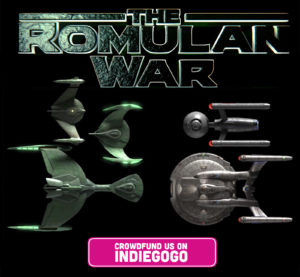 Also, be sure to check out their website: https://www.theromulanwar.com