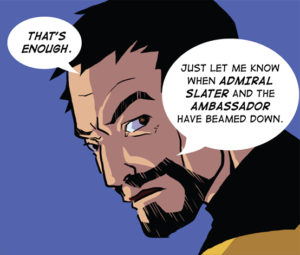 Last July, AXANAR super-fan TREY McELWAIN released the four-page (including cover) "Trial By Fire," the first-ever comic story based on the hugely-popular Prelude to Axanar Star Trek fan film.  Trey wrote the comic and his friend DANIEL FU illustrated the story, which looked at a space battle during the Four Years War with the Klingon Empire.
Now, Trey and Daniel offer the first glimpse of their second Axanar fan comic: "Arcanis IV," which looks at the Klingon sneak attack that launched the long and bloody conflict.  Unlike their first comic, where the three story pages were released all at once, this time Trey and Daniel are releasing the pages as they are completed, about once a month.
Here is the Facebook announcement for the kick-off of the new project…
---
Bear witness to the very first attack of the "Four Years War"!
An unsuspecting Starfleet caught off guard by a relentless and formidable foe!
Each month, a new page will be presented to continue with the story of "Arcanis IV," highlighting scenes from "those that didn't make it back" and the choices and sacrifices Admiral Slater had to make during those first 2 years before Ramirez took command of the fleet.
Then after that, a new comic to continue with the story arc of the "Four Years War," with cover and pages being presented each and every month (one page per month).
Based off of Prelude to Axanar by Alec Peters
Story by Trey McElwain
Artwork by Daniel Fu
For the HI-DEF versions of these most incredible pieces, make sure you go to the Axanar Comics Website to find them!
https://axanarcomics.wixsite.com/axanarcomics