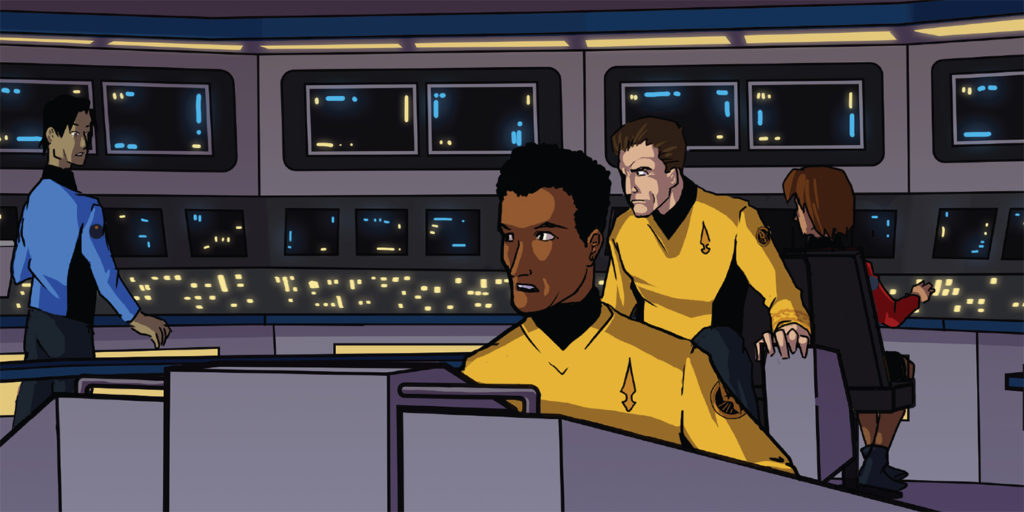 Yesterday, the GoFundMe campaign for INTERLUDE crossed the $10,000 threshold (on our way to $19,500) with 140 backers! Plus there's a handful of Paypal donors. And of course, donations are always welcome right here…
https://www.gofundme.com/interlude
And without further ado, the blog…
---
SPOILER ALERT!
As we present the next-to-last page of "Stardate 2245.1," I'll remind you all once again that, if you want to be know nothing about my Axanar Universe fan film Interlude, then you should stop reading now and find another webpage to visit. The comic story is almost the same as the fan film story. So if you want to be completely surprised by Interlude, staying on this blog entry is pretty much the worst place you could be!
There, I said it.
As much as I love every single panel of every page of artwork that my illustrator DANIEL FU produced, if I had to pick a favorite, Page 6 would be it. Go ahead and scroll down to the bottom of this blog page to check it out and then come back up here, because it truly is a beautifully composed masterpiece.
I recall that Daniel and I spent a lot of time on this page, discussing it both before and after he had produced the first clean version. Initially, Daniel's bridge background in panel three wasn't accurate to the photos of the actual set, and while I hated asking my poor, overworked artist for a redo, I also felt it was very important that this particular panel look like the real thing.
And here's why…
Continue reading

"Just posted: PAGE 6 of the INTERLUDE comic "STARDATE 2245.1"!"