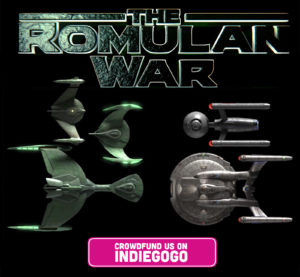 With only ONE day left to go on its $10,000 Indiegogo campaign, the new fan project THE ROMULAN WAR has been essentially stuck just under $6,000.  I had featured a text interview with show-runner MARK NACCARTO when the project first kicked off.  At that point, the campaign had jumped out to an impressive start.  And within the first 10 days, they'd generated over $4,000 in contributions.
But then things slowed down and nearly screeched to a halt!  The needle barely moved at all during their third week when I published an audio interview with Mark trying to figure out what was going on.  Why were the donations drying up?  Was it the hit of Tax Day in the U.S.?  Was it the guidelines or the lawsuit from 2016?  Was it just that Mark wasn't campaigning enough?  Or have fans simply hit donating a wall?
It wasn't just the normal mid-campaign slowdown.  Even now, with only one day left, donations are almost nonexistent.   I'd even e-mailed Mark to suggest that he might want to publicly release some of the special features (videos, ship dossiers, character background info, etc.) that had been reserved only for donors…just to excite and encourage more contributions.  But time was running out!
Well, apparently, time is a luxury that we once again DO have…thanks to the folks at Indiegogo!  Apparently, the crowd-funding service will now let a project team extend the duration of a 30-day campaign by an ADDITIONAL 30 days…even if they haven't reached their goal yet!
So guess what Mark just did?  Aw, why don't I let him tell you himself…
"Wait… You Can Do That?"
That seems to be the question lately. Once I tipped off a couple of my trusted advisers that Indiegogo now allows you to EXTEND AN INDIEGOGO CAMPAIGN FOR ANOTHER 30 DAYS, they – like me – went "say what?!?"
This is apparently a new thing for Indiegogo. When I researched IG about six months ago, I discovered that the only way you can extend a campaign beyond 30 days is if you actually meet or surpass your fundraising goal. Well, it seems that since then, the rules have changed and now IG campaigns allow a one-time extension even if you don't hit your goal. This wasn't some oversight on my part. Several friends of mine who know their way around crowdsourcing campaigns were completely unaware that you could do this.
Having said all that, we're in and we're proud to announce that…
THE ROMULAN WAR has extended our crowdsourcing campaign for another month!
This is somewhat of a relief since we honestly expected to have hit our goal by now. We started off at a quick clip and raised nearly half our goal after about 10 days in. Then… crickets. This was the topic of discussion between myself and Jonathan Lane at Fan Film Factor and if we're both honest with ourselves, it's nothing more than guesswork as to why TRW tapered off. Tax season? No major Hollywood actors? The fan film guidelines? Who knows.
But fear no more, Romulan Warriors! We now have another opportunity to try and hit that 10K goal. This is not a decision that our team took lightly. Running a campaign like this is a lot of time and work – especially if, like me, you have a full-time day job and family responsibilities. But I am simply unwilling to stop now because I know that if we can't hit our goal, we aren't going to be able to deliver on the quality and scope of the story that we want to tell.
Here's a video if you want to know more about our decision to extend and what the next steps are…
I want to again thank all those who have supported our campaign before and to please help get the word out about us. There's still quite a few Trekkers out there who don't know about us and we're counting on our supporters to spread the news. 
Stay tuned for more updates!
Jolan'Tru
– Mark