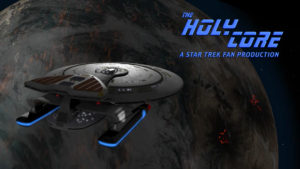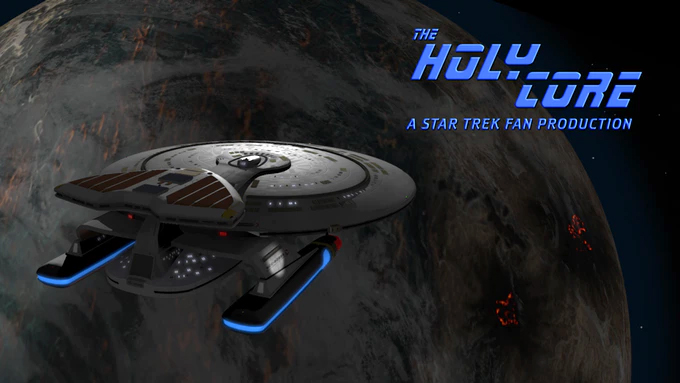 This is turning out to be a week of VERY good news for Star Trek fan-funded projects!  As I reported yesterday, the Star Trek rock band, The Roddenberries, managed to just reach their $9,500 Kickstarter goal with less than an hour left!  The Romulan War was able to extend their Indiegogo campaign an extra 30 days, and now they're now nearly 75% of the way to their $10,000 goal.
But by far the most shocking (in a VERY good way!) news came yesterday when writer/director GARY O'BRIEN announced that his newest fan film project, THE HOLY CORE, has been fully funded by a single donor!
At the end of March, the situation wasn't nearly as rosy for The Holy Core, as their $12,000 Kickstarter (about £8,700) didn't even reach the half-way point and received nothing.  That was surprising for many of us, as Gary's previous fan film, Chance Encounter, is considered one of the best ever low-budget Trek fan films.
I spoke to a very disappointed Gary after the failed Kickstarter, asking if he might try an Indiegogo instead (or multiple campaigns) and perhaps make the film in smaller installments.  Gary wasn't sure what he would do next, and I didn't want to press him.  Then, a week or so later, Gary told me privately that he might have found funding, but to please keep it under wraps until he knew for certain.
As the weeks went by, things sounded increasingly hopeful.  But I was still asked to hold off sharing anything until the money was "in the bank."  After all, Murphy's Law is still a thing.
And then yesterday, it all became official as Gary posted this video…
I asked Gary if this donor had requested to remain anonymous, as the video seems to go to great lengths not to provide a name.  Gary replied…
Actually he hadn't confirmed either way when I shot the video, so I played it safe and didn't mention him. However, literally 10 minutes ago, he got back to me and says he's happy for me to tell people.  So…
He's ALEXANDER MAYER, and he was the single largest backer of Chance Encounter. He's about my age and hails from Germany. He's a big TNG and Voyager fan and likes to back projects he thinks look good. Among others, he has funded Tommy Krafts' sci-fi film about the Runaway androids (not sure if he funded it all or not though). Other than that, I don't really have much info.
Well, I for one would like to personally THANK Herr Mayer for his super-generous support of these three fan films!  Hopefully, when fans see the quality of The Holy Core, perhaps they will realize that Star Trek fan films are still a thing worthy of their support and donations.