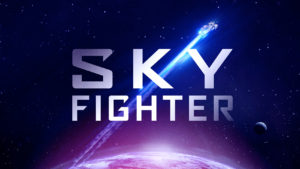 I get a lot of requests to cover  crowd-funding campaigns for fan films here on this blog.  Many of those requests I politely decline because the projects have no connection to Star Trek, which is where I focus most of my attention.
So why did I decide to feature a non-Star Trek fan project like SKY FIGHTER?  Well, there actually is a connection to both Star Trek and Trek fan films.  First, show-runner LUKAS KENDALL produced many of the Star Trek music compilations on CD over the years.  And second, Lukas is a close friend of ROBERT MEYER BURNETT and tapped him to edit the final Sky Fighter short film.  Rob, as many of you know, was the editor of the highly popular Prelude to Axanar fan film and was, until recently, slated to direct the remaining two episodes of the Axanar trilogy.
But that wasn't the only thing that intrigued me enough to want to bring this new Indiegogo campaign to your attention.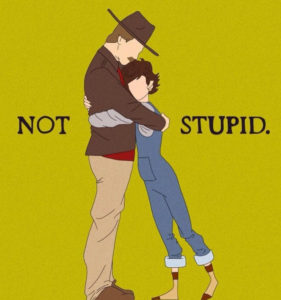 The first thing I noticed about the campaign was the tongue-in-cheek humor.  While some projects take a somewhat light tone here and there, this one is going all-in with comedy.  Lukas even calls himself "a highly qualified un-qualified person" and makes sure to mention that "I am not stupid!"  He even included an illustration to hammer home that point…
Also really funny were some of the perks.  Most of them are serious items of some value, but a few were eye-popping in their obvious outrageousness…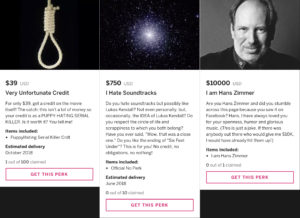 But it wasn't just the humor that got my attention.  Lukas also made the unusual decision to post his entire script for the short film for all to read (rather than keeping it secret, as most productions to).  And it's definitely worth reading, folks—I was very impressed.
Also, the short film is a "proof-of-concept" that will apparently lead to a full-length feature…and there is already an offer on the table!
And last but not least, this $25,000 Indiegogo is an all-or-nothing Fixed Goal campaign…meaning it either makes the goal or the production gets nothing (which is usually the caae for Kickstarter).
Fortunately, Lukas has managed to generate almost $9,000 (as I type this) from nearly 100 backers with 23 days still to go.  Needless to say, I asked him about that early success straight away when we chatted…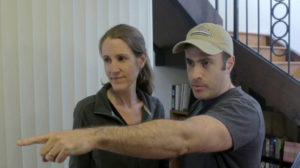 JONATHAN – Congratulations on getting so many donations so quickly!  How did you manage to generate so much enthusiasm and support right out of the starting gate?
LUKAS – I was wondering this myself, and the answer is simple, although by no means easy. I've spent 28 years working hard for a community that I'm a part of—people who love movie soundtracks. I created Film Score Monthly, a magazine and record label, way back in 1990, and I've delivered many fan-favorite CDs to soundtrack collectors. FSM is no longer active (though my former collaborators publish FSM Online, a subscription part of our website), but we've always had a popular message board that I've kept alive.
So I asked our community to support me—and so far, they have. In fact, I'm getting backing from people whose names I recognize from my subscription list decades ago, which is very touching.
However, we have a ways yet to go!
JONATHAN – What are the TOP 3 reasons people should give you their money?
LUKAS – 1) I have a 28-year track record of producing a magazine, CDs, books and even an indie feature film. I finish what I start! For the record, I will be spending far less money on this short than I did to produce a 14-CD boxed set of music from Star Trek: The Next Generation.
2) I have gone to all my friends in the soundtrack CD business to offer a wide variety of swag and discounts that can be fulfilled almost immediately—no waiting for the film to be made! There are several Star Trek items in here, such as an autographed copy of the ST:TNG CD, "The Best of Both Worlds" by Ron Jones, who is also the composer for our short.
3) I have a point of view as a creator. I love sci-fi but, more than that, drama and humanistic storytelling. It's very hard to get people to back an original, but I'm going to make something that has suspense and imagination and heart. Please check out my Indiegogo page and video because I think I have a perspective and sense of humor you'll find engaging.
JONATHAN – So what made you suddenly decide to produce a fan film?
LUKAS – This is by no means a sudden decision! This is what I've wanted to do my entire life, except I had so much fun making soundtrack CDs (for everything from Star Trek and James Bond films to the Superman franchise) that I got sidetracked.
This is a fan film in that I am a fan making a film, but this is not a hobby—this is a professional goal. I have a following that I've resisted tapping for anything but CD projects, but this is the right short film with the right collaborators at the right time in my life—I have to do this.
JONATHAN – What have you done already to prepare for this production?  (Obviously, you've written a script. What else?)
LUKAS – I co-wrote and produced an indie feature with my writing partner/mentor, with whom I have a TV project in the marketplace. I have a lot of experience in filmmaking, just not as a director, per se.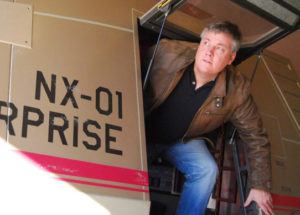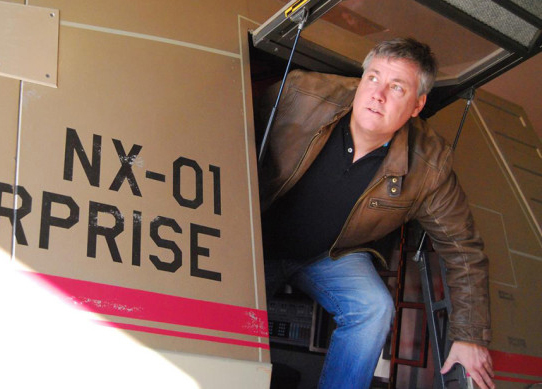 For this project, I've built an entire team of production personnel, including my friend Robert Meyer Burnett of Axanar as film editor and consultant. We have a plan, a location and a budget. We get the money, and we're shooting in 4-6 weeks.
This short film is meant to segue into a feature film based on the same concept. In fact, I've had offers to start packaging the feature script with a director and actors, but I want to direct it myself, and I have to have a directing sample to do that.
JONATHAN – Can you disclose whom you've had offers from?
LUKAS – As a writer, I have a manager who has a lot of great relationships with financiers. I am happy to name him, he is Daniel Brandt—a very honest, hardworking, and smart representative. Dan sent the script to one of the companies he works with (it would be premature to name them) and they asked to start sending it to directors—and I said, wait, please let me make a short, so I can direct it.
JONATHAN – So they're allowing you to "prove yourself" first by making this short film, which is just a short segment of the full film.  Is that sort of thing typical in Hollywood?
LUKAS – I don't know what is typical in Hollywood—except that it is a very entrepreneurial environment, which suits me, but risk-averse, which I have to overcome. First-time directors are immensely risky; it's a demanding job and an utter fiasco if the director can't cut it. Think about it: you're having surgery…or flying on a jet…or even just going to the dentist—do you want a first-timer? I don't! Directing requires so many skill sets, many of which I have, some of which I have to learn. I'm reading a lot of books and will surround myself with experienced people.
JONATHAN – There are some unique choices you've made regarding this crowd-funder.  The first is that you've decided to make this a Fixed Goal Indiegogo campaign, which means that, like Kickstarter, if you don't make it to your $25,000 goal, you get nothing.  Usually folks select the Flexible Goal option when they do an Indiegogo campaign so they get to keep what they raise even if they don't make it.  Why did you choose the riskier option?
LUKAS – If this was going to flop, I didn't want to have to refund several thousand dollars (less the platform's 5%). I picked a goal that's ambitious, but achievable.
Also, I want that fire lit under me that we truly have to get to our goal. We'll see if we make it. I hope so!
JONATHAN – Me, too, Lukas.  So, another thing you've done which got my attention is that you've included the entire 12-page script for the short film for people to read if they choose.  Usually, filmmakers decide to keep their scripts under wraps, or at most to share just a page or two as a sample of how they write.  By sharing your entire script, aren't you providing the ultimate spoiler?  What was your reasoning in making this decision?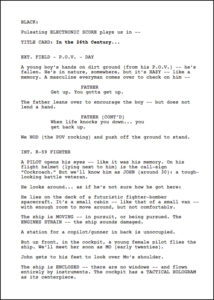 LUKAS – Things can only be "spoiled" if people care about them in the first place. Fans have always known what was going to happen in the Harry Potter or Lord of the Rings movies (not to compare myself to them), but it doesn't matter because they love the books so much. It's a different kind of pleasure, watching a story you love expressed on film, as opposed to finding out what happens in the next Star Wars movie.
I have a suspicion few people read scripts; it's a very odd and not-user-friendly format. Fortunately, several people have read my Sky Fighter short script and been very complimentary.
JONATHAN – I read it myself, and I was pleasantly surprised at how good it was!  Very suspenseful, and certainly a thinking-person's story…much like the movie Memento.  You wrote an excellent script!
LUKAS – Thanks, Jonathan, I really appreciate that.  A lot of my friends and collaborators had great notes to improve it along the way, and now it consistently gets good reactions.
So I'm proud of the script, and I figured, what better way to convince people that the project is worthy of support than to show them that the script is good?
JONATHAN – You've taken a somewhat unique approach in your "sales pitch," using humor, sarcasm, and even self-deprecation.  I don't think I've ever seen anyone refer to their campaign as "a begging letter."  Also, you've chosen to share some intimate details about your personal life, including that you met your wife on JDate and that you needed to use a fertility specialist to conceive your two adorable twin daughters.  I mean, thanks for sharing, but why all the humor and personal details?
LUKAS – That's mostly just me trying to entertain myself. Back at FSM, we took the material seriously—but not ourselves. Who says a crowdfunding campaign can't be funny? I looked at a lot of campaigns and asked myself, what would keep me reading or watching the video…let alone give money? And the answer was, if something was entertaining, and the people behind it were authentic, I'd be more likely to want to help out.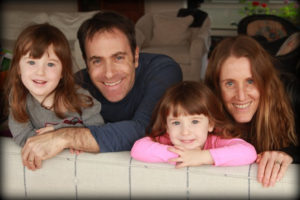 I made sure my wife was okay with the family details, by the way. She said, "Whatever works!"
JONATHAN – Your perks also got my attention.  They're pretty funny, and some are downright outrageous. (Seriously, folks, you need to check out these perks.  They're hilarious!)  Of course, there's also some more traditional perks listed and a cool idea where you give people discount coupon codes for ScreenArchives.com, Intrada, La-La Land Records, BuySoundtrax, and Varèse Sarabande. That's a great way to lower your own fulfillment costs by using vendors who do their own shipping and handling.  Could you discuss this rather outside-the-box perk strategy?
LUKAS – This entire campaign started with me thinking, "Okay, I have no money to make a movie…but what do I have?" And, fortunately, I have relationships with the soundtrack specialty CD labels. I've known these guys for decades; we do favors for each other. And since I owned a label, I know first-hand how you amass an inventory that takes a long time to sell. So this was a way to take something of value—great CDs, sitting in warehouses—and move it around in a way that benefits the labels, and the fans, and me.
As for the "gag" perks, you have to give a lot of options, because if you don't, you don't look serious. But having a lot of options creates anxiety in the buyer: an abundance of choices can be very stressful, right? So I tried to have some choices be obvious, while others are easily discounted (but hopefully amusing)—all so people can feel good about making quick decisions. (One of my brother's childhood friends chose the "Puppy-Hating Serial Killer" Credit…thanks, Ezra!)
The perks that offer nothing come from my experience that sometimes, when giving money, you don't want an emotional attachment. That may be seem strange to people who support fan films, but people can have complicated feelings towards philanthropy. Sometimes it's like, "Okay, here's my money, go take care of your yucky problem and don't bother me again." Different people have different circumstances and emotions…and that's fine.
JONATHAN – I tend to ask this question when it's an all-or-nothing campaign…even though it's a pessimistic question.  But what happens if you don't make it to your goal?  Will you try again with a Flexible Goal campaign designation and consider doing the short film piecemeal instead?  Or is it really all-or-nothing?
LUKAS – It's definitely all-or-nothing…in that I can't change it on Indiegogo after the campaign has begun. There's no cheaper way to make the short film, and I can't make half a short film. I'd have to reassess, and it would be very disappointing. But it would be my problem—not the donors' problem. I did Fixed Funding so the donors would immediately—and automatically—be made whole.
JONATHAN – Of course, I can't end an interview with pessimism, so let's say you do reach your goal at the end of May…what comes next (aside from champagne)?  What steps need to happen in order to get from here to there ("there" being a finished project)?  And how long do you think until Sky Fighter is completed and ready for us all to watch and enjoy?
LUKAS – If we get the money, it's a pretty straightforward process to start booking personnel and the shoot. Hopefully we would finish the film by the fall, but we could be delayed if there are actors we want who are not immediately available. Then we have to make a judgment call: how much do we want this person over that person? I would love to have that problem!
JONATHAN – Amen, Lukas, and thanks for a great interview.  So any final words to convince folks to check out your Indiegogo page and donate?
LUKAS- Thank you for having me on your blog and giving me the chance to speak to your audience. I was blown away by the support for projects like Axanar, Renegades, and Star Trek Continues. It shows there is such a huge well of support for storytelling that people believe in.
I'm not in competition with any Star Trek fan film because I'm doing an original—which has a lot of challenges…chiefly that people don't know it. So I'm introducing myself as a creator and hoping that, if people like me, they'll take a chance on my project.
I would love nothing more than to make it as a filmmaker and then, in five or ten years, people could say, "I donated to his first film project!"
And if I do make it, I would absolutely turn around and donate to the next generation of filmmakers!