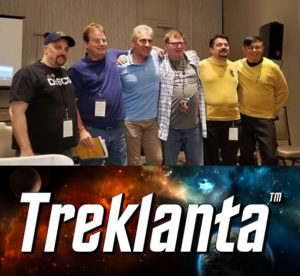 The annual TREKLANTA con in Atlanta, GA is not a particularly huge convention, but it is one of the most fan-film-friendly cons you're likely to find anywhere.  This is thanks in large part to Chairman ERIC L. WATTS, who organizes the convention along with Treklanta's annual BJO AWARDS for the best Star Trek fan films from the previous year.  And there's usually at least a panel or two dedicated to a particular fan film or fan films in general.
This year, the most notable fan film panel was being led by RANDY LANDERS, show-runner for POTEMKIN PICTURES in Pelham, AL, which has produced about five dozen Trek fan films over the past eight years!  The title of the panel: "Have the new guidelines really hindered the production of Star Trek fan films?"
Good question!
To help answer this, Randy invited five additional noted Star Trek fan filmmakers to join him for a lively panel discussion:
JOSE E. CEPEDA -Show-runner and lead actor on the long-running STAR TREK: NATURES HUNGER web series.
GREG TEFT – Cast member of STARSHIP: REPUBLIC, which will soon be filming more fan productions on the former Star Trek Continues "Stage 9" sets in GA.
GLEN L. WOLFE – Co-owner of the STARBASE STUDIOS sets in AR and the show-runner of THE FEDERATION FILES anthology series.
MARK NACCARATO – Show-runner for the upcoming Trek fan project THE ROMULAN WAR, which is crowd-funding right now!  (Have you donated yet???)
ALEC PETERS – Head of Axanar Productions and Executive Producer of PRELUDE TO AXANAR.
Interestingly , when Alec's participation on the panel was announced, even though the panelists were all fine with it, apparently a number of detractors weren't.  Eric L. Watts was berated with e-mails and criticism in detractor social media groups.  (I've invited Eric to comment on that separately as a guest blogger later this week.)
The panel discussion was really enlightening and fun to watch.  And thanks to a video shot by LEE DREW (and posted here with the blessing of both Lee and Eric), you get to watch it, as well (in two parts)…